European Union leaders reached an "historic" deal on a massive stimulus plan for their coronavirus-hit economies at a pre-dawn meeting after a summit that lasted almost five days.
The €750 billion deal was sealed after intense negotiation that saw a threats of a French walkout and a Hungarian veto - and fierce opposition from the Netherlands and Austria to what they felt was too generous a package.
Italy will receive 28%, or €209 billion of the fund, of which €81 billion will be in grants and €127 billion will be in loans.
Italian Prime Minister Giuseppe Conte said the stimulus plan would allow his government to transform Italy and help the bloc as a whole face the Covid-19 crisis with "strength and effectiveness".
Second in line to receive a chunk of the fund is Spain. It will get €140 billion, €72.2 billion of which will be grants while the rest will be repayable in loans.
Summit chairman Charles Michel tweeted "Deal" shortly after the 27 leaders finally reached agreement at a plenary session.
"This agreement sends a concrete signal that Europe is a force for action," Mr Michel said at a dawn news conference.
'We did it. Europe is strong. Europe is united,' says summit chairman Charles Michel as the EU reaches deal on recovery package and European budget' | https://t.co/yBCKB1ZrEj pic.twitter.com/Fpi8YWwdV8

— RTÉ News (@rtenews) July 21, 2020
"It is about a lot more than money. It is about workers and families, their jobs, their health and their well-being. I believe this agreement will be seen as a pivotal moment in Europe's journey, but it will also launch us into the future."
"It has been a long summit and a challenging summit but the prize is worth negotiating for," Taoiseach Micheál Martin said as the summit approached the record length set at a 2000 meeting in the French city of Nice of almost five full days.
He said: "I welcome what is a very substantial and significant package of measures - €1.8 trillion - which I think will go a long way to help to reboot and re-engineer economic recovery within the European Union.
"It has been a very challenging number of days negotiating this package, but it has been worthwhile," he added.
"The Covid-19 challenge is unique - its impact in terms of our economic, social and political life is very severe and it necessitated a response of this scale and magnitude."
We need your consent to load this rte-player contentWe use rte-player to manage extra content that can set cookies on your device and collect data about your activity. Please review their details and accept them to load the content.Manage Preferences
---
Read More:
Five things to know about the EU virus recovery plan
Deal shows 'Europe can come together'
Latest coronavirus stories
---
The Taoiseach said he was particularly pleased that there was significant funding to protect the Common Agricultural Policy.
He also welcomed a €5bn reserve fund to support countries worst affected by the impact of Brexit.
Mr Martin also noted that funding for research and development through the EU's Horizon Fund is also increasing.
"Overall this is a strong package and, from the Irish and European perspective, we welcome its wide-ranging and comprehensive breadth, which I think will do a lot to help Europe respond to the challenges of Covid-19," he said.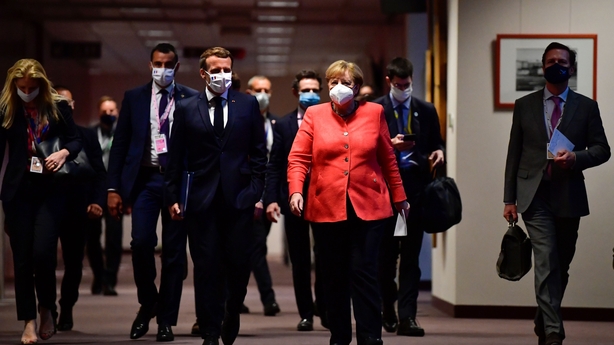 The package will send tens of billions of euro to countries hardest hit by the virus, most notably heavily indebted Spain and Italy that had lobbied hard for a major gesture from their EU partners.
Spanish PM welcomes 'Marshall Plan for Europe'
Spanish Prime Minister Pedro Sanchez hailed "a Marshall Plan for Europe", that would boost Spain's suffering economy by €140bn over the next six years.
But Prime Minister Mark Rutte of the Netherlands denied that the advent of joint borrowing for the rescue heralded the start of what he had warned of before the talks - a "transfer union" with a permanent north-south transfer of wealth.
"This is a one off, there is a clear necessity for this given the excessive situation," he told reporters.
Payouts from the package will come with important strings attached - a hard pill to swallow for Italy and Spain, who deeply resisted anything resembling the harsh bailouts imposed on Greece, Portugal or Ireland during the debt crisis.
The recovery package will complement the unprecedented monetary stimulus at the European Central Bank, that has largely succeeded in reassuring the financial markets despite a catastrophic recession in Europe.
Overall, the deal will dole out €390bn in the form of grants to pandemic-hit countries.
That was lower than an original €500bn proposal made by France and Germany. Another €360bn was to be disbursed in loans, repayable by the member state.
The stimulus payments will not be blank cheques to member states. 
Spending will be closely controlled and must be devoted to policies seen as compatible with European priorities, including politically difficult economic reforms as well as the environment.
The European Commission, the EU's executive arm, will be in charge of distributing the funds, with the 27 member states able to turn down a spending plan if a weighted majority of them decide to intervene.
The rescue package was agreed along with the EU's long-term budget, bringing the agreed spending to €1.8 trillion through 2027.
The plan was nearly upended by Hungary and Poland due to a demand that EU payouts be tied to the "Rule of Law", Brussels jargon for upholding laws on freedom of speech and an independent judiciary.
Both nations are under fire for offending EU norms, but a proposal to tie the EU budget to those concerns was watered down to the satisfaction of Hungarian Prime Minister Viktor Orban and his Polish counterpart.
The package now requires more technical negotiations among member states as well as a ratification by the European Parliament that could happen as soon as Thursday.
Macron hails deal as 'truly historic'
French President Emmanuel Macron said the deal was "truly historic" and that he was convinced the recovery plan and budget could meet the challenge of the coronavirus pandemic.
"This was a summit whose conclusions are truly historic. We have put in place the capability to borrow collectively, to put in place a collective recovery plan, for the first time," Mr Macron said.
"With this recovery plan, we will reach a near doubling of the European budget over the next three years."
News of the deal saw the Euro rise to a fresh four-month high of $1.1470.
The EU was slow to co-ordinate its initial response to the Covid-19 pandemic and, already weakened by the UK's departure from the bloc, a united front on economic aid would demonstrate that it can step up to a crisis and stay united.
But the tortuous summit looked like failing at times with Europe split between north and south.
'Huge milestone' reached 
"It's breathtaking to see that we have done it. We have reached a huge milestone setting up the future of the European Union," said European Commission President Ursula von der Leyen, after almost 100 hours of negotiations.
Deal!

— Charles Michel (@eucopresident) July 21, 2020
European nations have done a better job of containing the coronavirus than the United States after a devastating early few months that hit Italy and Spain particularly hard, collaborating on medical, travel and economic fronts.
The stakes at the summit were high with EU economies in free fall as Europe faces its deepest recession since World War II, initial relief measures like short-time work schemes running out this summer, and fears that autumn could see deep economic malaise and social discontent.
Diplomats said failure would have risked further damaging a bloc struggling with Brexit and bruised by crises from the financial meltdown to migration feuds, exposing it to more eurosceptic, nationalist and protectionist forces.
Emotions had ran high at a dinner on Sunday as a group of fiscally frugal northern nations, led by the Netherlands, stood their ground on the level of free grants within a proposed special recovery fund of €750bn overall.
Mr Macron lost patience in the early hours of yesterday, banging his fist on the table in frustration at "sterile blockages" by the "frugals", two diplomats said.
Polish Prime Minister Mateusz Morawiecki also railed against the "frugals", branding them "a group of stingy, egotistic states" that looked at things through the prism of their own interests.
Poland would be a top beneficiary of the recovery package, receiving tens of billions of euros in grants and cheap loans, along with high-debt Mediterranean-rim countries that have taken the brunt of the pandemic in Europe.
But the rhetorical skirmishing faded yesterday, and the leaders homed in on an agreement on the stimulus package and, linked to it, the EU's 2021-2027 common budget of around €1.1 trillion.
Here the deal was welcomed by the employers' group Ibec.
"As an open and highly globalised economy, Ireland's recovery from the Covid pandemic will be shaped by the strength and stability of the wider European economy," said Danny McCoy, Ibec CEO.
"This morning's deal will bring important confidence to the Irish business community during these ongoing uncertain times."
Irish budget contribution set to increase
Ireland is forecast to contribute €2.7bn towards the EU budget this year, according to figures from the Department of Finance. 
In 2019, Ireland's contributions to the EU Budget amounted to approximately €2.4bn.
Under the 2021-2027 framework, EU member states will make contributions and in addition, there will be a new contribution based on countries' non-recycled plastic waste.
A spokesperson for the Department said that Ireland is forecast to see growth in our contributions as a result of economic growth and Brexit.