TDs, senators and all other officials have been told to wear a face covering while visiting either Leinster House or the Convention Centre in Dublin "with effect from today" in an attempt to stop the spread of Covid-19.
Ceann Comhairle Seán Ó Fearghaíl issued the instruction in a letter to TDs this morning in response to growing concern over a resurgence of the virus.
In recent weeks, it has been suggested politicians may need to start wearing face masks to adhere to public health advice and to help emphasise the safety messages being given to the public.
In the letter to TDs, which will be followed by a similar letter to senators, political parties and all other workers in the coming hours, Mr Ó Fearghaíl acted on the suggestions.
He said from today anyone attending the Leinster House or Dublin Convention Centre campuses are requested to wear a face mask.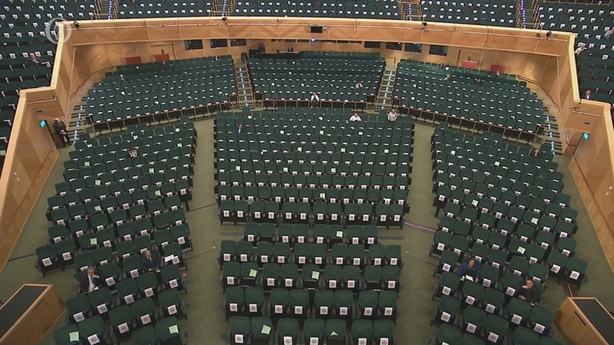 Mr Ó Fearghaíl wrote: "In view of the latest public health advice on managing the risk of Covid-19 infection and the need for the Houses of the Oireachtas to adhere to best practice in relation to infection control and risk management, I am of the view that the Houses should adopt a policy in relation to the wearing of face coverings on the Leinster House campus and the Convention Centre.
"Leinster House is a shared workplace for an entire parliamentary community of members, civil service and political staff, contractors and media it is in all of our interests that we adopt a consistent and safe approach to working together during this pandemic.
"The wearing of a face covering can play an important part in indoor settings where it is not always possible to adhere to two-metre distancing.
"Therefore, I am strongly encouraging members to wear a face-covering in shared spaces and circulation areas, where at all possible, with effect from today, Monday, 20 July."
In addition to encouraging anyone attending either campus to wear their own face mask, Oireachtas officials will also make reusable and disposable masks available if required.
The clerk of the Dáil, Peter Finnegan, is expected to write a similar letter to all political parties, campus workers and members of the media who use the campus in the coming hours.
Concern has been raised in recent days over a national and international increase in Covid-19 cases, with acting Chief Medical Officer Dr Ronan Glynn and Taoiseach Micheal Martin urging caution in recent days.
As of yesterday evening, there have been 25,760 confirmed cases of Covid-19 in Ireland, including 1,753 deaths.
Worldwide, there have been more than 14 million confirmed cases of Covid-19, and at least 606,000 deaths.