Minister for Health Stephen Donnelly has said the green list of countries safe to travel to will be published this week.
Minister Donnelly also said the public health advice on travel is the same as it has been from day one, which is do not travel abroad except for essential reasons.
Speaking at Leinster House, he said if people do have to travel abroad they must restrict their movements for two weeks.
The minister said the green list is in recognition that there is a small number of countries that have a similarly low level of Covid-19 to Ireland.
However, he said people should only travel to these countries for essential reasons.
He said the view is that from a risk perspective, when people come back from these countries after an essential trip, the requirement to restrict movements for 14 days does not apply.
Minister Donnelly said essential reasons include, essential work, caring for a family member abroad or Irish citizens returning home.
Minister for Health @DonnellyStephen says people should only travel for essential reasons which include: caring for a family member abroad, essential work and citizens returning home @rtenews #GreenList pic.twitter.com/gRTRNrXkgR

— Aisling Kenny (@KennyAKE) July 20, 2020
The green list was supposed to be published today, but the Cabinet meeting to sign off on the measure has been postponed.
The Cabinet had been due to meet to consider the latest advice from the public health experts on what countries can be included on the list.
However, the meeting has been postponed because negotiations are ongoing in Brussels, where Taoiseach Micheál Martin is attending an EU summit. The meeting has not yet been rescheduled.
Green list or no green list, we do not want people going overseas - Glynn
Acting Chief Medical Officer Dr Ronan Glynn said this evening that the NPHET advice could not have been any clearer over the past few weeks.
Speaking at the Department of Health briefing, Dr Glynn said they were asking people not to travel abroad this year.
He said: "We're unequivocal, that for this year, green list or no green list, we do not want people going overseas on non-essential travel.
"From a doctors' perspective, from a public health perspective, from the perspective of our healthcare workers all around the country who are exhausted, we're asking people for this year not to travel abroad."
"I'm not sure that I or NPHET can be any more explicit than we've been over the past number of weeks ... we're asking people, for this year, not to travel abroad," Acting Chief Medical Officer Dr @ronan_glynn says | https://t.co/yro2bXPnFk pic.twitter.com/gE0EOIt2Ri

— RTÉ News (@rtenews) July 20, 2020
---
---
All-Ireland travel approach needed, UK advice 'absurd'
Meanwhile, current travel advice from the British government has been criticised by the Alliance Party's health spokesperson who said there are massive absurdities around the guidance.
Paula Bradshaw, MLA for South Belfast, said travel corridors are making Northern Ireland very vulnerable and she would like to see a more consistent, whole island of Ireland approach to travel.
She added that because of the constitutional position in Northern Ireland this is not possible.
However, she said there are ways in which the public can be better protected, such as temperature testing and contact tracing, and she would like to see more of these being rolled out in Northern Ireland.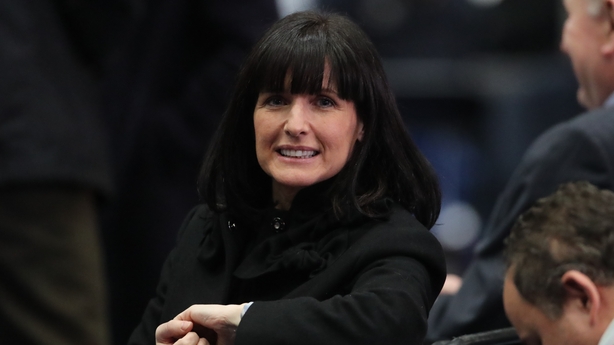 Ms Bradshaw had told RTÉ's Morning Ireland that she and her family were travelling to Italy, through Dublin, next Saturday.
On return, she said, her family would follow whatever travel advice is given in their local town.
She said it was a measured decision and that they will take precautions and not do anything to put anyone else in jeopardy on their return.
However, since then Ms Bradshaw has cancelled the holiday following criticism.
Meanwhile, Labour's Transport Spokesperson Duncan Smith said the idea of a green list sends the wrong message.
Also speaking on RTÉ's Morning Ireland, Mr Smith said the country has not "got our house in order" in terms of quarantine and testing and until this is achieved, the idea of any green list is sending the "entirely wrong message and putting all the good work we have achieved as a society at risk".
Mr Smith said that leadership on the issue is weak and warned the wrong move could see the country go back to where it was a few months ago.
He added that the next few weeks were critical, adding it was about getting the fundamentals right and having a regime in place that will give confidence to Irish people and those who want to visit.
Ireland needs to learn from success of New Zealand - Shortall
Co-leader of the Social Democrats Róisín Shortall has said Ireland needs to learn from the success of New Zealand in combating the spread of Covid-19.
"The Government needs to follow the clear advice of the CMO and leading public health experts, such as Professor Gabriel Scally, who said over the weekend that Ireland could eliminate the virus if it adopted the strict quarantine rules in place in New Zealand.
"We need to see mandatory quarantining or double testing of people coming in from countries of high rates of infection if we are to replicate that success here."
Ms Shortall said the Government had caused widespread confusion on the issue of foreign travel by sending out mixed messages.
Former President of the Intensive Care Society of Ireland, Dr Catherine Motherway, said she understands why people are finding the "notion of a green list confusing".
However, she told Morning Ireland that the advice from National Public Health Emergency Team (NPHET) is clear, and non-essential travel by Irish people abroad, or non-Irish people into this country, is not advised.
Dr Motherway said the pandemic outside of Ireland is "surging enormously" and travel is one source of transmission that we can limit.
Meanwhile, an infectious diseases consultant has said the country needs to have a long-term plan to deal with Covid-19 and travel and that a round-table discussion with all stakeholders is needed.
Dr Jack Lambert said Ireland is part of the EU and shares a land border with the UK and people are coming to Ireland, "whether we like it or not".
He added that Ireland is not an island in the sense that New Zealand is and we need to come up with a list of red and green travel zones.
Speaking on RTÉ's Today with Sarah McInerney, Dr Lambert said it is his belief that we will be living with the virus for some time and there are lots of reasons why people will need to travel.
He said people have to be educated on the dangers of the coronavirus on all levels, including house parties, adding he personally has chosen not to travel.