The green list for travel is unlikely to be published today, as the Cabinet meeting to sign off on the measure has been postponed.
The Cabinet had been due to meet today to consider the latest advice from the public health experts on what countries can be included on the list.
However, the meeting was postponed yesterday evening because negotiations are ongoing in Brussels, where Taoiseach Micheál Martin is attending an EU summit. The meeting has not yet been rescheduled.
Minister for Agriculture Dara Calleary has said that whether advice would change for people travelling to and from countries on the green list is still the subject of discussion.
People coming into Ireland from countries on the list will not be required to restrict their movements for a 14-day period, as arrivals from countries not on the list are.
Speaking to RTÉ News, Mr Calleary said that the actual composition and the rules around the green list will be decided at Cabinet. However, he said that the "the overall advice" is against all non-essential travel.
The Fianna Fáil TD said that the green list was for "very, very limited travel" and it was "not the year for the overseas holiday".
On whether the guidance to avoid non-essential travel will change with the publication of the green list, the Minister for Public Expenditure and Reform, Michael McGrath, earlier said that "this is the decision that the Cabinet will need to make tomorrow, and there will be a discussion on that very issue".
"But the current public health advice remains today that non-essential travel should not be taking place," Mr McGrath said, "... it is my expectation that that will remain in place".
Speaking on RTÉ's This Week, Mr Calleary's party colleague said the key change is that people coming into Ireland from the green list countries "will not be required to restrict their movements for a 14-day period."
The minister said "there is a certain amount of travel that has to take place" but said he expects that the overall advice will remain that discretionary travel is not being encouraged.
Mr McGrath said the publication of the list is "a step on a roadmap towards ultimately reopening international travel " and it will be "a recognition that there are countries, much like Ireland, that are doing comparatively well."
However he said "the current public health advice remains" and "the overall advisory, of not travelling except for essential reasons, will continue".
"We are not encouraging Irish people to travel abroad at this time" @mmcgrathtd tells @thisweekrte, ahead of a Cabinet discussion tomorrow on the 'green list' of countries which people arriving from will not be required to restrict their movements. | https://t.co/vWuoAnQNNC pic.twitter.com/hgnQApQW8t

— RTÉ News (@rtenews) July 19, 2020
He added: "Everything that we are doing is with a view to doing all we can to keep the Irish people safe and to protect and safeguard the real progress that has been achieved to date."
Minister for Transport Eamon Ryan said better monitoring of people must be put in along with more targeted testing, but the message from Government had been consistent - "don't travel unless you have to".
The Green Party leader said the 'green' list would be reviewed based on incidence.
Sinn Féin leader Mary Lou McDonald, meanwhile, has said that any person landing on the island of Ireland should be subjected to mandatory quarantine. 
Asked by RTÉ's This Week if people should be required to quarantine coming into the Republic, she said it should apply for anyone coming into either Northern Ireland or the Republic.  
She said: "For people coming onto the island, absolutely. It's not alone unhelpful to have two different lists, it clearly makes no sense and it leaves a vulnerability for the island as a whole."
Ms McDonald called for a more comprehensive system of monitoring people arriving into Ireland and said assuming that the current "good faith" system is honoured is misguided and dangerous.
She said the confusion at the moment was creating difficulty.
She said it was an absolute necessity to regard the island as a single unit for public health purposes and that had not happened because it had not been made happen.
Ms McDonald said the Government has not been as vigorous as was needed on the issue and there was also division in the Northern executive, which she said has to end as of now and there needs to be a single set of standards and protections.
Mr Ryan said a failure to get an agreement with Britain and Northern Ireland would make the policy of mandatory quarantine "not effective".
He said for mandatory quarantine to be effective Ireland would have to have an agreement with both the UK government and also Stormont and "we are not getting that".
He said: "If we did get that with both those institutions of course you would look at that as an option."
Public health expert says international travel 'an error'
A public health expert said this is a seminal moment for the island of Ireland, which should be focused on reaching zero Covid-19 cases.
President of the Public Health Section of the Royal Society of Medicine Dr Gabriel Scally said it is "an error" to leave the door open to international travel.
Speaking on RTÉ's This Week, Dr Scally said quarantine controls in Ireland are not strict enough and the only way people should be allowed into Ireland is through a much stricter quarantine regime.
He said that stronger co-operation is needed between the Government and the Northern Assembly to improve harmonisation measures in relation to travel restrictions.
He said Belfast Airport and Dublin Airport, for example, will have different lists of countries you can travel to, with free travel continuing across the Irish border.
He said the "whole system needs to be restructured north and south" and it will only be effective if it is policed.
Dr Scally said there are many quarantine systems in other countries Ireland could learn from to help to reach zero Covid-19 cases and go back to normal life sooner.
He said some countries are asking people coming in to have a test three days before travelling and produce results and then do another test on arrival and be held in quarantine until that is negative.
This would be followed with subsequent temperature checks every day and online follow-up once they enter the country.
Dr Scally said "it would be nonsense not to have any effective quarantine".
He said it is a concern that the numbers of cases are rising here when "we were in touching distance of getting down to zero".
He said "this is a seminal moment for Ireland north and south" in the Covid-19 journey.
He said despite pressure from the airline industry and international tourist industry he would prefer to take the "safe road" and that this is a time for Irish people to stay on the island of Ireland and also restrict visitors to their homes.
Spike in Covid-19 cases 'almost impossible to avoid'
Meanwhile, a leading immunologist has warned that a spike in Covid-19 cases is "almost impossible to avoid".
Professor Luke O'Neill said small outbreaks are OK and can be controlled, but larger spikes, such as what is happening in Melbourne, are of concern.
Speaking on RTÉ's Brendan O'Connor programme, Prof O'Neill said Ireland is "still playing a blinder" with the best numbers in western Europe in terms of the rate of increase.
But, he said, we are in this for the long haul and warned that as winter comes "if we take our eye off the ball, numbers are going to go up".
Prof O'Neill said more indoor activity in Melbourne as well as people socialising and large numbers of immigrant workers being housed together led to the resurgence of the virus there.
He said that 48% of cases in Ireland are among health care workers, "which tells us there are cases in hospitals and shows that even with precautions many are being infected".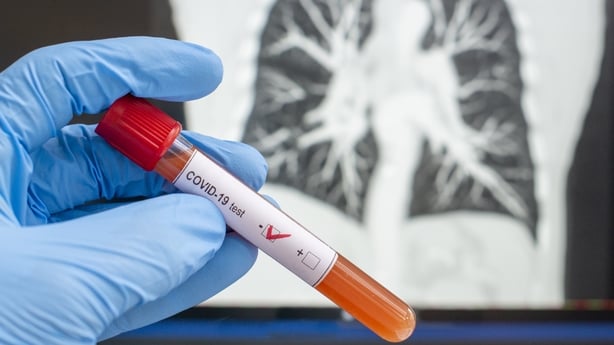 He also said the virus is not rampant among young people, with just 2% of cases among younger people.
Prof O'Neill said that the end game is science and a vaccine, but "it will take time" and the US Food and Drug Administration has said that it will require a vaccine given to 70% of the population with 70% efficacy to overcome Covid-19.
Prof O'Neill said that decreasing risk is key to not getting infected.
He said that there may be a case to be made to slowly reopen pubs in rural areas, where mitigation measures are more likely to be effective.
He said all the science says pubs are dangerous environments for the virus to spread and he would not advise large pubs in Dublin reopening soon, but "local bubbles" in a country pub could show a way to open a pub safely.
He said we need to be careful and re-double our efforts, adding "we will overcome this".
Yesterday, Acting Chief Medical Officer Dr Ronan Glynn said: "Arming ourselves with knowledge is the best defence we have against Covid-19.
"Make sure you know the symptoms - cough, fever, shortness of breath, loss of smell/taste - and act quickly in isolating and phoning your GP as early as possible if you experience them."
For Covid-19, the World Health Organization says that data to date suggests that 80% of infections are mild or asymptomatic; 15% are severe infection, requiring oxygen and 5% are critical, requiring ventilation.
Generally, you need to be 15 minutes or more in the vicinity of an infected person and within two metres of them, to be considered at-risk, or a close contact.