The Acting Chief Medical Officer has warned that Ireland is in a precarious and uncertain position in relation to the coronavirus pandemic.
In a press briefing at the Department of Health, Dr Ronan Glynn said it was not surprising that the R (reproductive) number of the virus is above 1 due to the easing of measures introduced to stop the spread of the virus.
This evening, the department confirmed one further death from Covid-19, bringing the number of virus-related deaths in Ireland to 1,749.
There has also been an additional 21 confirmed cases. This brings the total number of coronavirus cases here to 25,698 - this includes the denotification of six confirmed cases
Dr Glynn said: "The cases which we will report next week have already been seeded, however we have the power to limit the spread and impact of this disease beyond that.
"The way we do so is through following public health advice, avoiding high risk situations and encouraging our friends and family to do the same."
Asked if he saw a situation where places like nightclubs - in which large numbers of people gather together - could reopen before a vaccine for Covid-19 is found, Dr Glynn said: "It is hard - from a public health perspective - to see nightclubs opening any time soon."
On the subject of weddings, Dr Glynn said he would "hope there is hope" that people will be able to have larger weddings later in the year.
He said NPHET are very conscious of the impact of the restrictions on people who are due to be married, but they had to be aware of the overarching priorities about getting children back to school and resuming heath services.
The Acting Chief Medical Officer said: "We do see schools reopening [in September] but everything depends on what happens over the next few weeks.
"Keeping the virus suppressed is the single most important predictor of what will happen in the future."
Dr Glynn added: "We look at data every single day. We will not wait until we have 160 cases a day, if we become more concerned than we are now, then we will act accordingly.
"But we are still in a good place. We want to stay in that good place. We need people to exercise a little bit more caution to get the R number back below 1."
Professor Philip Nolan, Chair of the NPHET Irish Epidemiological Modelling Advisory Group, said their best estimate of the R number currently stands at 1.4 but it could be as high as 1.8.
"We have an opportunity now to maintain suppression of the virus," he added.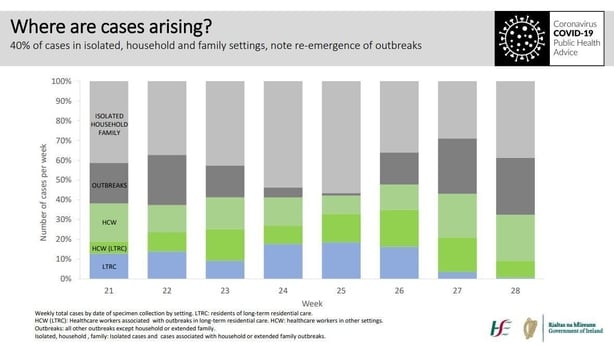 Prof Nolan added: "We are in a period of high uncertainty. About 40% of cases are sporadic, isolated cases. If you look back over the past four weeks we are seeing an increase in the number of clusters and outbreaks.
"The level of detection in healthcare workers remaining relatively constant and very low numbers of cases detected in long-term residential care facilities."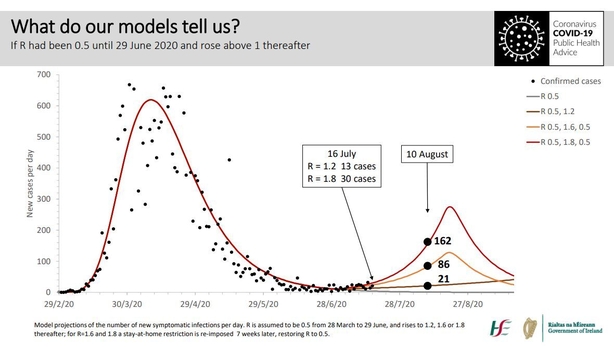 Dr Glynn, asked about regional variations in transmission of the virus and the potential for localised lockdowns, replied: "There is nothing to say that one case in a county today would not lead to a cluster in another county tomorrow.
"We have taken a national approach to date and we don't want to lose that sense of national solidarity, we are all in this together."
Asked about the decision not to allow pubs to reopen on 20 July, the Acting Chief Medical Officer said he was not aware of any cases of Covid-19 that have arisen directly relating to a pub or restaurant.
However, Dr Glynn said there was "significant evidence" of such cases internationally. On this basis it would have been "very foolhardy" in moving ahead with the general reopening of pubs next week.
He again urged people to holiday at home. However, Dr Glynn said they would not be "unduly concerned, from a public health perspective" about someone going to and from countries on the new 'Green List' - due to be published on Monday.
"Our message remains, though, for people to avoid all non-essential travel." NPHET would provide information towards the compilation of the Green List but it was "ultimately a political decision".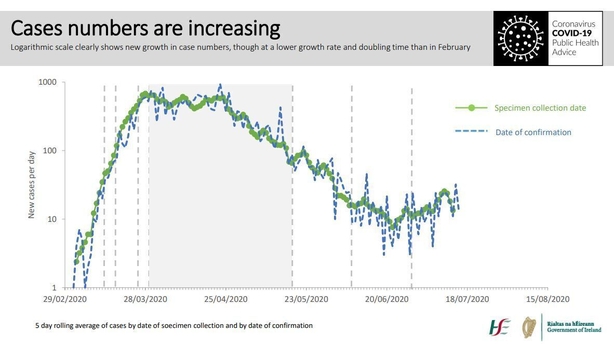 In Northern Ireland, there has been no further coronavirus deaths recorded in the past 24 hours, so its official death toll remains at 556. There are 16 new cases, taking the cumulative total to 5,815.
Meanwhile, a cluster of Covid-19 cases has been discovered in Limavady, Co Derry.
Northern Ireland's Public Health Agency (PHA) revealed it was linked to a gathering at a house.
In a statement, it said: "Testing and contact tracing is being conducted. Everyone should act on the basis that it might potentially be in their neighbourhood right now."
The PHA said the R (reproductive number) in the North is currently between 0.5 and 1.
Prof Philip Nolan says that the reproductive number of Covid-19 is estimated to be around 1.4 this week, but it could be as high as 1.8. | Read more: https://t.co/yIuU1bPe5k pic.twitter.com/xlXVMtXJMJ

— RTÉ News (@rtenews) July 16, 2020
---