Minister for Foreign Affairs Simon Coveney has said he does not think international flights should be prevented from landing in Ireland, but that people should not come here if they cannot restrict their movements for 14 days.
Speaking during a post-cabinet briefing this afternoon, Mr Coveney said that people should not come to Ireland if they cannot restrict their movements when they arrive.
He said now is not a time for normal holidays involving tourists coming from abroad.
"I don't think we should prevent flights from landing in Ireland or ban international travel, that is not the approach we have taken," he said.
Simon Coveney says people should not be coming to Ireland if they cannot restrict their movement for 14 days. | Read more: https://t.co/YlE1RHfw0k pic.twitter.com/rvaCIyeU4q

— RTÉ News (@rtenews) July 13, 2020
He said it could be argued that Ireland has the most restrictive system in the EU right now in terms of international travel.
He said the Cabinet will meet again on Wednesday to discuss international travel and finalise decisions during another meeting next Monday.
Mr Coveney said there is some evidence that some tourists in Ireland are not restricting their movements, adding that this has created a concern across the tourism industry in Ireland.
He said Irish people who are holidaying in Ireland want to know that they can holiday with their family safely.
Simon Coveney says most of those arriving on flights from the US are Irish people coming home. | Read more: https://t.co/YlE1RHfw0k pic.twitter.com/yidjuLBbrz

— RTÉ News (@rtenews) July 13, 2020
He added the Government is considering measures it can take to improve communications and to improve protocols at airports.
These include ensuring that the passenger locator form is moved online so a person can stand over the accuracy of the information given.
Mr Coveney said there is a legal requirement on people to fill out the passenger locator form accurately. He said if a follow-up reveals people are not in the place where they said they would be staying, then they would have broken the law. He warned there are "severe penalties" for this.
He said the Government is considering the establishment of a call centre to ensure that the follow up from the passenger locator form can be "more comprehensive".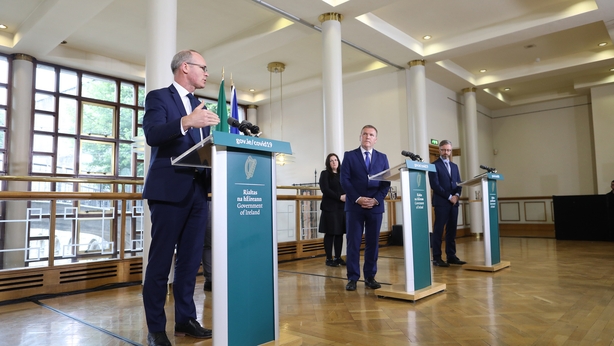 "We will be taking a public health approach first, and a pragmatic approach", he said.
He said there are 200-250 people a day arriving from the US, which he said should be viewed in the context of 4,500 people a day coming into Ireland. "The majority of these are Irish people coming home", he added.
Speaking at this evening's Department of Health briefing on Covid-19, acting Chief Medical Officer, Dr Ronan Glynn, said he did not think it was reasonable to shut down travel completely.
"I don't think it's reasonable in the context of a pandemic that could go on for many months to say we could shut down travel completely.
"However from a public health point of view, we want to stop as much, if not all not essential travel, if at all possible," he said.
Dr Glynn outlined that since the beginning of June, travellers to Ireland from Afghanistan, Bangladesh, France, Germany, UAE, India, Iraq, Malaysia, Portugal, Sudan, Sweden, Ukraine, UK, and the US have tested positive for Covid-19.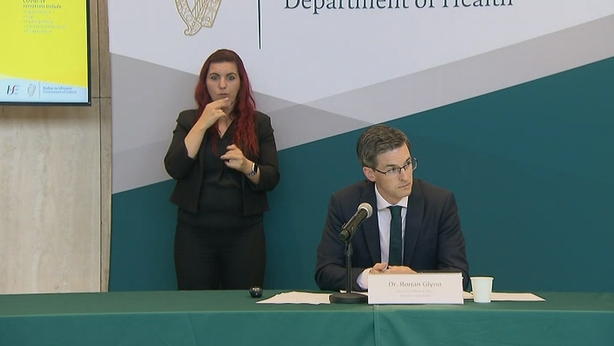 ---
Read more:
Latest coronavirus stories
---
Sinn Féin Transport spokesperson Darren O'Rourke has said it was "reckless" to allow international visitors arrive into the State without proper checks.
Mr O'Rourke said that while the outbreak remains out of control in the US it was risky to allow people travel from there to Ireland.
"People here have given up their foreign holidays abroad this year - some at a huge financial loss - and so are rightly angered at seeing tourists now arriving into Ireland unrestricted," he said.
Labour's spokesperson on Transport Duncan Smith earlier called for the Government to temporarily suspend flights from the US, and other countries with a high-level of infection, until mandatory Covid-19 testing is in place at Irish points of entry.
Speaking on RTÉ's Drivetime Mr Smith said it was a "crazy situation" that people are being allowed to travel into Ireland every day for the purposes of a holiday.
He said a "huge amount of work" has been done in Ireland to suppress the virus, and "this is being put in jeopardy for the sake of not having mandatory testing at our airports", especially, he added, that the testing capacity is available.
Earlier, an associate professor of economics at the University of Limerick has said that more clarity is needed for people working in tourism and hospitality faced with doing business with tourists who may not have self-isolated after arriving in Ireland.
Speaking on RTÉ's Morning Ireland, Stephen Kinsella said there is a "real asymmetry" between how international travellers are being treated and how individual business owners are responding.
He said by making quarantine for incoming travellers "advisory" rather than "mandatory" it places "the moral hazard" at the door of those working in tourism and other businesses.
"A lot of this comes down to placing responsibility at individual, personal or business level, which is probably incorrect at the moment," he said.
We need your consent to load this rte-player contentWe use rte-player to manage extra content that can set cookies on your device and collect data about your activity. Please review their details and accept them to load the content.Manage Preferences

Mr Kinsella said studies show that Ireland's lockdown measures are stringent, but not as stringent in relation to travel.
He said evidence is showing that international travel controls, public transport closures and restrictions on movement are not as effective if they are not enforced.
He said that 2% of cases of the virus in Ireland have come from travel, while the Organisation for Economic Co-operation and Development say 8% to 9% of global cases arise from travel.
Mr Kinsella said that more than 10,000 people came here last month from abroad and there has not been a spike in infections, but there has been an increase in the 'R' number.
The reproductive rate, or 'R number', indicates the number of people on average that an infected person will pass the virus on to.
Last week, the National Public Health Emergency Team said there is an "immediate need to take care and caution", as the reproductive rate of Covid-19 in Ireland now stands at, or above, 1.
Mr Kinsella said the next period is what matters and the asymmetry between advising people not to travel but allow tourists in is a difficulty.
Meanwhile, an Irish journalist based in the UK has said messages about self-isolating for those travelling into Ireland from the UK are "not clear and vague".
Mary Kenny was speaking after being invited to talk at a festival in Roscommon later this month.
Ms Kenny said that after hearing Taoiseach Micheál Martin tell British tourists not to travel to Ireland at the weekend, she felt it was "draconian" and would seek advice from the Irish Embassy.
New: following our interview with @MaryKenny4 this morning, the organisers of the Percy French Festival have confirmed that she will no longer be attending the event in person ⬇️ pic.twitter.com/MO4vzjscUo

— Today RTÉ Radio 1 (@TodayRadioRTE) July 13, 2020
She told RTÉ's Today with Sarah McInerney that she would like to know what the definition of "essential travel" is as she would be travelling for business, not as a tourist.
She said that "Céad míle fáilte is cancelled for now" and that it is a melancholy situation when you cannot go back to your native country.
Ms Kenny said that she would not like to break the law, but it had "never occurred" to her before there would be any restrictions as she can freely travel to Northern Ireland.
She said she had felt that the restrictions would not apply to her as she is an Irish citizen and with the Common Travel Area between Ireland and the UK she felt travel was not limited.
She said she felt the Percy French Festival should go ahead on 22 July with precautions being taken. The Percy French Festival has since released a statement saying that Ms Kenny will not participate in the event in person.