For many Irish football fans and grassroots players, Jack Charlton's boys in green brought a splash of bright colour to a world that had been black and white and grey.
Emigration, unemployment and the Republic of Ireland narrowly missing out on qualification for international tournaments were the cruel facts of sporting life for most of the 1980s.
When the team qualified for Euro '88 and then beat England in the first game, that script finally began to change.
Phelim Warren of the You Boys In Green website had been following Ireland since he first went to a soccer match, at the age of seven, in 1973.
There was no way he was going to miss the Euros and when he found himself in Stuttgart watching his team beating England it was something extraordinary.
"It's still hard to believe that in our first match in a finals, against England, on a beautiful sunny day in Stuttgart, we won.
"I'll take that to the grave, I was behind the goal where Ray Houghton scored and I can still see that goal in going in."
It was not just those who travelled to the games who got caught up in the excitement.
John Niland, assistant manager with Tallaght United FC, remembers people doing the conga on Dublin's Walkinstown roundabout after one match.
Unused to seeing Ireland win games, he sometimes found the tension when watching matches unbearable and had to go out to his van to listen to the radio. "It was the only way could I cope!"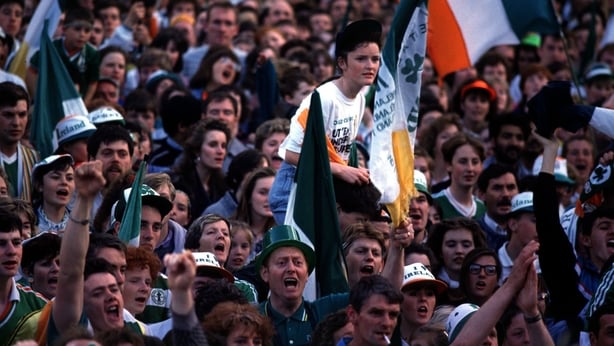 John said before Jack Charlton's era, football was very much an underdog in Ireland - but after the successes of Euro '88 and Italia '90, the players became heroes to everyone.
He recalled how the team's achievements changed a lot of people's outlooks and while some questioned the style of play under Charlton, John insisted: "We got as good as we could get. We did fantastic with him."
Eoghan O'Malley was out playing a friendly in Ringsend, Dublin with his team Booterstown United a few hours after the death of the legendary manager was announced.
He told RTÉ News that Jack Charlton was the reason he plays football.
Eoghan recalled "the buzz and the excitement of 1990, my Mam would have brought me up to Mount Merrion football club in Deerpark when I was six or seven-years-old.
"And I got into football from then and kept playing and playing and playing.
"Hopefully the new team will kick on and give some of the younger kids that you see around the park a chance to have the same experience that we had."
Meanwhile, football fans in England have been leaving tributes at the ground where Jack Charlton played throughout his 21-year career.
Flowers, scarves and football shirts had been laid around his personalised floor tile outside Leeds United's Elland Road stadium.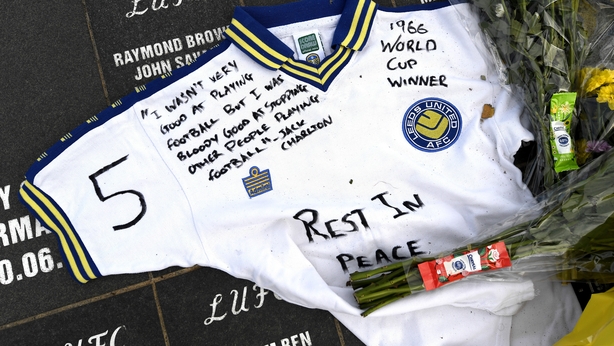 Leeds fan Sam Breen, 22, travelled from nearby Bradford to pay his respects and leave a bouquet of flowers.
He said: "Big Jack meant a lot to the club and the city of Leeds, the only club he played for was Leeds.
"It's obviously a loss for the club, tragic, with the loss of Trevor Cherry and Norman Hunter this year too, he was a World Cup winner and a Leeds legend."