Minister for Finance Paschal Donohoe has been elected as president of the group of eurozone finance ministers.
Mr Donohoe takes over as head of the Eurogroup following the resignation of Portuguese Finance Minister Mário Centeno.
The other contenders were the Spanish and Luxembourg finance ministers.
The race went to a second round runoff between Mr Donohoe and Nadia Calvino, the Spanish finance minister who had been the lead candidate on paper.
She was thought to be supported by France, Germany, Italy, Spain and Greece.
Pierre Gramegna, the Luxembourg finance minister, was making a second attempt, but was eliminated in the first round.
Paschal Donohoe says he will be working closely with all members of the Eurogroup to overcome Europe's current economic challenges, as he takes over as president of the group. | Read: https://t.co/ksuDhYTd8r pic.twitter.com/iqDRN8Lgds

— RTÉ News (@rtenews) July 9, 2020
Mr Donohoe said: "I am deeply honored to be elected as the new President of the Eurogroup.
"I look forward to working with all of my Eurogroup colleagues in the years ahead to ensure a fair and inclusive recovery for all as we meet the challenges ahead with determination."
The Eurogroup is the body that brings 19 eurozone finance ministers together.
Mr Donohoe's term will begin on 13 July and he will serve for two-and-a-half years in the role.
During the euro crisis and the bailouts of Greece, Portugal and Ireland, the group, and then-president Jeroen Dijsselbloem, were centre stage in both the management and the politics of the calamity that nearly sank the single currency.
The Eurogroup is not playing such a central role in the coronavirus pandemic, but it has already overseen the creation of €540bn in immediate supports.
We need your consent to load this rte-player contentWe use rte-player to manage extra content that can set cookies on your device and collect data about your activity. Please review their details and accept them to load the content.Manage Preferences
---
---
In a statement, Mr Donohoe paid tribute to his predecessor and added: "The Eurogroup is the economic engine for the eurozone and the single currency.
"My immediate priority, as president, will be to chart a common way forward on building the European recovery, strengthening the eurozone economy, and promoting sustainable and inclusive growth for member states and their citizens. Across the EU our citizens are looking to us to provide the necessary leadership.
"As president, I will seek to build bridges amongst all members of the euro area, and to engage actively with all member states, to ensure that we have a consensus-based approach to the recovery of our economies and our societies.
"I will bring to the table Ireland's experience as a small member state that has been a programme country but which has also seen its economy and society transformed through EU membership.
"I look forward to working closely with my counterparts to ensure an inclusive and transparent Eurogroup, that delivers economic recovery, prosperity and jobs in the best interest of Europe and its citizens."
The job is considered one of the EU's key positions, along with the heads of the European Commission, EU Council and the European Parliament.
During his term, Mr Donohoe will watch over a massive EU recovery plan that is still in negotiation amid bitter north-south divisions.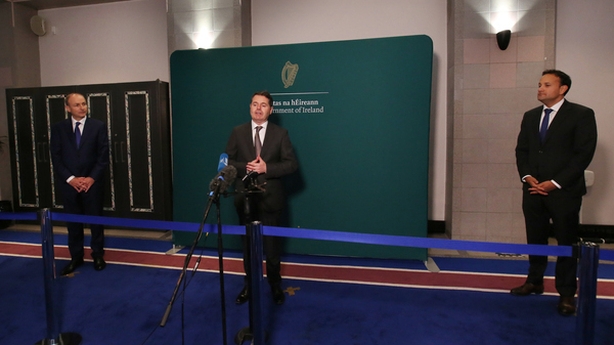 The eurozone economy is set to contract by a record 8.7% this year, with mass unemployment and other dire consequences still a possibility.
Taoiseach Micheál Martin "warmly congratulated" Mr Donohoe on what he described as his "outstanding achievement".
He said the election of Mr Donohoe as President of the Eurogroup spoke volumes about his experience and the respect with which he was held by his colleagues.
Mr Martin said it was "no mean achievement to emerge from such a group so effectively".
The Taoiseach said the message of his campaign, of being a "bridge-builder" between various interests in Europe, was the "telling strategy that enabled" his election.
He said it was also good news and "a great win" for Ireland at a critical time for the Eurozone economy.
Mr Martin said Mr Donohoe would "have his hands full" at what he described as a ""very challenging moment for Europe".
Tánaiste Leo Varadkar also extended his congratulations to Mr Donohoe, describing his election as a "singular, personal achievement" and "something that was very good for Ireland".
He said the appointment was a "diplomatic coup".
Mr Varadkar said Mr Donohoe had received support from all corners of Europe, from different political parties and from smaller countries in particular.
Additional reporting AFP