A new Covid-19 tracker app has been downloaded by more than 862,000 people since it went live yesterday.
The Department of Health and the Health Service Executive launched the app to help identify close contacts of people who test positive for the disease.
Acting Chief Medical Officer Dr Ronan Glynn said: "This is one more example of the solidarity and collective spirit that has characterised the Irish public's response to Covid-19 to date.
"The app is an important tool to support our contact tracing systems. It has the potential to reduce the time that people are active in the community with infection, which will have a significant impact on the transmission of the disease.
"The more people who download and use this app, the more effective it will be. It is a further opportunity for us to play our part in the response to Covid-19."
The Department of Health has been notified of one further death and 24 additional confirmed cases of Covid-19.
There has now been a total of 1,742 deaths related to the virus in Ireland and 25,538 confirmed cases.
Minister for Foreign Affairs Simon Coveney said his department had advised and assisted more than 8,000 people to return home during the course of the pandemic.
We need your consent to load this rte-player contentWe use rte-player to manage extra content that can set cookies on your device and collect data about your activity. Please review their details and accept them to load the content.Manage Preferences
Earlier, HSE Chief Executive Officer Paul Reid said the app can mean a reduction in the time it takes to trace close contacts from days to hours.
The app identifies a close contact as someone who was within two metres of a confirmed case for 15 minutes or more.
While health officials are looking to get around a 60% uptake of the app among the target population, they say that any level of uptake will be useful.
The HSE said that while the app is an all-island application, it is not currently active in Northern Ireland.
The COVID Tracker app is now available to download. It will help in the fight against coronavirus. Download the COVID Tracker app here: https://t.co/CUrWQ9QVvj

We'll protect your privacy, and you'll help us protect everyone. Stay safe. Protect each other. #COVID19 #StaySafe pic.twitter.com/WVRFOUwAT7

— HSE Ireland (@HSELive) July 7, 2020
---
---
The app launched yesterday morning is expected to facilitate contact tracing, symptom tracking and contain other information about the virus and was officially launched by Minister for Health Stephen Donnelly.
One of the ways by which the virus is tracked is by tracing close contacts of people who themselves test positive.
The Covid-19 tracker app is designed to help with both contact tracing and real-time symptom tracking.
Dr Glynn also urged anyone who has been identified as a close contact to "take up the offer of a test without delay".
He said between mid-May to the end of June, 35% of those identified as a close contact of a confirmed case "did not take up the offer of a test" and warned "every case has the potential to turn into a cluster, which in turn has the potential to spread through a community".
Minister Donnelly said the new app will not tell you whether you have tested positive for coronavirus.
But if you do receive a positive test result, you can give the app permission to notify those with whom you have been in close contact, so they can then avail of testing, too.
Mr Donnelly said the app will allow people to control their own data.
He described it as a "very powerful tool" and said health officials will encourage as many people as possible to download it onto their phones.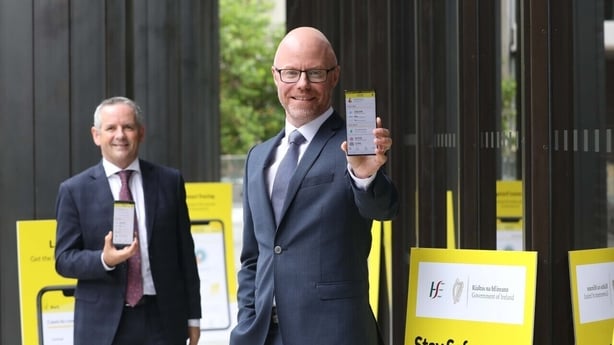 He said the majority of people who have smartphones will be able to use it, but there is a limitation in the technology and it only works on the iPhone 6 and Android 7 and upwards models.
Speaking on RTÉ's Six One, Mr Donnelly said that if enough people download the app it would facilitate the reopening of schools and people returning to work.
Mr Donnelly said it will also help with efforts to return healthcare system return to normal.
In the event of increased outbreaks of the virus, the Minister said that the app will seriously increase the ability to get to people who are close contacts and to get them the clinical guidance that they need.
We need your consent to load this rte-player contentWe use rte-player to manage extra content that can set cookies on your device and collect data about your activity. Please review their details and accept them to load the content.Manage Preferences
Meanwhile, a public health specialist has encouraged everyone to download the app as part of efforts to contribute to the effectiveness of the contact tracing programme and to keep the virus suppressed.
Dr Sarah Doyle, of the Health Protection Surveillance Centre, told RTÉ's News at One that if you get a positive test result and agree to the app being linked into, a contact tracing mechanism is used to access and identify contacts who were within two metres of you for more than 15 minutes.
These contacts will have been stored in the app through a "decentralised model" of Bluetooth that stores anonymous codes to recognise users and are deleted after 14 days, she said.
The World Health Organization says data to date suggests 80% of Covid-19 infections are mild or asymptomatic, 15% are severe infection, requiring oxygen and 5% are critical, requiring ventilation. 
Generally, you need to be 15 minutes or more in the vicinity of an infected person and within two metres of them, to be considered at-risk, or a close contact.