Taoiseach Micheál Martin has said a new jobs stimulus programme is likely to be ready by mid July. The initiative will involve Government departments looking at "shovel ready" projects that could create employment.
The July stimulus will seek to restart the economy by proving funding for businesses particularly in the retail, leisure and tourism sectors.
Leo Varadkar, the new Tánaiste and Minister for Enterprise, Trade and Employment, said he was very keen to get to work on this economic package.
There will be a particular focus on schemes that could boost youth employment.
Eamon Ryan, Green Party leader and Minister for Climate Action, Communication Networks and Transport, told journalists that the Cabinet has "hit the ground running" following its first detailed discussions this afternoon at Dublin Castle.
"I think there is a very good working relationship already between the three parties.The Cabinet is working effectively, we have to make a quick and collective start on leading the country out of a very difficult situation," he said at a press briefing.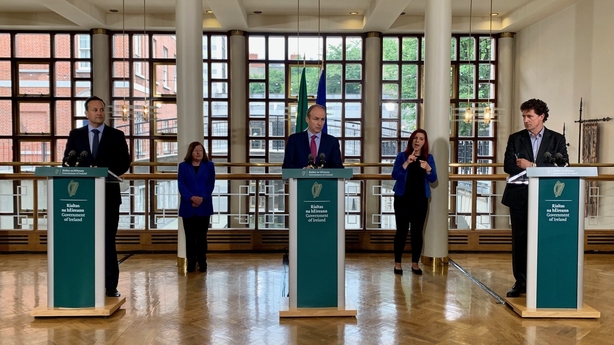 Mr Martin said Government will take advice on opening up international travel and then make a decision.
Eamon Ryan said the country cannot be sealed up and it's about managing risk.
He said that people should be encouraged to holiday at home this summer. Mr Ryan also joked that he was looking forward to getting to a barber's soon and "seeing a lot of hair hit the floor".
Earlier today, Public Expenditure Minister Michael McGrath said the wage subsidy scheme is one of the big ticket items that will be dealt with in the July initiative.
But some Fianna Fáil members have complained about the absence of a senior minister in the west of Ireland, with the Government Chief Whip also voicing his disappointment at not being tasked with leading a government department.
Dara Calleary told Midwest Radio he was aware of the anger felt by people in the West of Ireland over the fact that there is no senior minister from there. But he said he would make the most of the position he has.
Dara Calleary arrives for Cabinet Meeting In Dublin Castle and says "all good?" as he enters the building @rtenews pic.twitter.com/RZIpBnHbxV

— Mícheál Lehane (@MichealLehane) June 29, 2020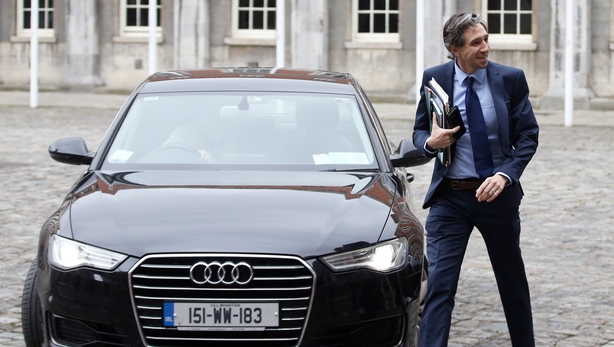 Elsewhere, the 60-member Seanad convened at the Convention Centre Dublin this afternoon.
Separately, the Minister for Agriculture and the Marine said the best way the Government can move for agriculture and the marine is to align consumer sentiment and environmental ambition, in the hope that the sectors continue to thrive.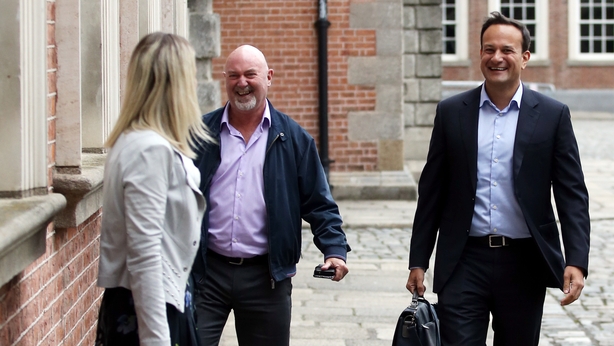 Barry Cowen said the three coalition parties recognise the huge contribution that is made by agriculture and its impact on the Irish economy.
Speaking on RTÉ's Morning Ireland, Minister Cowen also said he will be keeping a close eye on the greyhound industry and continued funding must be led by continued improvements in welfare in the sector.
Minister for Foreign Affairs and Defence Simon Coveney said he plans to re-build morale in the Defence Forces and will set up a commission to benchmark pay of personnel. He also intends to bring forward other measures from a white paper completed when he was last Minister for Defence.
On Brexit, Mr Coveney said he hopes to see positive progress in negotiations with UK over the summer and welcomed the fact there will be "in person" meetings between the EU and UK negotiators in Brussels this week.
---
Read more:
Court rules Seanad can only lawfully meet with full membership
---
Earlier this morning, ministers from the new coalition Government visited their departments for the first time.
The 14 Ministers, the Chief Whip, as well as Junior Ministers, received their seals of office from President Michael D Higgins on Saturday, with the inaugural Cabinet meeting, which formally adopted the Programme for Government, held on the same night at Dublin Castle.
Sinn Féin leader Mary Lou McDonald told RTÉ Radio yesterday that her party would hold the new government to account.
She said her team in the Oireachtas would be what she termed "fierce when it is required of us".
Additional Reporting Paul Cunningham