An addiction support service for families in the northeast said it is in a crisis situation and is urging the Government to address a funding shortfall. 
The Family Addiction Support Network (FASN), based in Dundalk, said its workload in continuing to increase.
It said the number of families it supported during the Covid-19 pandemic more than tripled on the previous year.
FASN covers counties Louth, Meath, Cavan and Monaghan and provides support to those in addiction and their families in coping with the psychological, emotional and financial stress involved.
It also works with families facing intimidation and threats from drug dealers and works with gardaí on a Drug Intimidation Reporting Service.
We need your consent to load this rte-player contentWe use rte-player to manage extra content that can set cookies on your device and collect data about your activity. Please review their details and accept them to load the content.Manage Preferences
Figures show that that in the second quarter of this year, which covers the period during lockdown, the service had 342 interactions with family members.
This compares to 98 for the same period last year.
Founding member and family support specialist Gwen McKenna said: "We've had an instance, during Covid-19, of a family member trying to overdose because they had to live in an enclosed situation with an addict.
"Physically they love coming to the centres, they meet with people who understand them. It gives them reason to get up and get out."
Drug intimidation continues to increase and the network has been dealing with the fallout from the Drogheda feud, which has claimed the lives of three people since it began almost three years ago.
"We have had a woman, she's a grandmother and her son was involved in drug addiction. The drug dealer was in jail and he could still get the money off her, because he was sending his foot soldiers down to intimate her in a rural area. She had to hand over her life savings to that drug dealer" added Ms Kenna.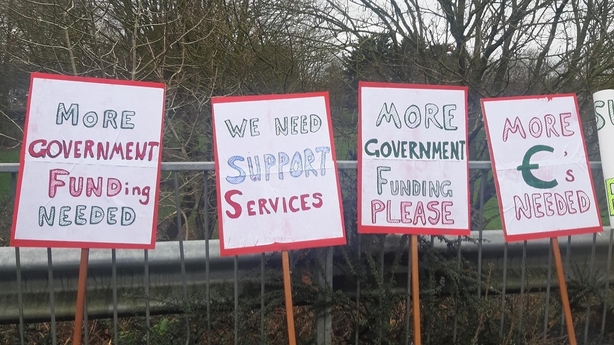 Despite all that has happened in Drogheda, the network said it has not received any sign of further State funding.
Last summer the Auxiliary Bishop of Armagh used his first public speech to highlight the damage being caused by drugs and made reference to the Drogheda feud.
"Sometimes these families are being intimidated by drugs gangs and it's hard to know where they can turn.
"The Family Addiction Support Network are providing support and a safe place for families to talk about the problems they have. I think what they're doing is vital" he said.
Sinn Féin TD for Louth, Ruairí Ó'Murchu, said he is regularly contacted by families in need of help.
"The amount of people who I have referred, who have said it was really easy to talk to the people here. They felt suddenly they weren't on their own" he said.
Margaret sought help from the Family Addiction Support Network 15 years ago. She is from Drogheda and her son had a drug addiction.
"I didn't really know what to do and speaking to a friend they directed me to the FASN. I didn't really want to but that's the hardest part, admitting I had a problem. The toughest part is lifting the phone to say I need help," she said.
Margaret said many more families are in need of that same support now.
"Every house in Drogheda will say they know someone who has been intimidated in some way, be it arson attack or just someone calling to the door," she said.
"I know people who have handed over their wages every week in order to get rid of a debt belonging to a family member, that's the reality of today," she added.
"To sit back and watch your child self destruct and feel helpless is a terrible feeling in itself, so when this starts happening you keep saying where did I go wrong?" she said.
The Network, which was set up in Cavan in 2002, relies on piecemeal funding and fundraising efforts by volunteers.
Last year it received just over €7,500 in Government funding for counselling services, which comes from the North East Regional Drugs and Alcohol Task Force. The Network has no paid staff.
Before Covid-19, the Network was in desperate need of funding and now because fundraising has stopped, it is even more concerned.
FASN Project Coordinator Jackie McKenna said: "What we need is €174,000, to cover not one county, but four counties. We are not asking for millions.
"I know the Government and the HSE are under pressure finally but what sort of pressure we will be under if funding is not made available for drugs projects all over the country?"
She was one of the speakers at a rally in Drogheda in January, following the murder of 17-year-old Keane Mulready Woods.
She is hoping funding can be found to help those in desperate need of help and support. For Margaret and many others, this service has been lifeline.
"To have family support as a service to steer us in some sort of direction is really needed. I would safely say it saved my life" she said.