The death has been announced of former US Ambassador to Ireland Jean Kennedy Smith.
Ms Kennedy Smith, who was aged 92, was an American diplomat and author, who served as ambassador in Ireland from 1993 to 1998.
She was a member of the Kennedy family and was their last surviving and longest-lived child.
Her siblings included President John F Kennedy, Senator Robert F Kennedy and Senator Ted Kennedy.
Ms Kennedy Smith was also involved in the Northern Ireland peace process.
Born on 20 February 1928 in Boston, Massachusetts, Ms Kennedy Smith was the eighth of nine children born to Joseph P Kennedy and Rose Fitzgerald.
The family would become the United States' most famous political dynasty and an endless source of fascination to the American public.
After spending much of her life as a socialite away from the political spotlight, in 1993 Ms Kennedy Smith was named the US ambassador to Ireland by then president Bill Clinton.
The appointment raised a few eyebrows but Ms Kennedy Smith, whose father had been ambassador to Britain when she was young, embraced her role.
---
From the RTÉ Archives
Jean Kennedy Smith receives honorary Irish citizenship
Ambassador visits ancestral home of Kennedy family
---
The death has been announced of Jean Kennedy Smith, who served as U.S. Ambassador to Ireland from 1993 to 1998.

May she rest in peace. pic.twitter.com/yATlmycv2A

— U.S. Embassy Dublin (@USEmbassyDublin) June 18, 2020
President Michael D Higgins said Ms Kennedy Smith played a pivotal role in the initiatives that led to the Good Friday Agreement.
He said that the news of her death will have been received with great sadness by many, both in the United States and in Ireland.
"She will be forever remembered as the diplomat who had a sense of Irish history and of what had influenced the Irish in the United States. An activist diplomat, she was not afraid to break with convention or explore the limits of her mandate.
"She brought passion and clear values to her role, providing many of the elements that promoted peace and reconciliation in Northern Ireland.
"Sabina and I send our sincere condolences to her children and her wider family, and to all those who will have been deeply affected by her passing."
Taoiseach Leo Varadkar said he was deeply saddened to learn of Ms Kennedy's death, who he described as a proud Irish-American and a true friend to Ireland.
"She used her office to deepen and strengthen the already strong bonds between our two countries.
"Her courageous and determined diplomacy helped to bring peace to our island, built bridges, opened doors to all communities, and to all those striving for peace when peace was not a certainty.
He said: "Jean's influence and work extended well beyond her career as a diplomat. In 2011, she was awarded the Presidential Medal of Freedom by President Barack Obama for her work with children with intellectual and physical disabilities.
"I offer my sincerest condolences to Jean's family and friends. I also salute her enduring legacy, to peace in Northern Ireland and to the many thousands of lives she has touched throughout her remarkable lifetime", Mr Varadkar said.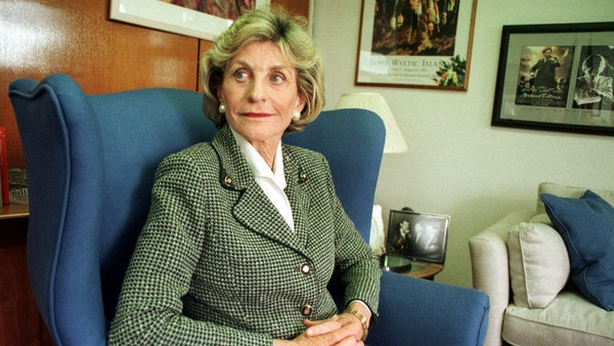 The US Embassy in Dublin said it was deeply saddened to hear of Ms Kennedy Smith's death.
It said: "Ambassador Kennedy Smith played a pivotal role in the peace process in Northern Ireland and devoted much of her time to moving Northern Ireland from the dark days of violence and despair to the brighter days of peace, reconciliation, and partnership.
"Ambassador Kennedy Smith worked tirelessly to strengthen the bonds of the US-Ireland relationship and to reinforce those "enduring links" the late President John F Kennedy spoke about 57 years ago on his visit to Ireland, for which she accompanied him.
"In one of her final public speeches as Ambassador to Ireland, Ms Kennedy Smith said: 'Though I am leaving soon, I am not really going away because my heart will always be here'."
Sinn Féin leader Mary Lou McDonald has paid tribute to Ms Kennedy Smith, saying: "As soon as being appointed Ambassador to Ireland by President Clinton in 1993, Jean Kennedy Smith proved to be a serious and effective player in the emerging peace process and a valuable conduit to the White House and the US Congress in Washington.
"The youngest daughter of the Kennedy family, Jean was able to employ her considerable skills and access to great effect and to promote the cause of peace.
"She embodied the Kennedy family's connections with Ireland and was a popular figure for the duration of her tenure. She has left her mark on our history, our peace process and her legacy lives on across Ireland."
Former taoiseach Bertie Ahern said Jean Kennedy Smith was a "great and wonderful person" as he paid tribute to her role in the peace process.
He said she was a "gutsy" person who "didn't take fools too easily".
He said her support in giving Gerry Adams a visa to visit the United States was crucial to the peace process at the time, but she took a lot of criticism from the US State Department for her stance.
She stuck around long enough to see the Good Friday Agreement through, he said, and she was very proud when she was made an Irish citizen.
Former president of Sinn Féin Gerry Adams recalled his memories of Jean Kennedy Smith while she was ambassador to Ireland.
He described her as a "wonderful woman, with a mind of her own".
"She played a pivotal role in bringing about the cessation," he said.
Jean Kennedy Smith paved the way for Gerry Adams' visit to the US in 1994 to make his case for a ceasefire.
"She was very down to earth. Very straightforward. She had a real sense of inclusivity," Mr Adams told RTÉ's Drivetime.
On her involvement in securing a US visa for Mr Adams, he said: "Fr Alex Reid and Jean sat up all night waiting on word back from Washington.
"Some of her officials were against me getting a visa. She was under huge pressure but Jean stood against that.
"She saw that we were trying to prove and provide an alternative way for republicans to bring about democratic change," he said.
"She was one of the very few who realised that the establishment had to be part of that change, that they had a role to play. I learned that the establishment was content to demonise republicans and follow an entirely different agenda than Jean Kennedy espoused."
He said Ms Kennedy Smith "stayed true to this right through to the Good Friday agreement and after".
"It's a cliché that one person can make a difference. Jean Kennedy definitely made a difference."
He said he gave her a puppy while he was on one of "many private visits" to Ms Kennedy Smith in Dublin, and he said the pair also exchanged trees.
"She had to give the dog away to a friend of hers. It was a cross between a Labrador and a Springer Spaniel and it was a hyper little dog. She did tell me the name but I can't recollect."
Additional reporting AFP