Three more people have died from Covid-19 in Ireland, bringing the overall death toll to 1,705.
A further 13 cases of the coronavirus have also been diagnosed in the Republic, bringing the number of confirmed cases to 25,250.
There are currently 83 confirmed cases of Covid-19 in hospital. Of these, 28 cases are currently in ICU.
Today's data from the Health Protection Surveillance Centre, as of midnight on Wednesday (25,237 cases), shows that 57% of all cases are female and 43% are male.
The median age of confirmed cases is 48 years and 3,275 cases (13%) have been hospitalised.
Of those hospitalised, 415 cases have been admitted to ICU.
Of all confirmed cases, 8,116 cases are associated with healthcare workers.
Dublin has the highest number of cases at 12,172 (48% of all cases), followed by Cork with 1,533 cases (6%) and then Kildare with 1,426 cases (6%).
Of those for whom transmission status is known: community transmission accounts for 38% of cases; close contact accounts account for 60%; and travel abroad accounts for 2%.
Chief Medical Officer Dr Tony Holohan said: "The Covid-19 virus will continue to impact on the way we move about our daily lives for the foreseeable future, however we have already witnessed how our collective action can control the spread of the virus.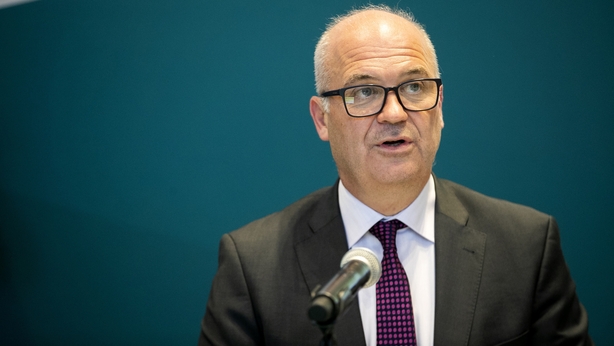 "By continuing to work together, implementing our new behaviours, we can continue to limit the spread of the disease."
In Northern Ireland, one further coronavirus-related death has occurred, taking the Department of Health toll to 539.
A further 16 new cases of Covid-19 have also been diagnosed, bringing the total number of confirmed cases there to 4,838.
Earlier today, Dr Holohan called for a redoubling of efforts in the wearing of face coverings in retail settings and on public transport.
Dr Holohan said he would like to see a higher level of compliance in relation to the wearing of face masks or coverings in instances where it it can be difficult to maintain social distance.
Speaking on RTÉ's Morning Ireland, he praised the "fantastic efforts" of the Irish people in complying with the public health guidance to date, but said the message has not got through about the importance of wearing a face covering in certain settings.
He said a television and radio advertising campaign is set to get under way to highlight the importance of wearing face coverings where social distancing is difficult.
It will also advise people about the washing and ironing of masks to keep them in good condition.
---
Read more:
'Heaven on earth': Penneys reopens to queues of excited shoppers
Drive-in graduation ceremony for ten students at Cork school
EU states back spending €2.4bn upfront on Covid-19 vaccines
---
Meanwhile, the Government is aiming to get all children back to school full-time in late August or September by working on "bespoke solutions", according to the Taoiseach.
The full-time return to the classroom will come without the strict observation of social distancing guidelines.
The full details have yet to be worked out, but hygiene considerations will be paramount, with handwashing and very strict safety protocols.
Taoiseach Leo Varadkar says moving from two-metre social distancing to one-metre distancing is a risk, but not as big a risk as it was a few weeks ago. He adds the Government will launch a new campaign to inform people to wear a face mask in enclosed settings next week pic.twitter.com/Z3FoxK8nut

— RTÉ News (@rtenews) June 12, 2020
Leo Varadkar gave the example of the early years sector, where social distancing only applies to adults and not children.
Speaking at a post-Cabinet briefing, Mr Varadkar said: "We're going to come up with a solution that allows all kids to return to school at the end of August, early September as originally indicated."
Separately, Special Needs Assistants will be allowed to work at home with children without the presence of a teacher under a new summer educational programme that has been made available for children with disabilities or from disadvantaged backgrounds.
The programme, normally made available to children with autism and with severe or profound disabilities, is to be expanded to include students with behavioural disorders and moderate intellectual disabilities.
It can be in-school or home-based.
A programme for all 890 DEIS schools to provide summer camps, including a numeracy and literacy programme for primary pupils and a programme of re-engagement for post-primary students, was also announced today.