Crowds of excited shoppers gathered outside Penneys stores today, as the retailer reopened its doors to the public after nearly three months closed due to Covid-19 restrictions.
Sixteen stores across the country are back in business, with 20 more due to reopen on Monday.
Among those to brave the crowds on Dublin's Mary Street was 11-year-old Ella. "It felt like heaven on earth," she told RTÉ News.
Ella said Penneys is her favourite shop, and on her first trip back to the store she bought bumbags, pillows and lip gloss.
Sisters Sandra and Tina from Dublin were among the first in line at the flagship Dublin store.
"I'm delighted. I thought I was going on my summer holidays when I woke up this morning with the excitement," said Tina.
Cory Davidson popped along with his sister on the first full day of trading for Penneys since March. "I just got some socks because I was running low and there's no shops open," he laughed.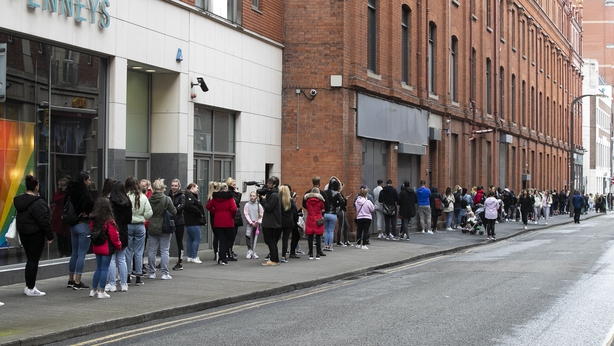 Many customers told RTÉ News they were happy to queue because it felt like "normality" had returned to the streets of the capital.
Shopper Nadine brought her two-year-old son out for the day. "It was brilliant. It felt like Christmas. I just got everything I usually wouldn't buy online," she said.
Penneys' remaining 20 stores - located in shopping centres - will open on Monday, 15 June.
The retailer said it has put in place rigorous health and safety measures across all its outlets.
The layout of the stores has been redesigned to allow more space for social distancing. Fitting rooms will remain closed for the time being.
"While it might take a little longer to get into store, once inside, customers will find all their favourite Penneys products and plenty of choice as usual," said Primark CEO, Paul Marchant.
"We have worked hard to make sure that clear signage and extra help will be there to guide them through the changes we have made to allow for social distancing," Mr Marchant said.