Cork City Council has replaced its diesel and petrol vans and cars with a fleet of 76 new electric vehicles, creating the biggest local authority zero emissions fleet in the country.
In addition to the environmental benefits, the switch will save the council €700,000 over the next five years.
Graeme Bowen will be driving one of the new cars. In fact, he's been driving one for the past four months to iron out any potential teething problems.
He has been with Cork City Council for the past five years and works in the roads maintenance department.
"Initially, when I found out we were going to be driving electric cars, my main concern was that they would have to be plugged in every five minutes and you wouldn't get very far," said Graeme.
"But after driving them for a couple of weeks, that fear was soon alleviated. Most of the time you would be charging it once or twice a week and that's about it."
Graeme drives the electric car for work. He rides a motorcycle for his personal use but he would think about electric if he was going to buy a car.
"It's fantastic," Graeme says. "If I was buying a car myself I wouldn't hesitate to think about getting one.
"It's extremely comfortable. For purely selfish reasons - aside from being good for the environment - an electric car is very easy to drive. It's very quiet."
Cork City Council was able to replace all its diesel and petrol vans and cars in a matter of months, because its fleet is leased, not owned. The council installed more than 30 additional charging points at locations around the city to facilitate the changeover to EVs.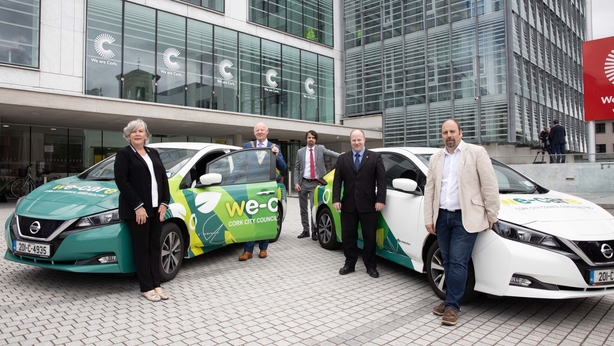 The council said that over a quarter of its fleet now comprises zero emission electric vehicles, with trucks and heavy duty vehicles still reliant on diesel or petrol. Overall diesel consumption is down 20%.
The project lead for Cork City Council is senior engineer Fergus Gleeson. "We have done this because it is the most cost-effective solution for our fleet, it's technically viable, supports national policy and, in a city impacted by climate change, is the right and proper thing to do," he said.
Local authorities aren't the only ones switching to electric vehicles.
Although the uptake compared with diesel and petrol was low, more and more private motorists are now buying electric cars, with almost 3,500 drivers choosing to drive to an emissions-free future last year alone.
Cork City Council has replaced its diesel and petrol vans and cars with a fleet of 76 new electric vehicles. The changeover will make it the biggest local authority zero emissions fleet in the country. | Read: https://t.co/3CgusjbBkT pic.twitter.com/LrUErJMuRe

— RTÉ News (@rtenews) June 7, 2020