The London Metropolitan Police said there have been four arrests at the Black Lives Matter protests in the city and all of the suspects were in custody.
The arrests were for assault on police, criminal damage, making threats and calling for violence and an incident of dangerous driving near the US embassy.
Some protesters clashed with police in Downing Street. A mounted police officer was photographed lying on the road after being unseated from his horse, which then bolted - sending crowds of people scattering.
Videos circulating on social media showed missiles being thrown at officers in protective gear.
The clashes came after a largely peaceful demonstration which started earlier on Saturday afternoon to show solidarity with the Black Lives Matter movement in the wake of the death of George Floyd in Minneapolis.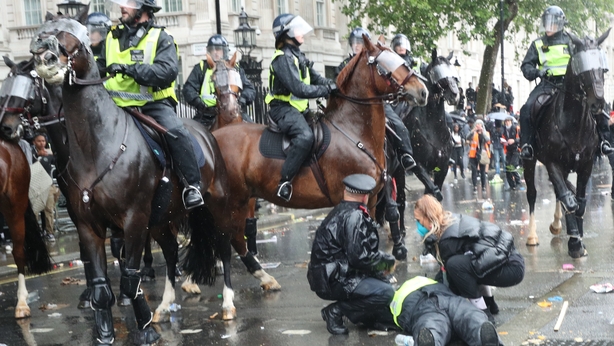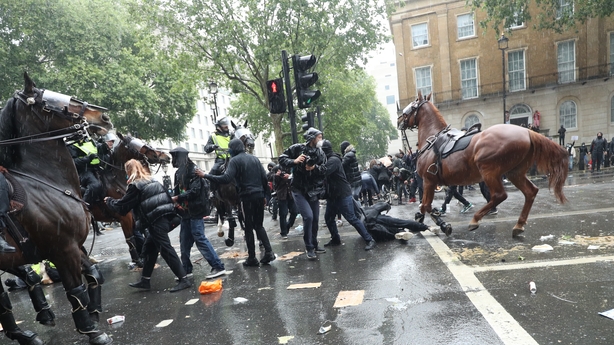 A line of police remained outside Downing Street as mounted officers moved away from the scene.
Officers attempting to push protesters down Whitehall were met with resistance from the crowd, with some demonstrators shouting "stand your ground" to the others.
Those at the front of the crowd put both their hands up, while one demonstrator with a speaker played One Love by Bob Marley.
The Metropolitan Police said the majority of protesters at a Black Lives Matter demonstration have now left central London.
In a post on Twitter, the Met Events team said: "The demonstrations in Central London have been taking place since 12pm. The majority have now left and we require the remaining protesters to leave Whitehall and return to their homes."
British Home Secretary Priti Patel said violence towards police at protests was "completely unacceptable" and gave officers her "full support in tackling disorderly behaviour".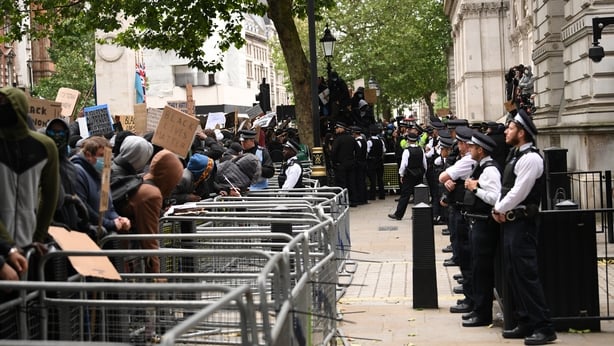 Writing on Twitter, she said: "Protests must be peaceful and in accordance with social distancing rules.
"Violence towards a police officer is completely unacceptable at any time.
"The police have our full support in tackling any violence, vandalism or disorderly behaviour. There is no justification for it."
Earlier, thousands of protesters dropped to one knee and raised their fists outside the US embassy in central London. There were chants of "silence is violence" and "colour is not a crime".
Demonstrator Jonathan Fashanu and his partner Seleste brought their two children - aged two and nine months - to the rally.
"We just don't want the same thing to happen when they grow up and they get older," the 35-year-old told the PA news agency.
"We had our dads fight for the same thing, it's always been an issue, racism is such a systemic and ingrained problem.
"And we just thought that if we don't take the steps now to come out now and do something about it, we're not giving them a fighting chance to deal with these issues."
Most demonstrators who gathered in Parliament Square, London wore masks and face coverings, with some opting for gloves.
Placards carried by demonstrators referenced the coronavirus crisis, with one saying: "There is a virus greater than Covid-19 and it's called racism."
As the rally began, one organiser used a megaphone to tell the crowds: "We are not here for violence.
Today is sheer positivity, today is sheer love."
Elsewhere in England, thousands of protesters packed central Manchester. They chanted and clapped in unison and held home-made placards bearing the initials BLM.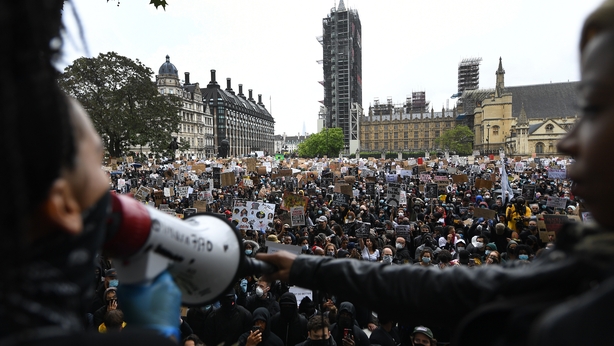 Several hundred marchers also gathered in Newcastle while an online protest organised by Stand Up To Racism - North East drew an audience of several thousand, who listened to speakers including Janet Alder, whose brother Christopher died in police custody in Hull in 1998.
In Sheffield, hundreds of people gathered on Devonshire Green to protest and hold a minute's silence.
During the gathering, which included speeches, they chanted: "No justice, no peace, no racist police."
In Wales, around 2,000 people joined in a Black Lives Matter demonstration in Cardiff today.
Crowds generally kept to two-metre social distancing and many wore face coverings and gloves, while only a small police presence watched over the peaceful protest.
Here in Ireland, thousands of protesters also gathered at demonstrations around the country to support the Black Lives Matter movement