The Cabinet is expected to give approval for the reopening of major retail stores from next Monday when it meets tomorrow.
The approval will be subject to stores having an entrance on to a street.
This is ahead of schedule and tallies with comments from Taoiseach Leo Varadkar earlier today that proposals have been put to the National Public Health Emergency Team to ease some restrictions early.
The reopening of playgrounds is also set to be approved tomorrow.
People may also be allowed to visit the homes of those aged over 70 again.
Among stores that will not be reopening, however, is clothing retailer Penneys, which has said that it is still working through its plans for reopening.
In a statement, a spokesperson said that no official date for the reopening of the stores has been announced, adding that it will only reopen them when convinced it is safe and right to do so.
Earlier, Mr Varadkar said proposals have been made to NPHET and the Chief Medical Officer to bring forward the lifting of some Covid-19 restrictions.
He said the Government has proposed that elements of Phase Three of lifting of restrictions could be brought forward into Phase Two. He said this would be subject to Cabinet approval. 
He added that elements of Phase Four could be brought forward into Phase Three.
Mr Varadkar was responding to the leader of the Green Party, Eamon Ryan, who asked for more guidance for businesses which were planning to reopen this summer. 
The Taoiseach also expressed concern that people were calling for the Government to accelerate the plan to reopen our economy and society.
Speaking in the Dáil, he said he is confident that we can advance to Phase Two of the roadmap to reopen the country on Monday.
He said the decision to move to Phase Two will be made on the basis of the available medical data and the expert advice from NPHET, alongside reports from key Government departments.
NPHET met today to finalise the advice it will give to Government.
Mr Varadkar said it is better to adopt a slow and steady approach than to risk going too far, too fast.
He said: "We need to be confident before we make that move" and he said he was concerned that this week many people were calling for the Government to accelerate and jump ahead. 
A business representative group welcomed the reports that larger retailers could reopen on Monday.
"Retailers have clearly demonstrated their commitment to transforming how they operate to protect the health of customers and staff," said Arnold Dillon, Director of Retail Ireland.
"The reopening of larger retailers earlier than planned is a welcome acknowledgement of this, along with the urgent need to protect the thousands of vulnerable retail businesses and jobs right across the country."
We need your consent to load this rte-player contentWe use rte-player to manage extra content that can set cookies on your device and collect data about your activity. Please review their details and accept them to load the content.Manage Preferences
---
Read more:
Latest coronavirus stories
Aer Lingus calls for 14-day quarantine period to be scrapped
---
Taoiseach Leo Varadkar says he is 'concerned' that many people were calling to accelerate the plans to return to normal after the Covid-19 crisis. | Follow live updates: https://t.co/xlUZbU0Toa pic.twitter.com/O3xv8P8Z3x

— RTÉ News (@rtenews) June 4, 2020
Green Party leader Eamon Ryan says moving to Phase 4 of the easing of restrictions just a few weeks earlier would have a hugely positive impact on jobs in the local tourism industry. | Follow live updates: https://t.co/xlUZbU0Toa pic.twitter.com/OQMlgnxk9Z

— RTÉ News (@rtenews) June 4, 2020
The leader of Fianna Fáil has said that many of the travel restrictions currently in place do not make as much sense now compared to when they were introduced.
Micheál Martin said it is unfortunate that the Government has rigidly stuck to its approach around the easing of restrictions.
He said that compliance was fraying because some people felt their own efforts at following the rules were being undermined.
Mr Martin said there was a difference between the headlines and the guidelines, which was causing confusion.
He said the only way to ensure compliance continues was to allow for a far greater explanation of the choices that are being made by Government.
Fianna Fáil leader Micheál Martin says it is 'deeply unfortunate' that the Government is committing to rigid steps in reopening the country, despite the progress we have made in suppressing the virus. | Follow live updates: https://t.co/xlUZbU0Toa pic.twitter.com/XjZeRdTinH

— RTÉ News (@rtenews) June 4, 2020
Leader of the Labour Party Alan Kelly has called for a HSE or HPSC analysis of the numbers of Covid-19 cases among healthcare workers.
He said the 32% rate makes Ireland an 'outlier' compared to other countries.
In response Mr Varadkar said Mr Kelly's 32% figure over healthcare workers should not be misunderstood - that it is actually 7% of healthcare workers who tested positive for the virus but that an analysis should be done.
Education Minister to bring proposals to Cabinet
The Minister for Education told the Dáil that he will bring proposals to Cabinet next week on reopening schools and also on provision of a summer programme for children with special needs and those at risk of educational disadvantage.
Joe McHugh said he wants to see the maximum return to school possible in late August and September but he said managing the re-opening of schools was a massive logistical operation.
On the summer programme, he said he wants it to run and meetings are continuing to resolve various issues including transport and escorts for children.
Fianna Fáil education spokesperson Thomas Byrne called for "robust" research into what has been missed with the school closures and how much catching up there will need to be in the new school year.
He said he had concerns over Minister McHugh's plans for summer programmes, particularly asking for SNAs and teachers to be "involved" in those plans.
Sinn Féin's education spokesperson Donnchadh Ó Laoghaire said confusion has reigned about how schools will be run when they reopen, with the Minister and the Taoiseach saying different things.
Third week crucial - Holohan
At a briefing at the Department of Health last night, Chief Medical Officer Dr Tony Holohan said there is nothing in the data so far to suggest that NPHET will not recommend moving to Phase 2.
However, he added that the third week of each stage is the crucial one and it is important to wait until the end of this week before making a decision.
Other issues due to be discussed at the NPHET meeting are measures aimed at easing the pressure on children, including the possibility of summer camps, as well as visits to nursing homes and the control of transmission of the virus among health workers.
What is in Phase 2 of the roadmap?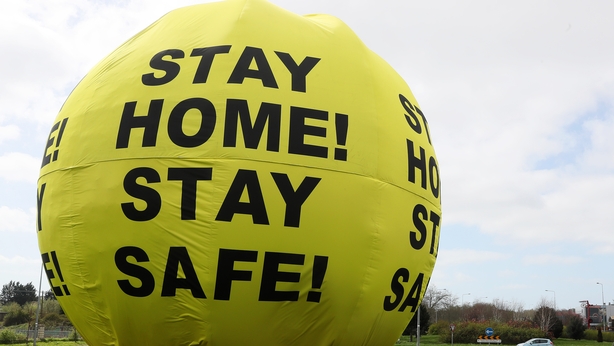 Phase 2 measures previously announced by the Government include being able to travel up to 20km away from home as opposed to the 5km limit, which has been in place since 5 May.
It would also involve letting up to four people visit another household for a short period of time - though everyone must keep at least two metres apart from people they do not live with.
Those who are cocooning - people over 70 and those who are medically vulnerable - can have a small number of visitors to their home in Phase 2.
However, visitors would have to wear gloves, face coverings and keep at least 2m away from the person who is cocooning.
Small retail outlets can reopen with a small number of staff in Phase 2, so long as the retailer can control the number of individuals that staff and customers interact with at any one time.
People who can work safely while maintaining a 2m distance from others would be permitted to return to work.
However, remote working would continue for all workers or businesses that could do so.
Also under Phase 2, people would be able to take part in outdoor sporting and fitness activities, involving team sports training in small groups (but not matches) where social distancing could be maintained and where there is no contact.
As for funerals, a slightly larger number of people would be allowed attendance but numbers will still be restricted to immediate family and close friends - the exact number is due to be determined by 8 June.
Over 150 people with Covid-19 in acute hospitals
As of 8pm last night, there were 153 people with Covid-19 in acute hospitals around the country.
The latest operational figures from the Health Service Executive show that 91 of those patients are in Dublin hospitals. 
37 patients with confirmed Covid-19 are in intensive care, and 22 of them are being ventilated. 
A further 16 people who are suspected of having the virus are also in ICU, with nine of them on ventilators. 
There have been no deaths in the previous 24 hours among either confirmed or suspected cases in ICUs. 
Around 80% of cases of Covid-19 will be a mild to moderate illness, close to 14% have severe disease and around 6% are critical.
Generally, you need to be 15 minutes or more in the vicinity of an infected person and within two metres of them, to be considered at-risk, or a close contact.
Additional reporting: David Murphy, Maggie Doyle, Mícheál Lehane, Sandra Hurley, Sineád Crowley and Laura Hogan