A further 16 people with Covid-19 have died in Ireland, the Department of Health has confirmed. This brings the death toll here to 1,518.
There have also been an additional 129 cases of the virus, bringing that total to 23,956.
Chief medical officer Dr Tony Holohan said the European Centre for Disease Prevention and Control (ECDC) had issued an alert about 230 suspected cases of a new paediatric inflammatory multisystem syndrome (PIMS) temporally associated with Covid-19.
Kawasaki syndrome was one such inflammatory condition.
He said there were seven children who had been investigated here for a possible link to inflammatory disease.
"There is no certainty of its direct association with Covid-19," said Dr Holohan.
He said it was a very rare condition, with just 230 cases across Europe, but the Department of Health wanted clinicians to report any possible cases.
The World Health Organization confirmed it is studying a possible link between Covid-19 and a rare inflammatory illness among children.
Dr Holohan also provided more detailed information on the age group of people with Covid-19.
0-4 age group - 128 cases,18 hospitalisations, none in ICU
5-14 age group - 266 cases, 17 hospitalisations, 2 in ICU
15-24 age group - 1,688 cases, 68 hospitalisations, 5 ICU
25-34 age group - 3,936 cases, 4 hospitalisations, 14 ICU
Asked about the possibility of restrictions being eased earlier than outlined in the Government road map, Dr Holohan said it was not a rigid thing but a "living, breathing" document.
But he did not anticipate any further easing of restrictions before the next three-week interval.
However, the impact of the restrictions on children, specifically, was being considered by the National Public Health Emergency Team (NPHET).
Dr Holohan said he did not anticipate that schools would reopen before September.
"We are aware that the R rate has not risen in Denmark since schools reopened there … it will help us in our understanding of the disease," he said.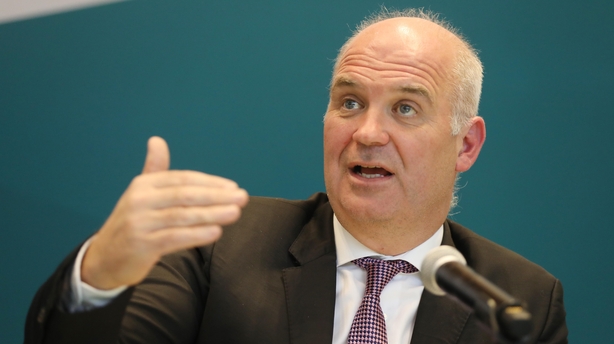 ---
Today's data from the Health Protection Surveillance Centre shows that of the 23,627 cases as of midnight, Wednesday 13 May that 57% of cases are female and 42% are male.
The median age of confirmed cases is 48 years, while 3,062 cases (13%) have been hospitalised
Of those hospitalised, 387 cases have been admitted to intensive care.
The figures show that 7,427 cases are associated with healthcare workers.
Dublin has the highest number of cases at 11,557 (49%), followed by Kildare with 1,352 cases (6%) and then Cork with 1,256 cases (5%).
Of those for whom transmission status is known: community transmission accounts for 60%, close contact accounts for 37%, travel abroad accounts for 3%.
---
Earlier today, Taoiseach Leo Varadkar said people should use face coverings when using busy public transport or in an enclosed indoor public area, as part of Phase One of the easing of Covid-19 restrictions.
From Monday, a small number of shops and retail outlets can reopen, but not homeware stores and a group of four people can meet outdoors, maintaining social distancing.
Dr Holohan confirmed that such a meeting could take place in a garden.
But he warned against people having barbecues "and then someone needs to go into the house to use the toilet and this is definitely not in the public health advice guidelines".
He said cocooners - those aged over 70 and medically vulnerable people - would be able to meet up to four people in an outdoor setting from Monday, as long as they followed the two-metre social distancing guidelines.
"But that is general advice. Medically vulnerable people will have different individual conditions and should follow the advice of their doctor," he said.
Dr Holohan said NPHET did give consideration to making face coverings mandatory but recognised that for some people, it may not be possible to wear one.
"Also the evidence is not conclusive" about justifying making face coverings mandatory.
Also today, Mr  Varadkar announced that anyone arriving into Irish ports and airports will be required to quarantine for 14 days, apart from some essential workers and people transiting to Northern Ireland.
In Northern Ireland, a further 15 deaths as a result of coronavirus were announced today, bringing the official total to 469.
There were 26 new cases of Covid-19, taking the total number of cases in Northern Ireland to 4,317.
---
Here is a guide to making a face covering.

It is advised to wear one where social distancing is not possible.

Face coverings are not a replacement for washing your hands well and often with soap and water.

Keep 2m from others when you are outside your home.#COVID19 pic.twitter.com/Rv1eGBurLa

— Department of Health (@roinnslainte) May 15, 2020