Taoiseach Leo Varadkar has said people should use face coverings when using busy public transport or in an enclosed indoor public area, such as retail, from Monday, as part of Phase One of the easing of Covid-19 restrictions.
Speaking at Government Buildings, he said the guidance for Phase One is to stay at home except to go to work if your workplace is open and you cannot work from home, to shop for items you need, to exercise within 5km and for medical reasons or to care for others.
Up to four people who do not live in the same household will be allowed to meet up outdoors, as long as they maintain a two-metre distance.
The four basic hygiene measures remain the same, which is to wash hands regularly, to maintain two-metre physical distance when possible, to sneeze or cough into your elbow or tissue, and to stay home and isolate if you feel unwell, Mr Varadkar said.
The additional hygiene measure that has been advised is to use face coverings when using busy public transport or in an enclosed indoor public area, such as retail.
The Taoiseach said the wearing of face coverings is advisory and is not a legal requirement.
"The science shows they may be beneficial but they are not a substitute for all of the other guidelines.
"We are not recommending people wear surgical masks as that might lead to a shortage for healthcare masks. This is why we are using the term covering in preference to masks," he said.
Minister for Health Simon Harris said there will be guidance issued by the Department of Health on how to make your own face covering.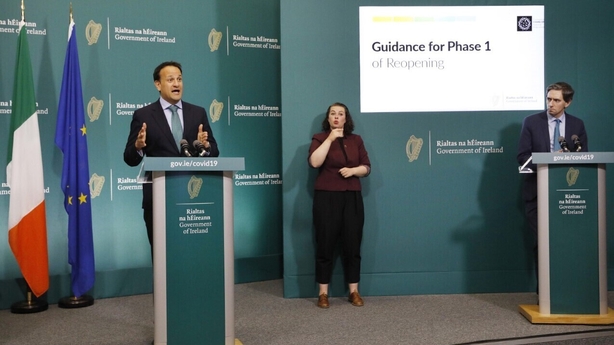 He said: "I would urge people not to judge those who choose not to wear face coverings.
"There may be people who do not want to wear one due to allergies, or for people who have autism it may cause irritation. We are not advising that those who are under 13 years of age should wear one."
Chief Medical Officer Dr Tony Holohan said face coverings cannot be regarded "as some sort of magic shield".
Dr Holohan said the other hygiene measures, such as hand washing and social distancing, must continue.
He said people cannot interpret the message about wearing face coverings to mean that you can disregard the requirement to remain socially distant.
Under Phase One, businesses that can reopen include garden centres, farmers' markets, bicycle shops and motor garages, electrical and IT stores, as well as opticians.
Construction workers and gardeners can also to return to work on Monday.
The Taoiseach said there will be a designated worker on each construction site who will have responsibility to ensure that public health guidelines are being followed.
---
Read more:
What restrictions are going to be lifted and when?
Have we passed the five tests to start lifting Covid-19 restrictions?
Latest coronavirus stories
---
We need your consent to load this rte-player contentWe use rte-player to manage extra content that can set cookies on your device and collect data about your activity. Please review their details and accept them to load the content.Manage Preferences
The Health and Safety Authority will have overall power to enforce compliance and will be able to close sites where necessary, or impose fines or prosecutions.
The Taoiseach confirmed that indoor home repairs are not included in the advice to resume construction work.
He acknowledged that all construction work begins outdoors and "as the walls go up" it becomes indoor, but he said: "It will not be possible to get your kitchen redone. That will hopefully come at a later date."
Following this morning's Cabinet meeting, a Government spokesperson said hardware but not homeware shops could reopen under this phase of the plan.
The Taoiseach said that hardware shops are reopening in order to facilitate the reopening of construction sites.
Minister for Business, Enterprise and Innovation Heather Humphreys confirmed that if homeware is the "main line of business you can't open", but she said if a hardware shop has a homeware section, this section can stay open.
In relation to the reopening of hardware stores, Minister Harris said the advice remains to stay at home.
He said: "If you need a new pair of curtains you can wait another couple of weeks. If you need a new bed cover you can wait another couple of weeks.
"Let's not get confused. The advice remains that people should minimise the number of times they leave their homes and minimise their contacts. Now is not the time to dickie up the house."
---
Here is a guide to making a face covering.

It is advised to wear one where social distancing is not possible.

Face coverings are not a replacement for washing your hands well and often with soap and water.

Keep 2m from others when you are outside your home.#COVID19 pic.twitter.com/Rv1eGBurLa

— Department of Health (@roinnslainte) May 15, 2020
---
Furniture superstore IKEA has confirmed that it will not reopen on Monday following the latest Government advice.
As part of Phase One, outdoor spaces and tourism sites, along with golf clubs and tennis courts, can reopen as long as social distancing is in place.
The Taoiseach said that he hoped to be able to announce a movement to Phase Two in three weeks' time, but said this depended on the progress that is made.
He said: "Nothing is guaranteed and the only thing that is inevitable is the spread of the virus if we don't push it back.
"Covid-19 is an inferno that is raging around the world. In Ireland it is a fire in retreat, but it will not be defeated if we do not distinguish every spark and quench every ember.
"We are bound together and we must rely on each other if we are to succeed, which we will."
Minister Humphreys also brought a proposal to Cabinet for a €250m fund for small firms.
It will provide grants of up to €10,000 to assist businesses looking to reopen.
Around 80% of cases of Covid-19 will be a mild to moderate illness, close to 14% have severe disease and around 6% are critical.
Generally, you need to be 15 minutes or more in the vicinity of an infected person and within 2 metres of them, to be considered at-risk, or a close contact.
---
What is to reopen:
Hardware stores
builders' merchants, and stores that provide supplies and tools essential for gardening, farming and agriculture
Garden Centres and Farmers Markets
Opticians/Optometrists/outlets providing hearing test services, selling hearing aids and appliances
Retailers involved in the sale, supply and repair of motor vehicles, motorcycles and bicycles and related facilities
Office products and services; and Electrical, IT and phone sales, repair and maintenance services for home
---
It is advised to wear a face covering in situations where social distancing is not possible such as shops or public transport.

They are not a replacement for washing hands, or keeping the 2m distance from others when outdoors. #COVID19 #WashYourHands pic.twitter.com/RfLrQxKEgL

— Department of Health (@roinnslainte) May 15, 2020