The Department of Health has announced 16 more deaths from Covid-19, bringing the total number of fatalities in Ireland to 1,319.
The overall number of confirmed cases stands at 21,772 after another 266 cases were confirmed today.
Dublin has the highest number of cases at 10,561 (49%), followed by Kildare with 1,268 cases (6%) and Cork with 1,175 cases (6%).
Community transmission accounts for 63% of those for whom transmission status is known, with close contact accounting for 34% and travel abroad accounting for 3%.
Today's data from the Health Protection Surveillance Centre, as of midnight on Saturday 2 May and involving 21,437 cases, reveals that 58% are female and 42% are male.
The median age of confirmed cases is 49.
The data also shows that 2,840 cases (13%) have been hospitalised and of those hospitalised, 364 cases have been admitted to intensive care.
There are 6,211 cases associated with healthcare workers.
We need your consent to load this rte-player contentWe use rte-player to manage extra content that can set cookies on your device and collect data about your activity. Please review their details and accept them to load the content.Manage Preferences
Meanwhile, Minister for Health Simon Harris has said that from today, the Health Service Executive has the ability to carry out 12,000 tests a day to battle the Covid-19 pandemic, but insists the overall situation remains "fragile".
He said there had been a significant progress in test time turnaround, but there was still more room for improvement.
As of Saturday 2 May, 188,837 Covid-19 tests had been carried out by the HSE.
Minister Harris described the existing situation with the virus in Ireland as "fragile".
He said he worried a little that because the country is in a relatively better place, that some people might bank that progress, when the task is only half complete.
The minister also said that the health service was assessing how much capacity must be kept for Covid-19 cases in the period ahead, conscious that there could be a second phase.
Mr Harris said that the next two weeks matter a great deal.
Minister for Health Simon Harris has said that from today, the HSE has the ability to carry out 12,000 tests a day to battle the Covid-19 pandemic, however he also said that the overall situation remains "fragile" | Read more: https://t.co/rIh7jallIK pic.twitter.com/5TKwAgfgwL

— RTÉ News (@rtenews) May 4, 2020
The number of patients in hospital with confirmed or suspected cases of Covid-19 has dropped again in the last 24 hours.
There were 950 people hospitalised on Saturday night, but this had reduced to 900 as of Sunday night.
The number of confirmed patients in intensive care continues to decline from a peak of 160 people last month.
There were 93 patients in intensive care with confirmed cases of the disease.
Two patients had died in the previous 24 hours and there were 20 suspected cases in ICU.
Mr Harris and HSE Chief Executive Paul Reid welcomed the positive trends in the number of hospitalisations and ICU admissions.
The highest number of cases was in the Mater hospital in Dublin, which has 92 confirmed cases.
Outside the Dublin hospitals, Limerick with 46 and Mayo with 34 have the most confirmed cases.
---
Read more:
Latest coronavirus stories
---
The HSE said it intends to use private hospital capacity to deal with people waiting for treatment for other conditions, starting with those who need the most urgent treatment.
It also says it will be able to test 100,000 people a week for Covid-19 by 18 May and will have a three-day turnaround between referral and results.
Shortage of critical care beds
Some hospitals around the country have no critical care beds vacant, or just a small number available, latest HSE figures show.
In Dublin, St James's Hospital has 17 vacant critical care beds, the Mater has none.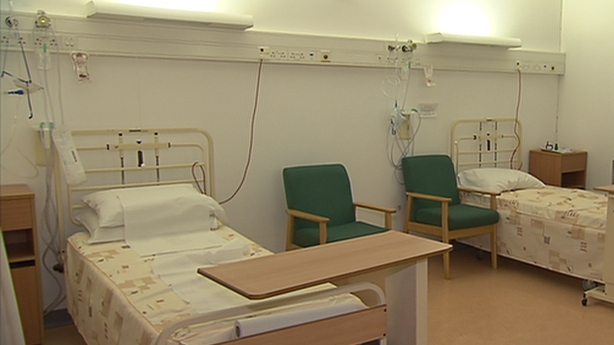 The figures are dynamic and up to last evening.
Other hospitals with no critical care beds vacant are: Portlaoise, Tullamore, University Hospital Kerry and Portiuncula.
Elsewhere, Galway University Hospital has 13 vacant critical care beds vacant and University Hospital Limerick has seven available.
Meanwhile, the HSE has said it does not recommend that people use disposable gloves in everyday life, such as when shopping, or when out and about.
Professor Martin Cormican, HSE National Lead for Antibiotic Resistance & Infection Control, said that if there are bugs on a person's gloves, they often end up on their hands, when taking the gloves off and can easily end up in a person's mouth, nose or eyes.
Tomorrow is the World Health Organization's Hand Hygiene Day and Prof Cormican said the best advice was for people to regularly clean their hands properly.
Meanwhile, the Mental Health Commission has said it was concerned that significant inconsistencies still remain in the application of new guidance in relation to testing of mental health staff for Covid-19.
It said that while a number of services were now reporting that staff testing was planned, others reported that they were still waiting to hear about testing.
Yesterday, the HSE said it hoped to complete all testing in nursing homes over the weekend and that it would be moving on to mental health and disability settings this week.
It said it expects to see an increase in Covid-19 case figures as a result of more testing.
Additional reporting Orla O'Donnell