Ministers met the Chief Medical Officer Tony Holohan today with many urging him to ease restrictions to enable older people exercise outside their homes.
The Government had advised all those who are over 70 or who are extremely medically vulnerable to "cocoon".
Last night, ministers received a text from Taoiseach Leo Varadkar telling them about today's meeting.
A majority called for several of the restrictions to be relaxed, with some said to have been particularly "liberal" in their approach.
It is understood that ministers were told that the reopening of pubs will not happen until the latter part of the unwinding process.
Most of those present believe there will be little if any changes to the restrictions announced tomorrow.
The Cabinet is set to meet at 3pm tomorrow afternoon to sign off on a roadmap to a future with fewer Covid-19 restrictions.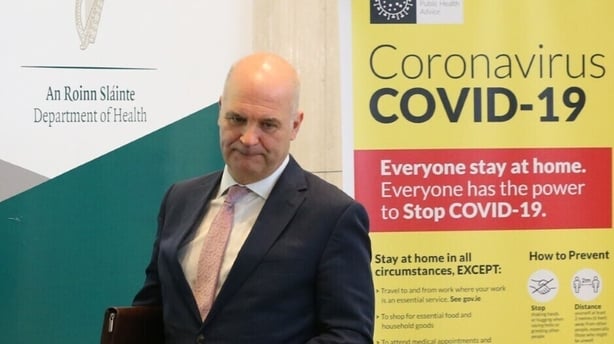 Earlier, the Taoiseach said a plan was being developed to relax the current Covid-19 measures, but any easing of the restrictions will be done gradually.
Speaking in the Dáil, Leo Varadkar said the lifting of restrictions will not mirror the way in which they were escalated.
He said he knew the lockdown was difficult and that people were feeling frustrated, cooped up and trapped, but he said "we must keep doing what we're doing".
Mr Varadkar said that people want to know when things will go back to the new normal, but unfortunately for those who would like an immediate return to a pre-Covid world, he said the easing of the restrictions will be slow and gradual and done in a step-wise, tiered manner.
He said public health and safety and healthcare capacity will continue to be the basis for decision-making.
Changes will be made every two to four weeks, but the Government will intervene if things are "going off track" and some elements would be reintroduced.
Mr Varadkar said he hopes to put the plan before Cabinet tomorrow to be approved. "If a consensus exists, I want to find it," he said.
He said there were five key priorities to be considered in lifting the restrictions:
Progress of the disease
Healthcare capacity and resilience
Testing and contact tracing capacity
Ability to shield and care for at-risk groups
Risk of secondary morbidity due to the restrictions themselves
---
---
We need your consent to load this rte-player contentWe use rte-player to manage extra content that can set cookies on your device and collect data about your activity. Please review their details and accept them to load the content.Manage Preferences
Mr Varadkar said many lives have been saved, but that people cannot falter now.
The Taoiseach said the country is not out of danger yet, but he said the Government would give hope that there is light at the end of the tunnel.
He said this was a virus being fought on six fronts, including protecting vulnerable groups, ICU capacity and provision of Personal Protective Equipment. He said it was never a case of prioritising any one over another.
Mr Varadkar said that more than 150,000 tests have been carried out and Ireland is sixth out of 27 EU countries on a per capita basis in terms of testing.
Taoiseach @LeoVaradkar sets out the five criteria for how any decisions on lifting #coronavirus restrictions will be made | | Live #Covid19 blog: https://t.co/P33nPRPird pic.twitter.com/Xy1R9DkdJi

— RTÉ News (@rtenews) April 30, 2020
Fianna Fáil leader @MichealMartinTD says there is widespread unease about the manner in which some decisions are being taken, and calls for more clarity on how policies are formed | Live #Covid19 blog: https://t.co/P33nPRPird pic.twitter.com/nlbkqneFyN

— RTÉ News (@rtenews) April 30, 2020
Fianna Fáil leader Micheál Martin said there was a growing uncertainty and a deep unease on the lack of clarity about the next steps on the restrictions.
He said the resolve to do everything possible remains strong and that nobody expects a rapid reversal of every control measure, but the Government must increase transparency and meaningful consultation.
"Every significant study ever undertaken into major emergencies has shown that trust depends on transparency," he said.
Mr Martin said as Ireland moves away from the first phase of the pandemic, many decisions have to be taken that will impact on different sectors.
He said it was not good enough that the nursing homes are not formally represented in key discussions.
Mr Martin said party leaders were told that testing was not an issue when it comes to lifting restrictions, but he said more clarity was needed on this.
He said that more information was needed about the impact on other health issues as doctors throughout the country are reporting that people are presenting with other diseases.
Sinn Féin leader @MaryLouMcDonald says some members of the Government have created an impression that 5 May would be a red letter day when we would all be free of coronavirus restrictions, and said that was unfair | Live #Covid19 blog: https://t.co/P33nPRPird pic.twitter.com/AdpWtjvMHM

— RTÉ News (@rtenews) April 30, 2020
Sinn Féin leader Mary Lou Donald told the Dáil that it was very dangerous to propose unwinding restrictions in the absence of comprehensive testing.
She said the testing target of 100,000 per week could not merely be aspirational, but instead they had to be real tests.
She said she was worried that "on the brow" of announcing his roadmap, the Taoiseach was lacking ambition on testing.
Ms McDonald said that from the start, the right model and approach was adopted and she said credit was due to everyone for that.
But she said it was unhelpful that members of Government had engaged in kite flying and thinking aloud, and this had created confusion that 5 May was a red letter day.
She said it was doubly unfair to criticise sections of the public for not complying.
Ms McDonald said extraordinary requests had been made of the public and they must be respected by giving them clear and comprehensive information.
Labour leader @alankellylabour says he asked the Taoiseach a number of questions on the transparency of decision making. He says @LeoVaradkar replied, but did not answer his questions | Live #Covid19 blog: https://t.co/P33nPRPird pic.twitter.com/ECC0G2179N

— RTÉ News (@rtenews) April 30, 2020
Labour leader Alan Kelly told the Dáil that he believes the Minister for Health and some members of NPHET had overstepped the mark on decision-making on testing.
He said they had demanded a quantum of testing that was beyond the HSE's capacity without first consulting them.
This was why, he said, the CEO and chairman of the HSE had written to the minister and the Department of Health outlining concerns on governance and he called for those letters to be published.
Mr Kelly said nobody asked the HSE whether they could deliver that number of tests, but he said they could not as they did not have control of the labs.
He also said that kite-flying was not acceptable and he said the Taoiseach, the Minister for Health and some members of NPHET had created a narrative that citizens were to blame for restrictions not being lifted.
Mr Kelly said that was nothing of the sort and he said citizens' freedom could not be dangled in front of them.
Green Party leader Eamon Ryan said the unlocking of restrictions cannot come quick enough because the economy is in a "shocking state".
He told the Dáil that this has to be done without letting the virus come back and it is clear that we have not delivered on what was promised when it comes to testing for Covid-19.
Mr Ryan said his son was tested 35 days ago and they still have not got the result, and the undermining of public confidence in these delays is a "huge regret".
People Before Profit TD Richard Boyd Barrett, meanwhile, raised contracts given to health workers who responded to Ireland's call.
He said some nurses and healthcare workers had been given the "worst possible contracts" with recruitment company CPL.
Mr Boyd Barrett said these were three-month temporary arrangements with no sick leave and no right to the Unfair Dismissal Act.
He said that was no way to treat people in an emergency. In response, Mr Varadkar said he did not know the details of the contracts.
Independent Kerry TD Danny Healy Rae appealed to the Taoiseach to get as many people back to work as soon as possible.
He said many companies and business will not be able to return, but he said Mr Varadkar should look at areas where social distancing is possible.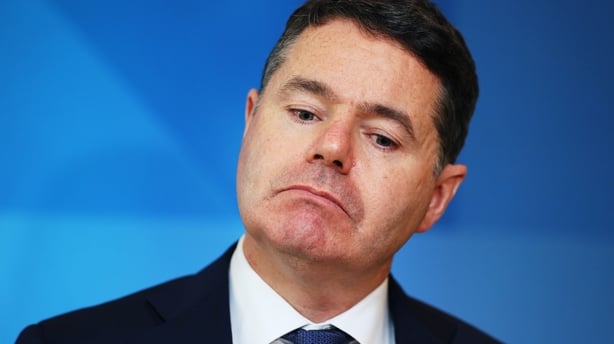 Earlier, Minister for Finance, Public Expenditure and Reform Paschal Donohoe indicated that he will not be taking a pay cut during the Covid-19 crisis.
Speaking on Newstalk, he said a wage cut has not been made for Cabinet ministers, taking the stance that over the last few years he and his colleagues have not experienced a rise to their wages whereas others have.
He said: "I, as a member of Cabinet, have not experienced any of the wage increases in recent years that every other public servant or indeed other politicians have."
He said he did not think it was appropriate at this time for him to get the wage improvement that was available to many.
"Because of that, my current plan is not to implement any further changes in the area."
He also said he was aware of the impact that Covid-19 has had on many peoples' income and described the Covid-19 wage subsidy as a very "powerful instrument", but said he was not certain for how long it could be sustained.