Eighteen more people who were diagnosed with Covid-19 have died in Ireland, the Department of Health has said.
It said 17 of the 18 deaths reported today have been laboratory confirmed. It brings the total number of deaths linked to the virus to 1,102.
There have also been 386 more cases of coronavirus diagnosed here, bringing the number of confirmed cases to 19,648.
Deaths associated with nursing homes account for almost half of all Covid-19 deaths.
Chief Medical Officer Dr Tony Holohan said that 546 of the recorded deaths are linked to nursing homes, accounting for 49.5% of all deaths.
Dr Holohan said there are now 355 clusters of Covid-19 in community residential facilities, linked to 3,875 notified cases of the virus.
There are 211 clusters in nursing homes, linked to 3,048 cases.
Regarding these cases, Dr Holohan said that 213 of the cases in nursing homes were admitted to hospitals.
The @CMOIreland has said he is now even more firmly of the view that we are not in a position where #coronavirus restrictions should be eased on 5 May | Live #Covid19 blog: https://t.co/6VmyS8G3Ya pic.twitter.com/PMZi06662E

— RTÉ News (@rtenews) April 27, 2020
As of midnight on Saturday 25 April, 2,625 cases had resulted in hospitalisation. Dr Holohan said 353 of these cases led to people being admitted to Intensive Care Units.
The median age of those patients admitted to ICU so far is 60, while the median age of all those diagnosed with the virus is 49. There are 5,204 cases associated with healthcare workers.
Dr Holohan said that while trends around the virus are encouraging, further progress would be needed ahead of 5 May, when existing restrictions lapse, in order for a recommendation to ease these restrictions.
He said we have a continued "small but persistent" admission rate to intensive care units every day, meaning around 130-140 people are now being treated in ICU on any one day.
He said that there is still a "significant" number of cases and significant challenges in community residential facilities.
Dr Holohan said he had not made his mind up on what decision he would recommend to Government on the continuation or easing of restrictions introduced to slow the spread of the virus.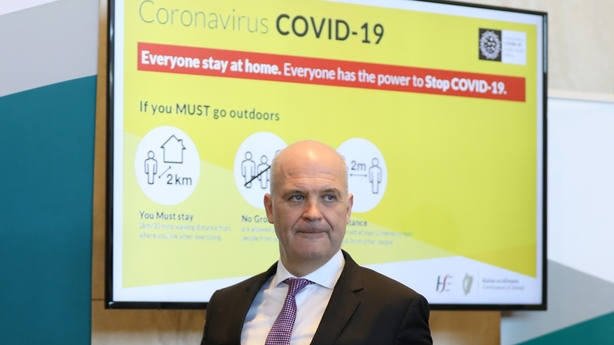 Dr Holohan said he wanted to encourage people to work within the existing restrictions to "drive down" the number of cases.
He said that when the "disease characteristics" are at a level that the NPHET thinks is appropriate to start thinking about lifting restrictions, they also need to look at the requirements around testing, sampling and most importantly, contact tracing.
"When those requirements are satisfied, we think we will be in a position to recommend changes in terms of those restrictions," Dr Holohan said.
When asked about the potential easing of restrictions on a regional basis, Dr Holohan said he did not think this would be the case.
He also said that the spike in cases seen in the last week has been driven by increasing testing in community residential settings.
An increase in the number of confirmed cases of Covid-19 is expected when the case definition changes later this week.
Dr Holohan said that broadening testing criteria will lead to more referrals, more testing and he "expects" more cases from that.
Decision on lifting restrictions 'down to the wire'
Dr Holohan that making decisions before 5 May is "down to the wire".
He said he had not made his mind up about what should happen, but that while he is the chair of the process, he is only one voice in it.
He also said that the NPHET is prepared to change its mind.
"We always have to be ready, watching in the event something happens that we're not anticipating," he said.
In Northern Ireland, there has been ten further deaths related to Covid-19 in hospitals bringing the total to 309.
The Department of Health said there has also been 66 new positive tests for Covid-19 in the region, bringing the total number of cases to 3,374.
Around 80% of cases of Covid-19 will be a mild to moderate illness, close to 14% have severe disease and around 6% are critical.
Generally, you need to be 15 minutes or more in the vicinity of an infected person and within two metres of them, to be considered at-risk, or a close contact.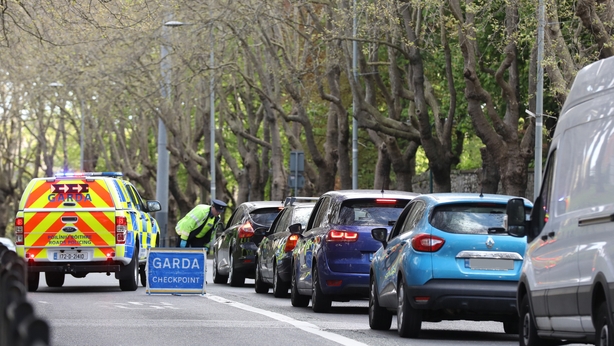 Gardaí have announced details of their policing plan for the forthcoming weekend to prevent the spread of the coronavirus.
Operation Fanacht is to begin tomorrow morning to prevent people travelling across the country in advance of the bank holiday.
The operation will run from 7am tomorrow until the end of the May bank holiday weekend on Monday night, 4 May.
Deputy Commissioner John Twomey has described this as "a critical week for the country" and said gardaí need the high level of compliance to continue to save lives.
It will involve large-scale checkpoints on many main routes and thousands of mobile checkpoints on secondary routes and in towns and villages.
The operation will also see gardaí conduct high-visibility patrols at major tourist locations, parks and natural beauty spots to ensure compliance with restrictions.
---
Read more:
Increase in number of calls to Women's Aid charity
Dublin firefighters to access Covid-19 testing at Rotunda Hospital
Guard of honour for brave grandmother who beat Covid-19
---
The move comes as official figures show an increase in outbreaks of Covid-19 in nursing homes, with long-term residential care facilities also facing a significant risk regarding their operations, mainly in terms of staffing demands.
Of the 425 residential care facilities in the country, 75 have a status red designation.
Latest official figures show an increase in outbreaks of Covid-19 in nursing homes with 211 such clusters reported.
A further 144 outbreaks have been seen in other residential facilities.
The Health Information & Quality Authority is now inspecting nursing homes that have not reported any outbreaks.
Meanwhile, a total of 591,000 people are now receiving the Covid-19 Pandemic Unemployment Payment, with around 21,000 receiving it for the first time this week.
That is on top of around 205,000 receiving standard "non-Covid" Jobseeker's Benefit of €203 per week, and 337,000 receiving income support through the Temporary Wage Subsidy Scheme.
In addition, over 49,000 employers have now registered for the Temporary Wage Subsidy Scheme administered by the Revenue Commissioners.
This week's increase of 7,000 in those receiving the Covid pandemic payment is smaller than in previous weeks.
However, it yet again represents record-breaking levels of unemployment and social welfare dependency.
In total, 1,133,000 people are now fully or partially dependent on the State for income support out of workforce of 2.3 million.