Boris Johnson has said that Britain was beginning to "turn the tide" against cornonavirus, as he made his first public statement since returning to work after being admitted to hospital with the disease.
The British Prime Minister acknowledged the public's frustrations with the lockdown restrictions, but appealed for people to "keep going" with them.
He said that the risk of a second spike of the virus must be recognised, which he said would not only mean a new wave of deaths but also an economic disaster.
Mr Johnson said that the UK was at the point of "maximum risk" in its battle with coronavirus, and that there were signs that the UK is "passing through the peak" of the outbreak and "coming now to the end of the first phase of this conflict".
It remains the "biggest single challenge this country has faced since the war", he said, and "every day I know that this virus brings new sadness and mourning to households across the land".
We need your consent to load this rte-player contentWe use rte-player to manage extra content that can set cookies on your device and collect data about your activity. Please review their details and accept them to load the content.Manage Preferences
More than 20,000 people in Britain have already died with the disease in hospitals, with the true death toll including care homes and other settings likely to be far higher.
NHS England said there has been 329 new hospital deaths today, the lowest such announcement since 30 March.
Both yesterday's figure of 336 and today's figure of 329 represent the first time it has dipped below 400 since the start of the month.
In Northern Ireland, there has been ten further deaths related to Covid-19 in hospitals, bringing the total to 309.
The Department of Health said there has also been 66 new positive tests for Covid-19 in the region, bringing the total number of cases to 3,374.
The number of fatalities does not include deaths in nursing homes or other non-hospital settings.
Mr Johnson said that his government would outline plans for an easing of the restrictions in the coming days, but warned that there would be difficult judgments required.
"We simply cannot spell out now how fast or slow or even when those changes will be made, though clearly the government will be saying much more about this in the coming days," he said.
"I want to serve notice now that these decisions will be taken with the maximum possible transparency and I want to share all our working and our thinking, my thinking, with you the British people. Of course we will be relying as ever on the science to inform us, as we have from the beginning," he said.
Mr Johnson resumed full-time duties at the head of the government three weeks after he was hospitalised with the disease.
Foreign Secretary Dominic Raab, who has been deputising for him in his absence, said he was "raring to go" after a fortnight convalescing at Chequers, his official country residence.
Mr Johnson arrived back yesterday evening to a growing clamour from senior Tories to begin lifting the lockdown amid mounting concern at the damage it is causing to the economy.
Scientists advising the government have warned any relaxation risks a renewed flare up just as the numbers of patients in hospital with the disease is beginning to fall.
Over the weekend, ministers highlighted a warning by Bank of England Governor Andrew Bailey of the economic devastation a second wave of the disease would cause.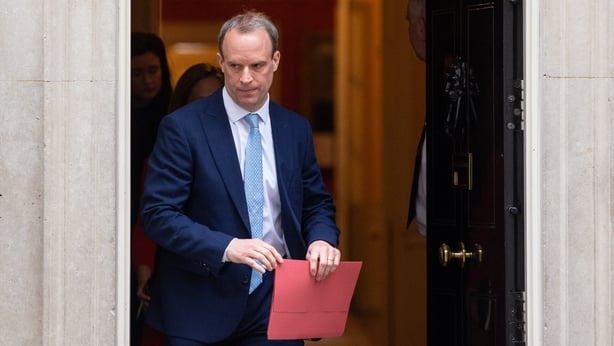 Mr Raab said the outbreak was at a "delicate and dangerous" phase and people would have to get used to a "new normal", with social distancing measures set to remain in place for "some time" to come.
Mr Johnson, who spent a week in St Thomas' Hospital in London, including three nights intensive care, is said to be determined to ensure that there is no second peak.
Labour leader Keir Starmer, while backing the lockdown, added to the pressure with a renewed call for the government to set out an "exit strategy" explaining how it will eventually be lifted.
The British Prime Minister has less than two weeks before the next major decision point comes up with the next three-week review of the lockdown restrictions due on 7 May.
Mr Raab said the government was doing its "homework" in preparation for when the rules could be eased.
It is thought that among the first could be a re-opening of schools, although Mr Raab said that would be "inconceivable" without some further measures in place.
Ministers are also thought to be considering allowing some non-essential businesses to open such as garden centres and car showrooms, provided social-distancing could be maintained.
Mr Raab also indicated that officials were looking at possible checks at air and sea ports with passengers arriving in the UK required to quarantine for 14 days.