Over 350,000 family carers provide care in the home for loved ones of all ages, many of whom are extremely vulnerable to contracting Covid-19.
Fears over the coronavirus are particularly acute for such carers, like Moira Skelly, from Walkinstown in Dublin.
They are concerned about how their loved ones will be looked after in their absence if they have to self-isolate.
Moira and her husband Paul have four children.
The youngest is Ciara, who was born with special needs. She has epilepsy, cerebral palsy, autism, global developmental delay, and requires 24-hour care.
Moira told RTÉ's This Week: "She has the mental capacity of a toddler, even though she is 25 years old. So she is still in nappies. She is PEG-fed and has a permanent catheter in.
"So there are a lot of medical needs and there are a lot of seizures. Her epilepsy has to be managed."
Looking after Ciara involves changing her catheter, giving her medication and changing her nappies several times a day.
Moira says she is worried about having to self-isolate if she or her husband Paul contracted the virus.
"Our worry really is that if anything happens to one of us, who is going to take care of Ciara?
"God forbid if one of us get it. It would be very difficult for the other to manage alone. Ciara is 25 years of age. She's 5' 5" tall and 11 stone. If she takes a fall, one of us cannot pick her up," said Moira.
She said it takes two adults to lift Ciara off the ground if she falls. In the past, if Ciara fell and Paul was out at work, Moira would run out and get a neighbour to help her lift her up.
"But I can't do that now. Our worry really is that if anything happened to one of us, who is going to take care of Ciara?"
Moira says that in normal circumstances she has fantastic family support from Ciara's siblings but they are all isolating in their own homes.
Moira is part of the Stewart's Hospital family network but there is no plan for family carers "because they can't take anyone onto site because there are too many people sick in Stewarts. They couldn't take her into respite because the respite houses are all closed down."
She says that it is a "shame" that the Government has not prioritised family carers more.
She explained: "If any of us were to get tested, we might have to go on the waiting list for a test and we might have to wait for three weeks to get a result."
She acknowledged that priority testing needs to be given to healthcare workers but added that family carers should also be prioritised.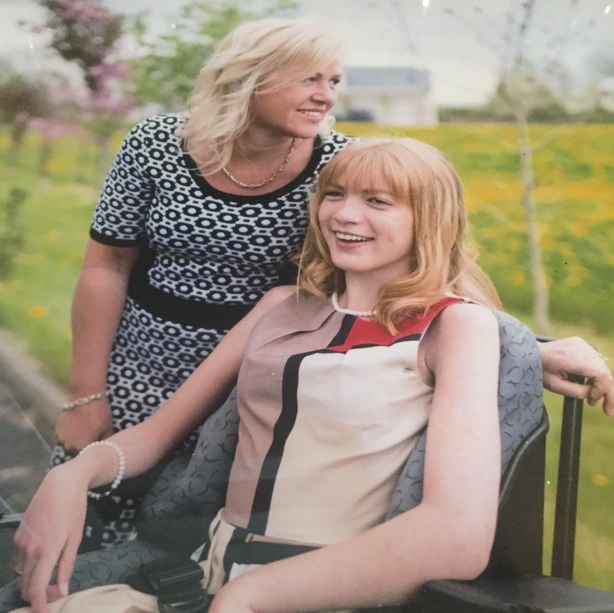 In Barefield, Co Clare, the fears expressed by Moira have unfortunately been realised by another family carer - Ann Norton.
The independent county councillor has contracted Covid-19 and is self-isolating within the family home.
She has found it particularly difficult to isolate away from her 22-year-old daughter Nicole, who is a full-time wheelchair user with cerebral palsy.
Nicole has a speech impairment, she is visually impaired, and needs constant care.
Ann and her husband Cathal have two other children, 21-year-old Lauren and 15-year-old Conán, and the whole family live together.
Nicole has a personal assistant, Julia, who helps out in the home for 20 hours a week.
Despite the recommendation that they should self-isolate, Ann's family have continued helping Nicole. Apart from some respite hours during the week, the family do not have back-up carers.
Ann says it has been particularly difficult having Covid-19 when she is usually a family carer.
"Here I am now as the vulnerable one and I am not allowed near my daughter. I was heartbroken. I cried and I couldn't believe this was happening to us.
"Nicole was really scared. For me to come down the stairs I have to shout down and let her know I am coming. She drives into her bedroom and locks the door. She is paranoid that if I touch anything I could cause problems for her."
Ann says: "The HSE are supposedly the medical providers in this country but you don't get a call from them. You are not asked if you need anything. You really are left on your own.
"I would hate to think other people are going through what we are going through. I have fought for the last 22 years.
"Whoever shouts the loudest gets heard but for the last two weeks I haven't been able to shout. I have been really sick. It's a virus that I hopefully will come out of but it really scares me."
Catherine Cox, head of Carer Engagement at Family Carers Ireland, has called on the HSE to put an emergency contingency plan in place for situations where carers, or the person they are caring for, contract Covid-19.
"At the moment there is no such plan for family carers so there is huge uncertainty and fear," she said.
In a statement issued to This Week, the HSE said it has been "working with voluntary organisations, including Inclusion Ireland and Family Carers Ireland, in identifying and addressing specific challenges for people with disabilities and their families during Covid-19".
It added: "Community Health Organisations (CHOs) have developed contingency plans for management of service user needs arising as a result of Covid-19".