The Walter Reed Army Institute of Research is a secure US military laboratory outside Washington DC.
Scientists here aren't making weapons but they are engaged in a battle of a different kind, the fight against the coronavirus.
Researchers are working to find a Covid-19 vaccine and the head of structural biology at the lab is Galway man Dr Gordon Joyce.
In the past, he has studied viruses such as HIV and influenza, and up until recently he had been working on a vaccine for a different type of coronavirus, MERS.
Earlier this year, Dr Joyce and his team switched their focus to a new enemy.
"On 10 January, when the first sequence became available for the new coronavirus, we started working straight away.  At that stage we'd heard it was pretty bad in China but we didn't know the full extent," Dr Joyce told RTÉ News.
"Over the last few months, we've been working in the lab to generate different vaccine candidates that we're putting into animal testing to see the response."
We need your consent to load this rte-player contentWe use rte-player to manage extra content that can set cookies on your device and collect data about your activity. Please review their details and accept them to load the content.Manage Preferences
While social distancing rules will start to be lifted in countries around the world in the coming weeks, life may not fully return to normal until a successful vaccine has been made widely available.
Most experts agree that it could be well into next year before that becomes a reality.
Scientists like Dr Joyce are well aware of the demand and the urgency.
"Everybody is working night and day on this but some vaccines have taken 10 years to roll out.  Everybody wants this vaccine tomorrow and there will be lines down the road to take it," he said.
"But there are many steps. It's like building a house, you can't put the roof on until you've built the rest of the house. We do design, then we test the proteins. In my lab we work with proteins."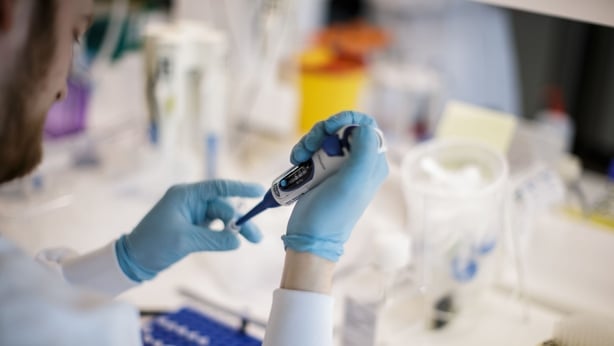 Dr Joyce says the first priority is that a vaccine is safe and then secondly they have to ensure it actually works and protects against the virus.
"The experts in the field are talking about a 12-18 month timeline. Until that time, hopefully we'll have something else like a small molecule drug that could be used to either prevent people from dying or in some way protect against the illness."
Dr Joyce and his team aren't alone. Similar research is under way in labs around the world.
At the University of Bern in Switzerland, they're hoping to have a vaccine ready before the end of the year. The lead scientist there, Dr Martin Bachman, is planning to test the vaccine on himself next week.
A lab at Oxford University began its first human trials in recent days and as many as 100 potential coronavirus candidate vaccines are now under development by biotech and research teams around the world.
One Covid-19 particle measures just 200 millionths of a millimetre, a tiny speck that has generated a massive global effort.