The Courts Service has said it is "disappointed and appalled" that people chose, or organised, to attend court in large numbers despite not being required to be there.
It said they had endangered themselves, gardaí, court staff and court users and put them at risk of infection.
In a statement, the service said it had been to the fore in accommodating the need to limit gatherings that might affect the nation's health and the response to Covid-19 while respecting regulations and expert advice.
It said the service and the judiciary had reduced the number of court sittings dramatically.
It had used online means of dealing with cases, staggered or adjourned sittings and organised access for urgent cases.
The service said the courts had organised that those who did have to attend court were able to do so in a safe manner.
It stated the courts needed to remain open to the public and the media had been a great resource in this regard.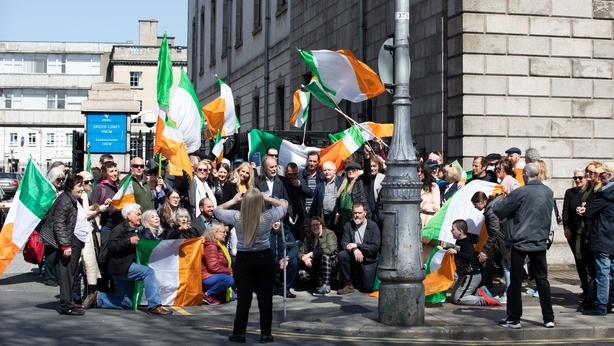 "We are disappointed and appalled that people chose, or organised, today to attend in large numbers, despite not being required to be there," the service said.
The Courts Service implored the public to be sensible and not to gather at court houses during what it described was a time of great public peril and threat to national health.
It said regulations allowed attendance at court if there was a legal obligation to attend.
The service also noted that the national flag was flown beside all court buildings, in response to allegations that the tricolour had been replaced by the European flag.
The service was responding to the large crowd that gathered at the Four Courts for the High Court challenge by former journalists, Gemma O'Doherty and John Waters, against the restrictions imposed by Government in response to Covid-19.