The enforcement of a two-week quarantine for people travelling from areas affected by Covid-19 to non-affected areas could become "the new normal" in the future, according to a leading infectious disease specialist.
Speaking on RTÉ's Weekend on One, Professor Sam McConkey said in his view in two to three years' time there will be two different worlds - one with no Covid-19 circulating and one where the virus will continue to circulate within the population.
Prof McConkey, who is head of the Department of International Health and Tropical Medicine at RCSI, said Wuhan in China had already achieved a Covid-free area.
He added that New Zealand, which has similar attributes to Ireland, was also aiming to achieve this too, which Ireland could aim to emulate.
Prof McConkey pointed out that New Zealand prevented all non-New Zealand passport holders from entering the country, and forcibly quarantined all domestic passport holders coming in.
He said "the new normal" in the future could involve anyone coming from non-Covid free areas being forcibly quarantined for two weeks, however he said that he was not advocating that decision.

Referring to Irish citizens previously being flown home from Wuhan and quarantined in Liverpool, he said that the idea would not be a new concept.
"This is not something novel or new … my point is that travellers from New York or London or Milan at this point, that is what we'd have to do, and two weeks of forced quarantine is a big deal for people moving from outside," he said.
He said his Covid-free vision would require politicians in Northern Ireland working together and then working together with the Irish Government.
Prof McConkey also said there may well be a vaccine within three years, but generally human vaccines take longer than that.
He said despite the idea of one being available early next year, that was "better than best case scenario", and we needed to be able to plan for a worst case scenario.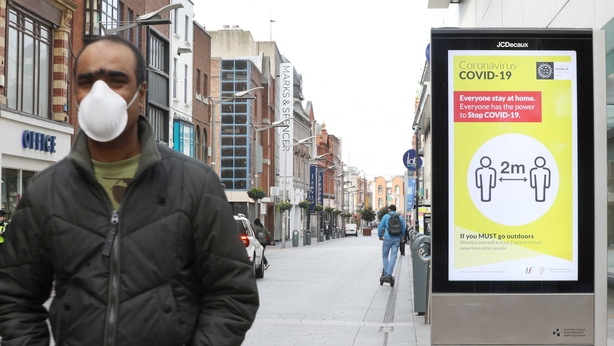 Earlier, an analysis from the Health Protection Surveillance Centre showed the number of healthcare workers in Ireland who have contracted Covid-19 is continuing to increase.
Approximately 2,141 people working in the health service have been diagnosed with Covid-19, representing 27.5% of cases.
The figure was contained in an analysis of confirmed cases up until midnight on Thursday 9 April.
Of the cases examined, just over 22% were hospitalised, while 253 patients or 3.2% of the cases were admitted to intensive care units.
It means 15% of the people treated in hospital were admitted to ICU. Up until midnight on Wednesday, 314 deaths had been recorded here, which represents a fatality rate of 4%.
Precisely 285 of the people who died were aged 65 or over, 14 were aged between 55 and 64, while seven people were in the 45 to 54 age group.
Six of the deaths were people aged 35 to 44, while two others were aged between 25 and 34.
The number of clusters is also continuing to rise, with 356 outbreaks of the virus reported, linked to 1,626 individual cases.
A cluster of Covid-19 relates to at least two cases of the virus. There now are 130 clusters are in nursing homes, an increase of 13 on the previous day.
There are 56 clusters in hospitals, 48 in residential institutions and 22 in community hospitals or long stay units.
On a county breakdown basis, Dublin has the largest number of Covid-19 cases at just over 53%, followed by Cork with 7.5% and Kildare at 4.3%.