Cinemas may be closed but around 20 neighbours in Cork have found a way to go to the movies without leaving the street where they live.
Residents of Frankfield Terrace have been enjoying classics from the comfort of their front gardens. 
Theatre company production manager Scott Duggan came up with the idea to keep his neighbours socialising and entertained during the Covid-19 restrictions.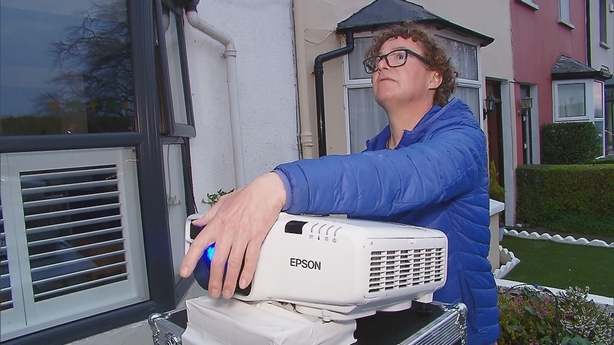 Many residents of the terrace on Windmill Road, Cork are elderly and may not have access to film streaming systems or other forms of entertainment. 
In the meantime, Mr Duggan had been touring with Cyclone Rep theatre company. 
The company specialises in educational shows and were performing Shakespeare for students at the Helix in Dublin, when the show was abruptly cancelled at the introduction of the restrictions.
Mr Duggan returned home to Cork with a borrowed projector from his theatre company and put his thinking cap on for the benefit of his neighbours.
He told RTÉ News: "I was thinking, 'what am I going to do, stuck in for two weeks. I can't do that!' I had to keep myself occupied." 
Pointing to a gable wall on an end-of-terrace house a few doors from his home, he went on: "I said, there's my screen and the neighbours can safely stay in their gardens. So, I set it up and it just snowballed from here. 
The street cinema opened last week with the musical comedy, Gentlemen Prefer Blondes. 
This weekend, he selected the 1953 wild west musical, Calamity Jane.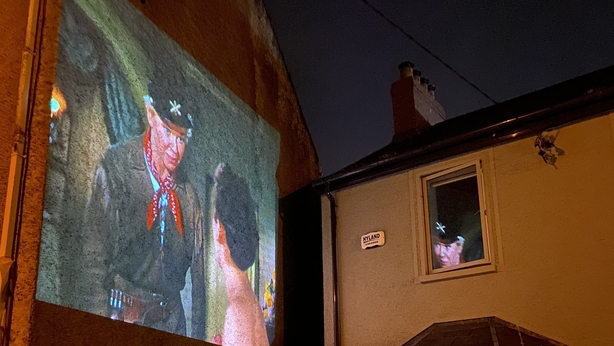 So, for around an hour and a half, Frankfield Terrace was distracted from coronavirus restrictions.
And its residents, through the magic of cinema, were transported to Deadwood, Dakota Territory. 
Ann Lynch has lived in Frankfield Terrace for 56 years, she told RTÉ News she has never seen anything like this.
She said: "It's brilliant, only for Scott we wouldn't have anything like this."
Con Sheehan lives a few doors away from Ms Lynch. He has lived in the terrace for 48 years.
He said: "There are fabulous neighbours on the road.
"There are some new neighbours after moving in and you couldn't meet nicer."
His daughter, D'Neil O'Shea, lives with her husband and three daughters four doors away from her father. 
But, since the restrictions, they haven't been able to visit each other.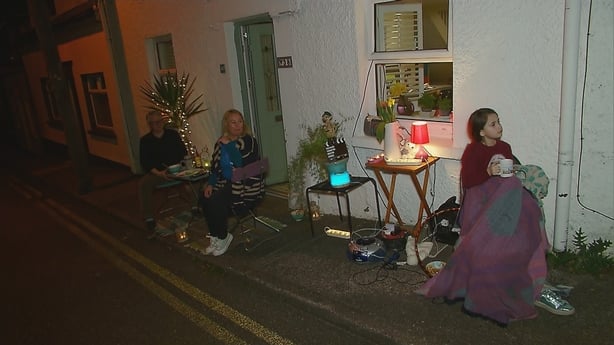 Scott Duggan's film nights have brought them together as a neighbourhood, while at the same time respecting social distancing.
"It's been really, really fantastic," says D'Neil. "This has brought the neighbourhood to a whole different level. There's a great community spirit here."
Clare Healy only moved into Frankfield Terrace a year ago, but the film nights have helped her strengthen the bond between her and her neighbours.
She said:"I have never spoken to so many people on the street.
"It has given us such a sense of joy and community, and it's great craic!"
A collection among the neighbours has raised funds which have been donated to the charity Age Action, and plans are already being made for the next screening.
And, in the best traditions of show business, Scott Duggan says as long as the restrictions remain in place, the show will go on.