"We will always be the ones who didn't pass our Bac", so reads a headline in France's Le Monde newspaper this week. 
On Friday the country became the latest to cancel its final exam for second level students - the equivalent of our Leaving Certificate - and Le Monde notes that the response from students has been mixed.
There is relief, but disappointment too, it says. An initial "explosion of joy" has been followed by expressions of regret. 
"I'm glad I don't have to revise", one student tells the newspaper, "but this was a moment we were all supposed to go through together". 
It may be of little comfort to Irish Leaving Certificate students, but the difficult situation they are facing is one shared by hundreds of thousands of students across Europe and beyond.
By yesterday, according to Unesco, schools and universities had been closed in a total of 188 countries. And many of them are now grappling with the same question facing Ireland; what to do about the State exams? In countries like France though, at least now there is certainty. 
'Le Bac' has about the same status in France as the Leaving Cert does here. It is a rite of passage in the lives of French teenagers. They work hard for it, and their families celebrate their achievement. 
This year's cancelled exams will be replaced by continuous assessment, based on work completed over the course of three semesters. 
Some here may look to the cancellation of the Baccalauréat and think 'if the French are doing it shouldn't we?'.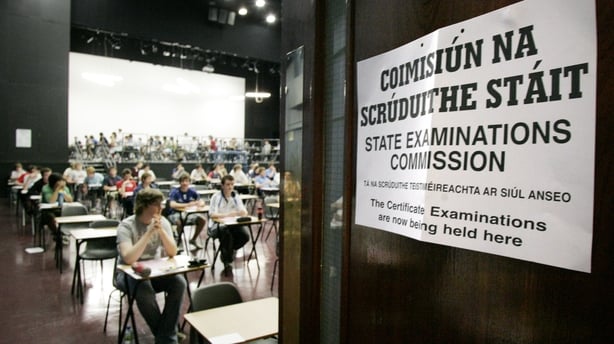 But there are more differences between the French and the Irish final exam and college entry system than there are parallels. 
2020 was to be the last year of the Baccalauréat in the form familiar to generations of French students. Reforms due to be introduced next year were to dilute its final exam focus with a shift to 40% of marks awarded through continuous assessment, marked in the main by external assessors.
The change was already under way. So a radical shift this year to continuous assessment in France is not as much a leap in the dark as it would be here, where there is no national standard to measure students by in terms of continuous assessment. 
There's one other key difference between the French and the Irish system; in France there is no competitive points system for public universities. A student need only pass the Bac – and 50% is a pass - to be entitled to a place in a publicly funded university. 
The United Kingdom
Teachers at one London second level school received details of how to set about assessing their own students in this week's staff bulletin. 
Teachers should use "their professional experience to make a fair and objective judgement of the grade they believe a student would achieve had they sat their exams this year", it said.
It is a phrase that will send a chill down the spine of many second level teachers here - not to mention some students and parents too.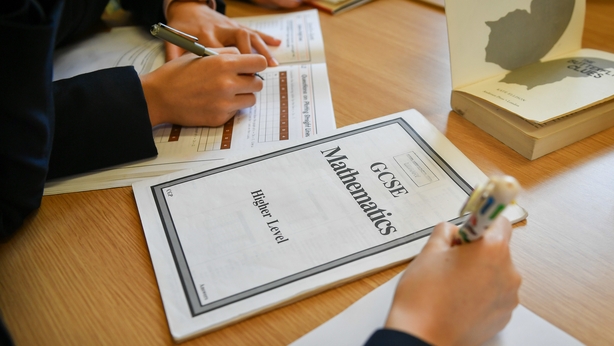 On 18 March the UK took a dramatic early decision to scrap this year's GCSE, A Level, and other state exams.
Instead grades will be awarded based on a combination of teacher assessment, ranking of students, and the past performance of schools. 
It certainly is a radical decision, and it has been accepted. 
Further down in that school staff bulletin a question is asked and addressed; "Will students see the grades that their teachers have submitted?" This would be a crucial question for teachers. 
The answer is no. 
"It is important that staff do not share provisional grades, or rank orders, with students, parents and carers before final results are issued.
"This is to protect the integrity of the teachers' judgements, and to avoid teachers feeling under pressure to submit a grade that is not supported by evidence," the bulletin reads. 
Could such an approach work here? Judging their own students, and for such a vital assessment, is a role that most Irish second level teachers would ordinarily recoil from. Recent industrial battles around Junior Cycle reform makes that clear.
Teachers in the UK will have slightly more to base their judgement on though than Irish teachers in similar circumstances.
By now, A Level students for instance are likely to have sat not one but two sets of mock exams, one last year and one this year.
International research shows that disadvantaged students fare badly when it comes to predicting grades.
The UK authorities acknowledge this as "fact".
In its literature explaining this year's system the UK's Department of Education says it will make "every effort to ensure that the process does not disadvantage any particular group of students".
It points out too that students have a fallback. They will be able to sit the exam in the future if they so wish. 
China 
In the country that was the first to bear the brunt of this pandemic, tentative attempts are being made to revert to something like what was normal life.
Schools in some parts of the country are beginning to reopen. In an attempt to minimise disruption for those who are doing final exams and graduating, students in 'exit' years, at all levels, are being brought back first, before the others. 
China has postponed its equivalent of the Leaving Certificate exam, known as the Gaokao, until early July. 
Other countries 
The UK's national qualifications agency has compiled a list that shows what various countries intend doing.
According to that list the situation in Germany is mixed, with variations between regions. Some are holding final exams as normal, others have postponed them. 
Italy has not as yet announced any delay to its final secondary exams, which are due to take place in June/July. 
The Netherlands has cancelled all national exams, with school leaving certificates to be replaced by results obtained in school exams. Those exams are to held online where possible. 
In Portugal, the exams are due to go ahead but students must register online. 
Spain has postponed its university entrance exams. 
In the US, college entry exams scheduled for early May have been cancelled. Others will take place online. 
Hong Kong, India, Indonesia, Pakistan and Malaysia have all postponed or cancelled state exams. 
Exams in a number of African countries have been postponed indefinitely. 
In Vietnam the school year has been extended until mid-July and final second level exams will take place in August. 
Ireland is listed in this document too.
With just the smallest hint of uncertainty the UK authority notes that "state exams for the Leaving Certificate are still due to go ahead".
Last week the Taoiseach said our State exams would go ahead "by hook or by crook".
Just how that will be managed is right now anyone's guess.