Nine-month-old Riley Patterson from Aughnacloy, Co Tyrone, is recovering well after life-saving heart surgery at Children's Health Ireland (CHI) in Crumlin this week.
Riley's mother Victoria was 28 weeks pregnant when he was born prematurely last June.
He weighed 1lb 12 ounces and was so tiny that the wedding ring of his father John could slip onto his leg. Although he has spent six months of his life in hospital, Riley is a rascal as well as a fighter, according to his mother.
Staff at NHS hospitals in Craigavon and Belfast have played a crucial role in keeping Riley alive since he was born.
In keeping with cross-border arrangements, the expertise of the surgical team at CHI in Crumlin was sought when Riley needed an operation.
Victoria and John were worried Riley might not be able to receive the care he needed because of the Covid-19 pandemic. They knew his heart function was in trouble and were so relieved when the surgery went ahead on Monday.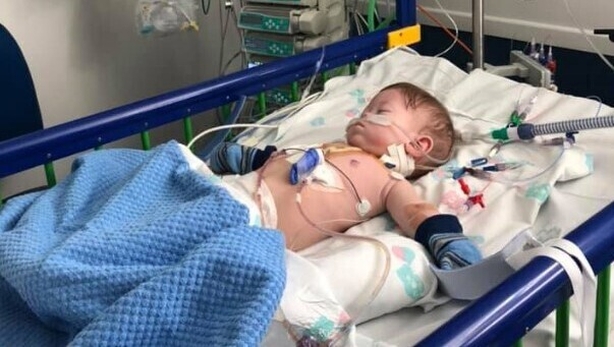 According to Victoria: "When the team opened Riley they discovered he had not one but two holes in need of repair."
She, John and their families are hugely grateful for the care their baby has received on both sides of the border.
Riley's recovery at the Dublin hospital is continuing. Victoria and John are with him. Moving him to a Belfast hospital may be an option in the coming days.
Victoria and John have said they would love to have their boy home to Aughnacloy for his first birthday in June.
They told Riley's story to RTÉ News because they think their baby is a symbol of hope in challenging times and to say thanks to all those who have helped him.