A Government spokesperson has said that small numbers of immediate family can still attend funerals, subject to social distancing rules, and that anyone requiring urgent health care should still go to the emergency department or call an ambulance.
Speaking at Government Buildings this afternoon, Liz Canavan, assistant secretary for social policy at the Department of the Taoiseach, said other parts of the health service are continuing to operate during the Covid-19 outbreak and that people should attend medical appointments unless they have been cancelled.
Ms Canavan also said the Government is getting queries as to what separated parents should do in terms of visitation due to the restrictions. She said they are encouraging people to follow the guidance on restricting movements.
She said work is under way to develop a new Covid-19 mobile app for real-time tracking and digital contact tracing.
In relation to funeral services, she said the Government wants to ensure families can bury their loved ones in a respectable manner while ensuring that everyone is protected from Covid-19.
Ms Canavan said immediate family members can still attend funeral services providing social distancing rules are respected.
She said that immediate family members can still attend funerals of loved ones, as long as social distancing measures can be observed, but that the general rule should be that the number of people in places of worship, and at the graveside should not exceed 10.
Those in the at-risk group of over 70 years old have been told to "cocoon" at home to protect themselves from the virus, but Ms Canavan said the Government is aware that people over 70 have been attending Post Offices to collect their pension and pay utility bills.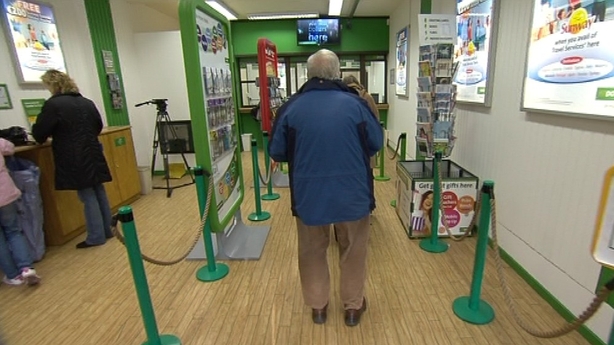 She said there are alternatives available such as the ability to nominate a person to collect their pension.
Ms Canavan said the payment would remain valid for 90 days at the date of issue and that it is also possible to collect a number of payments at the one time.
Local authority Community Support Fora are in place to ensure vulnerable members of the community are helped during the Covid1-9 crisis, she added.
The fora comprise the local authorities, the Health Service Executive, County Champions, An Post, An Garda Síochána and other stakeholders.
Each forum has set up a helpline for people to contact which will operate from 8am to 8pm seven days a week.
Ms Canavan said some mart services are now deemed essential and therefore can operate a reduced service, and that bike share schemes would continue to operate as they are regularly used by healthcare and other essential workers.
Additional reporting Aisling Kenny and Laura Hogan