Marts are to be allowed facilitate the sale of animals under protocols agreed by the Department of Agriculture.
Marts have been closed since last week due to concerns over the spread of Covid-19, at a time that is one of the busiest times of the year for sales.
Under the measures agreed late last night, marts will be able to provide a limited range of services.
Marts will match buyers and sellers, weigh animals and oversee the sale, however there will be no public auctions and no crowds attending.
Each mart will have to submit its operating protocol, which will then be approved by the department.
Hundreds of thousands of calves born as a result of the booming dairy industry will need to be sold, and many will be exported.
The move has been welcomed by the Irish Co-operative Organisation Society (ICOS), which represents mart operators all over the country.
Minister for Agriculture Michael Creed confirmed that the new measures took effect this morning.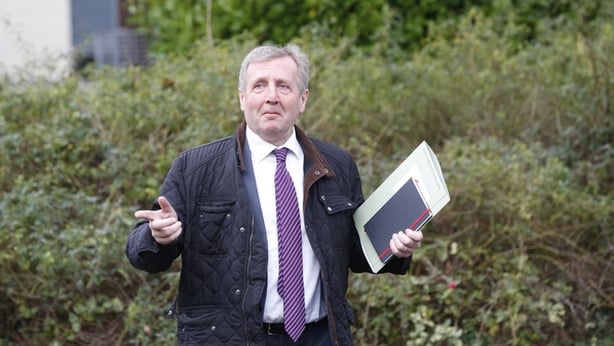 His Department has also announced that funding for a scheme to help farmers with calf welfare and rearing has had its funding increased to €4m, in light of the current situation.
Reacting to the news that marts will be able to offer a limited range of services, ICOS - which represents many mart operators - said it was a welcome development.
ICOS Livestock and Environment Executive Ray Doyle said: "While it is accepted that mart closures form an important element in the fight against Covid-19 in our communities, it is reasonable that a form of trading can still continue on the proposed restricted basis and this is also directly in the interests of animal welfare."
He also pointed out the importance of allowing farmers to trade, adding: "The more that we can keep some element of economic activity ongoing in our rural communities then the more likely it will be that they will be able to recover their livelihoods in the aftermath of the current emergency."
---
Read: More coronavirus stories
---
We need your consent to load this rte-player contentWe use rte-player to manage extra content that can set cookies on your device and collect data about your activity. Please review their details and accept them to load the content.Manage Preferences
President of the Irish Farmers' Association Tim Cullinan said the agreement was good news, but he stressed more needs to be done.
He said that the beef market was now "in turmoil" and that significant measures were required at EU and national level to support beef farmers.
"The minister and Government now have a lot more flexibility as the EU Commission have increased state aid limits," he said. "While there are a lot of other calls for funding, farmers cannot be forgotten and they need help now."
The Mart Managers Association of Ireland thanked the Department of Agriculture for working with it and other organisations to try to agree the new arrangements, saying it urged "any farmer who needs to purchase or sell livestock, to contact their local mart today".