Ten more people have died from Covid-19 in Ireland and 200 new cases have been diagnosed today.
Of the 10 patients who died, eight were male and two were female.
Six of the deaths occurred in the east of the country, three in the northwest of the country and one in the south. 
The median age of today's reported deaths is 77.
There have now been 46 Covid-19 related deaths in Ireland.
After 200 new cases of the coronavirus were diagnosed today, there are now 2,615 confirmed cases of Covid-19 in the Republic.
In Northern Ireland, six further people with coronavirus have died, taking the death toll in the region to 21 today.
With 86 new cases of the infection reported, the number of confirmed cases of Covid-19 in the North stands at 410.
Chief Medical Officer Dr Tony Holohan said: "Today, we are informed of a further 10 deaths. Our condolences are with the family and friends of all patients who have died as a result of COVID-19.
"While we continue to build our capacity for intensive care, our strategy remains to prevent people from needing intensive care in the first place."
"We are asking everyone to embrace the new restrictions and follow public health advice to stay home and restrict your movements for the next two weeks. It is in all our hands to interrupt the spread of this virus."
Around 80% of cases of Covid-19 will be a mild to moderate illness, close to 14% have severe disease and around 6% are critical.
Generally, you need to be 15 minutes or more in the vicinity of an infected person, within 1-2 metres, to be considered at-risk or a close contact.
Meanwhile, the Health Service Executive is planning for a surge of Covid-19 cases in mid April, but said it was impossible to predict exactly when the outbreak would peak in Ireland.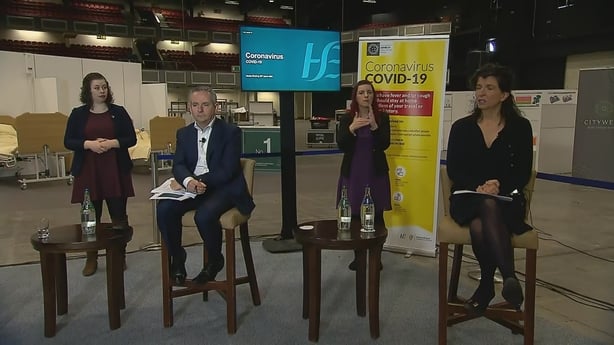 CEO Paul Reid, chief operations officer Anne O'Connor and Public Health Medicine consultant Dr Sarah Doyle held a briefing at Citywest in Dublin, updating the public on all the latest developments in the ongoing battle to contain the spread of the virus.
The HSE is preparing to open a coronavirus isolation and stepdown facility at the Citywest hotel and conference centre with the ability to accommodate over 1,000 people.
"There will be 750 beds for people who need to self-isolate and we hope to have that open by the end of this week," said Ms O'Connor.
"The stepdown facility will only be used if we need it - if there is an overflow of patients from our hospital system. It will be operational within two to three weeks and can accommodate 450 people."
Mr Reid said it was "impossible" to predict when Ireland will reach the peak of the pandemic - but we are not at the peak right now. "We have to plan for the worst case scenario. We have to be prepared."
Ms O'Connor said - while the HSE could not know for sure when the peak would be - "April 10 to 14 is what we are planning for".
---
Read More:
Live: Covid-19 updates
Spain announces record 838 virus deaths in 24 hours
Latest coronavirus stories 
---
A new 'contact tracing app' that will alert people when someone close to them has the virus, is being developed, the HSE confirmed. It is likely to be rolled out in the next 10 days or so, and will be an opt-in system.
There are some GDPR details that still need to be ironed out.
A total of 10,700 people are currently waiting for Covid-19 tests here, with over 4,000 waiting to get a test appointment. 
Ireland is now testing around 5,000 people a day.
The HSE said it had secured 60,000 more test kits this week and is expecting to procure a further 100,000 a week going forward.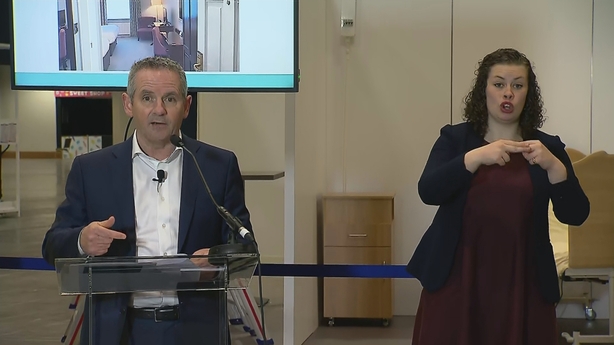 "We will continue our contact tracing efforts. We have trained 1,400 people to do this work and will have around 4,000 people doing contact tracing over the next few weeks," said Mr Reid. 
Nursing homes are becoming a particular focus for contact tracing. "Most nursing home care in Ireland is through private nursing homes. We have established response teams to support those nursing homes."
Asked if the recent new restrictions introduced by the Government will continue beyond Easter, Dr Sarah Doyle said that "may be adequate if people comply" but what happens next will need to be kept under "constant review".
She confirmed that there is a much higher incidence of Covid-19 in Dublin than elsewhere.
The first of many flights from China, carrying personal protective equipment (PPE) supplies to Ireland, landed in Dublin Airport today.
Mr Reid said: "I am as nervous as anyone about the current demands worldwide for PPE. Our procurement team secured this significant contract worth over €200m. I will not be satisfied until every one of those flights have landed and the PPE supplies have been delivered to the frontline."
He was confident of the standard of PPE products arriving from China. "They conform to World Health Organization specifications and will also be assessed on arrival."
Mr Reid said the HSE currently has around 500 ICU beds in the hospital system, up from 225 beds before the coronavirus pandemic. Ireland has 88 coronavirus patients in ICU units at present.
Ms O'Connor said the HSE is planning for the possibility that there could be a need for in excess of 1,200 ICU beds "but we just don't know".
She urged people with serious medical problems not to be afraid to access hospital services because of the coronavirus pandemic. "We encourage people who feel they need emergency care to seek help."
She revealed there had been a 45% reduction in Emergency Department attendance in Ireland compared the same period last year with a massive 97% reduction in the number of people on trolleys. The daily average number of people on trolleys in the past week was 14.
Ms O'Connor also revealed that the HSE is developing clinical assessment hubs for people who feel they are becoming unwell.
"It will be a clinical intervention service. People will be referred there by their GPs."