Italy's government will "inevitably" extend beyond 3 April the containment measures it had approved to stem the coronavirus outbreak in the country, the regional affairs minister said on Sunday.
It comes as the death toll in Italy climbed by 756 to 10,779, the Civil Protection Agency said on Sunday, the second successive fall in the daily rate.
The number of fatalities account for more than a third of all deaths from the infectious virus worldwide.
Italy was the first Western country to introduce severe restrictions on movement after uncovering the outbreak just over five weeks ago.
The government has since increasingly tightened them and these were initially expected to be softened from next Friday.
"The measures that were due on April 3 will inevitably be extended," Francesco Boccia said in an interview with SkyTG24.
He added that the timings would be decided by the Prime Minister and the cabinet "on the grounds of the data of the scientific community" advising his government.
"I think that it would be inappropriate and irresponsible to talk of re-opening (schools, stores and production sites)," Boccia said.
Italy's largest daily toll was registered on Friday, when 919 people died. There were 889 deaths on Saturday.
The total number of confirmed cases in Italy rose on Sunday to 97,689 from a previous 92,472, the lowest daily rise in new cases since Wednesday.
Of those infected nationwide, 13,030 had fully recovered on Sunday, compared to 12,384 the day before. There were 3,906 people in intensive care, up from the previous 3,856.
Lombardy, the hardest hit Italian region, reported a rise in deaths of around 416 on Sunday.
Italy's sports minister said on Sunday he would propose banning all sports events, including soccer matches, for the whole of April.
Health Minister Roberto Speranza asked Italians on Sunday not to "let the guard down now."
"We would cancel out all the efforts made until now to rein in contagion. The sacrifices of the last weeks are serious" he told newspaper Corriere della Sera in an interview.
---
---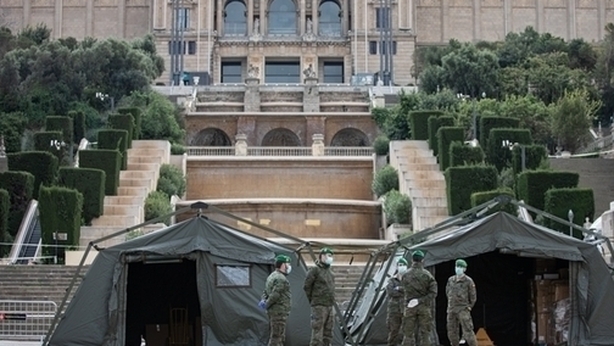 Spain awoke to its third week under near-total lockdown, as the government met to approve a strengthening of measures and the coronavirus death toll rose by a record 838 cases overnight to 6,528. 
Second only to Italy in fatalities, Spain also saw infections rise to 78,797 from 72,248 the day before. 
Prime Minister Pedro Sanchez, in a televised address to the nation last night, announced that all non-essential workers must stay at home for two weeks, the latest government measure in the fight against coronavirus.
He said workers would receive their usual salaries but would have to make up lost hours at a later date. The measure would last from 30 March to 9 April. 
Unions welcomed the measures and business groups CEOE and CEPYME said that while they would comply with the new rule, "it will generate an unprecedented huge impact on the Spanish economy, especially in sectors such as industry". 
The slowdown "may lead to a deeper crisis in the economy that could become social", they warned in a statement. 
On Sunday, health emergency chief Fernando Simon repeated a warning that intensive care wards were becoming saturated, but said cases were stabilising and "the rise in new cases has been falling for a few days".
In Madrid, birdsong drowned out traffic on deserted streets on Sunday morning as police reinforced patrols, stopping buses and cars to check passengers had reason to be out of their homes.
The number of beds at a makeshift hospital to treat coronavirus patients in the IFEMA conference centre will soon reach 1,400, Madrid's regional government said.
It also announced an official period of mourning for those who have died. Flags will fly at half-mast and a daily minute's silence will be held. 
Madeira, an autonomous region of Portugal, said it would limit the number of people allowed to enter its islands to 100 per week from Tuesday onwards, with freed up hotel space used to quarantine people with symptoms of coronavirus.
A total of 34 confirmed cases have been reported on Madeira,four islands off the northwest coast of Africa home to 270,000 people and usually visited by a million tourists each year.
Portugal has confirmed 5,962 cases and 119 deaths, far below neighbouring Spain.
Four major hotels which would otherwise be filling up with holidaymakers over the Easter break will now be used to quarantine people displaying symptoms of the Covid-19 virus.
The 100 passengers allowed must remain in quarantine for 14 days, the regional government said.
Portugal suspended flights to and from Italy in early Marchand restricted tourism across the land border with Spain, though free movement of goods is still guaranteed.
Flights to and from countries outside the bloc were suspended on 19 March, with the exception of Canada, the United States, Venezuela, South Africa, and Brazil, which have large Portuguese diasporas.
France has recorded 292 new coronavirus deaths, bringing the total to 2,606 since the first was reported in February, the country's national health service director Jerome Salomon said Sunday.
Among the nearly 19,000 patients now hospitalised, 4,632 are in intensive care, Salomon said.
The toll over the past 24 hours was below the 319 deaths reported on Saturday, but the figures include only deaths reported in hospitals, and not at retirement homes or assisted-living facilities.
On Sunday, France also staged its largest evacuation of coronavirus patients to date from hospitals in the hard-hit east, increasing efforts to free up intensive care units as officials warn of an influx of serious cases in the coming days. 
Two specially equipped high-speed trains carried 36 patients from Mulhouse and Nancy toward hospitals along France's western coast, where the outbreak has been limited so far.
Dozens of hospital workers, flanked by police and soldiers standing guard, spent hours installing four patients in each in each wagon in an operation that began before dawn.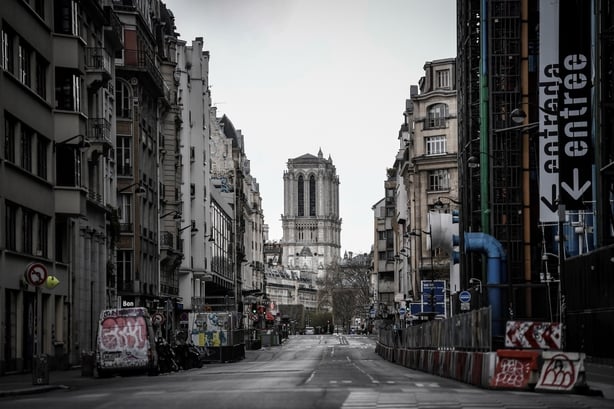 "We have to free up beds, it's absolutely crucial that we air out these intensive care units. We're still seeing an increase in patient numbers," said Francois Brun, head of emergency services at the regional hospital in nearby Metz.
The evacuations came as Germany sent a military plane for the first time to Strasbourg to bring two patients to a hospital in Ulm.
In total around 80 French patients have been hospitalised in Germany, Switzerland and Luxembourg, European Affairs Minister Amelie de Montchalin told France Inter radio.
France has been evacuating dozens over the past week from the east, hoping to stay ahead of a crisis that Prime Minister Edouard Philippe has warned will only worsen over the next two weeks.
Overall more than 4,600 coronavirus patients are in intensive care in France, many with severe respiratory problems requiring ventilators that officials worry could soon be in short supply.
Philippe said Saturday that the government was racing to have 14,000 intensive care beds available soon, compared with just 5,000 before the outbreak began in January.
Germany's health system could face strains similar to those in Italy if the coronavirus outbreak in the country worsens, the head of the Robert Koch Institute (RKI), the federal agency responsible for disease control, told a newspaper.  
Lothar Wieler's comments came as RKI data on Sunday showed the number of confirmed coronavirus cases in Germany had risen to 52,547and 389 people had died of the disease there.
In Russia, Moscow's mayor announced strict isolation rules for the city from Monday, as coronavirus cases climbed in the Russian capital.
The new restrictions would apply to all the city's residents, regardless of age, mayor Sergei Sobyanin said in a statement Sunday. 
Residents of the capital will only be allowed to leave their homes in the case of a medical emergency, to travel to jobs judged essential by the authorities, and shop for food or medicines, the statement read.
Previously, only Muscovites over the age of 65 were under orders to remain in their homes under rules that came into force last Monday.
Residents in the capital will be allowed to take out trash and walk their dogs within a 100-metre radius of their homes, Sunday's order said.