The Minister for Health has said the new restrictions announced today to curb the spread of Covid-19 will put hundreds of thousands of people out of their jobs.
Simon Harris said the Government had to take what he described as "the very difficult decision" of shutting down non-essential shops and retail outlets in order to put public health first.
Speaking on RTÉ's Prime Time, he said: "We would not, as a Government, have taken the serious steps of closing down many businesses and temporarily putting many people out of work, if we did not believe it was essential to save lives in this country."
He said the actions will support the progress that people have already made.
Minister Harris said: "We are going to flatten the curve together. We are not going to go the direction of Italy. We are going to do everything we possibly can".
However, he said there needs to be "some degree of normality, in what is a very abnormal situation" and he said the sense of social solidarity must keep going.
The minister said people still have to "be able to go to supermarkets, pick up their groceries, bring the kids out for a walk and look after older neighbours".
He said shops that can stay open, must not become "crammed" and must comply with public health guidance to ensure there is social distancing.
"There is a degree of personal responsibility. We can lead by our own actions to save lives," he added.
Th minister said while lots of business are doing all they can to comply with the guidelines, he said the Oireachtas has given him emergency powers to step in where compliance is not being observed.
"We need to test as many people as we can" Health Minister Simon Harris discusses testing for Covid 19, and how the government plans to prioritise people who need to be tested.#RTEPT | #COVID19 | #coronavirus | @mcculld | @SimonHarrisTD pic.twitter.com/sS6QjVKca3

— RTÉ Prime Time (@RTE_PrimeTime) March 24, 2020
He said the guidance is the same for everywhere that is remaining open, regardless of the workplace.
"Everywhere needs to practice physical distancing."
He also warned that the Government will implement more measures, if necessary, to ensure there is physical distancing.
"In the coming days, State authorities will be visiting businesses and sites, to work with them to ensure physical distancing is being adhered to."
The minister said he expects a deal to be finalised in the coming days on the use of private hospitals to maximise the size of the health service, which would increase capacity by up to 2,000 beds.
"For the purpose of this pandemic, we are using all of the capacity. There is no public, there is no private. You don't get to skip a queue here. We are looking after people on the basis of their health needs"
Minister Harris has admitted that some people will have to wait a period of time to get a test for Covid-19 because he said there has been a huge surge in demand.
"We've asked our health service to set up testing systems that would normally take a year, over a weekend or a couple of days or a couple of weeks."
---
---
He said anyone waiting for a test with symptoms of the virus should self-isolate.
The minister said new arrangements will be put in place this week to ensure priority testing for healthcare workers who he said are working at the frontline and doing heroic work.
"We are going to be prioritising critically ill patients in hospital, our health care professionals, vulnerable people and then the rest of us in the community."
And amid reports that student nurses are not being paid for their work during the current crisis, Minister Harris said "we are going to sort that out this week".
---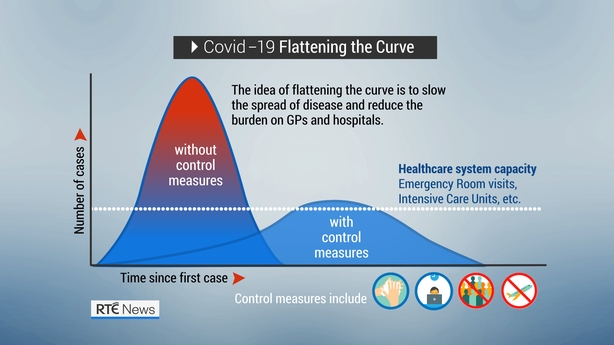 Meanwhile, an infectious diseases consultant at St Vincent's University Hospital in Dublin has said any measures that are proactive and aggressive in tackling the Covid-19 pandemic are to be welcomed.
Dr Paddy Mallon said he believed all infectious diseases doctors around the country will have "breathed a huge sigh of relief this afternoon" when the new restrictions were announced.
Speaking on RTÉ's Prime Time, he said the additional actions will enable the government to ensure that those in the community, who are not listening to the message, will now get the message.
He also said the move will make "those who aren't being responsible" in terms of how they run their businesses, more responsible.
"Legislative measures are the strongest weapon that we have as a country in terms of fighting this virus. These strong weapons that are coming into play are a huge relief for those of us at the coalface of the hospitals," he added.
Dr Mallon said while the surge is here and while the systems are being tested, he said "hospitals are coping remarkably well" due to the forward planning that has taken place within hospitals and the flexibility shown by staff.
However he said "we are in a very precarious position and this week is really going to tell us how robust our plans have been".
He said the measures introduced today are "literally life-saving" and he said if people take them seriously, the actions will have a very positive knock-on effect.
Dr Mallon also said the increasing number of healthcare workers testing positive for Covid-19 is a worry.