Minister for Finance Paschal Donohoe has said the Government is continuing to examine ways of helping people who have lost jobs because of the Covid-19 outbreak and support those whose employment is precarious.
In an interview on RTÉ's Late Late Show last night, Mr Donohoe said he recognises that for many people who have lost their jobs or cannot work as a result of the outbreak, the amount of social welfare available will be a real challenge.
But he said the Covid-19 Pandemic Unemployment Payment was brought in really quickly as an interim payment to help people who were losing their jobs.
He also said the Government is continuing to look at how it can help those who have lost jobs and support those who are still just about in one.
Mr Donohoe also said he had heard the UK government's announcement that it would cover up to 80% of workers' salaries if they lost their job, but said he was interested to hear the cost of the scheme and how it would work.
On mortgages, the minister said all those who can pay their mortgages should continue to do so.
However, if people cannot because of Covid-19, he continued, there is a framework that will give them breathing space for up to three months.
---
Read more
Covid-19 cases in line with projections - Holohan
Welcome to the new normal - Ireland adjusting to threat of Covid-19
Our beards will grow back' - on the virus frontline
Pressure builds on Government to do more to help businesses
Latest Covid-19 stories
---
Mr Donohoe said that he and Minister for Health Simon Harris were working on the issue of what would happen if people could not continue to pay the premium for their private health cover, leading to a break in cover.
The minister also said he wanted to see if there was any way progress could be made on the issue of insurers refusing to provide compensation to businesses which, they claim, are not covered for business disruption because of the pandemic.
Mr Donohoe concluded the interview by saying he understood the anxieties people might have about the Covid-19 pandemic, but he said the country will get through it and we will rebuild our economy.
Patrick Honohan, former Governor of the Central Bank, said the government will need to do more to "preserve the fabric of society" during the Covid-19 crisis. 
Speaking on RTE's The Business programme, Mr Honohan said there needs to be targeted government spending to minimise job losses and to ensure that you don't have socially damaging bankruptcy.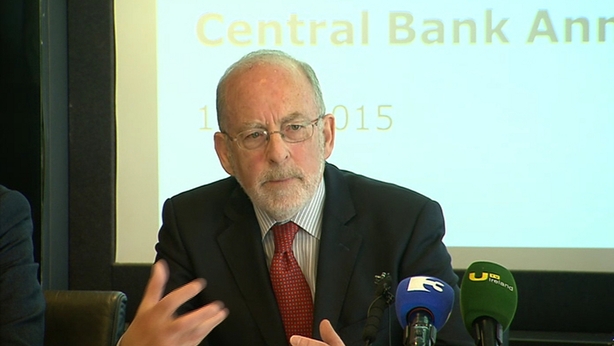 He said the government must move quickly, adding there are some initiatives from other countries that could be considered, giving the example of the UK where the government announced it will pay up to 80% of workers' pay to keep the economy afloat through the coronavirus emergency.
Mr Honohan stressed that Ireland must maintain a level of activity as much as possible, adding that while there is a big loss of output and production, the government needs to redistribute that loss and make sure there is no amplificiation of primary loss or investor confidence.
Around 80% of cases of Covid-19 will be a mild to moderate illness, close to 14% have severe disease and around 6% are critical.
Generally, a person needs to be 15 minutes or more in the vicinity of an infected person, within 1-2 metres, to be considered at-risk or a close contact.