Hospitals in several counties have cancelled all non-urgent appointments and elective surgeries until further notice as they prepare for a spike in cases of Covid-19.
The Saolta Hospital Group has said only very urgent appointments, tests and procedures will be carried out at public hospitals across the west and north west, until further notice. 
The measures are being implemented to ensure that there is the necessary capacity to deal with any increase in suspected or confirmed coronavirus in the coming weeks. 
All non-essential inpatient surgeries, day surgical cases, diagnostic testing and outpatient appointments at public hospitals have been cancelled.
The decision affects cases at University Hospital Galway, Merlin Park University Hospital and Portiuncula University Hospital in Ballinasloe, Letterkenny Univeristy Hospital, Mayo University Hospital, Sligo University Hospital and Roscommon University Hospital. 
Patients are being notified about cancellations today and visiting restrictions remain in place at all the hospitals in question. Anyone who has to attend for an urgent treatment is being asked to travel alone to the hospital if possible, and not to travel if they have respiratory symptoms or fever. 
People with symptoms of Covid-19 should ring their GP who will arrange a test if that is what their doctor believes is necessary.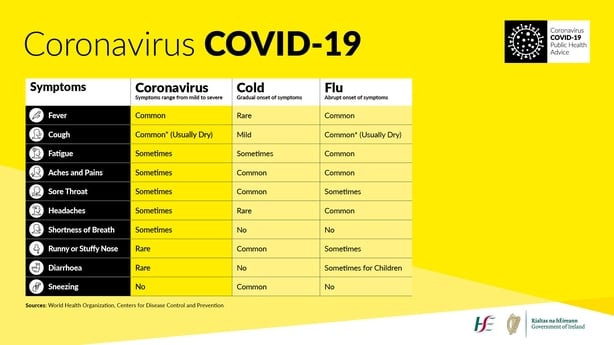 All elective surgery at South Tipperary General Hospital has also been cancelled from today. The hospital, located in Clonmel, said in a statement that patients affected will be contacted directly.
Meanwhile, the outpatients department is reducing the number of clinics, from today, to minimise the spread of infection.
"Some specific clinics will continue and patient will be contacted by hospital to attend," the statement added.
University Hospital Waterford has already advised that outpatient and inpatient activity, including day cases, are being reduced from today and patients are being contacted by the hospital. Visitor restrictions remain in place.
The Mater Hospital in Dublin and Mercy University Hopsital in Cork were among those that cancelled outpatient appointments and elective surgeries last week.
St Vincent's Healthcare Group has said that in response to Covid-19, consultants are reviewing their patients based on clinical need and some surgeries are being rearranged, for the coming weeks.
It said the treatment of patients remains a priority for the group and advised that if in doubt, all cancer patients scheduled for surgery should contact their consultant immediately, to confirm their appointment.
There were 79 confirmed cases of Covid-19 in the Republic of Ireland between Saturday and Sunday, which brought the total number of confirmed cases in Ireland to 169. Two people have died from the illness.
Around 80% of cases of Covid-19 will be a mild to moderate illness, close to 14% have severe disease and around 6% are critical.
Generally, you need to be 15 minutes or more in the vicinity of an infected person, within 1-2 metres, to be considered at-risk or a close contact.
Reporting by Conor Kane, Pat McGrath and Fergal Bowers