A cruise ship barred from returning to port in San Francisco due to a coronavirus outbreak has docked at Oakland, California to allow passengers to disembark.
RTÉ News understands there are around four or five Irish citizens on board the Grand Princess and that one of the senior crew members is Irish.
Passengers who need medical treatment will go to health care facilities in California and crew members will be quarantined and treated aboard the ship.
US authorities are working to repatriate several hundred foreign cruise passengers, who are to be flown to their home countries on charter flights out of Oakland International Airport.
They will be transported on special buses to a non-commercial airport terminal to board planes from the tarmac, avoiding contact with the general public.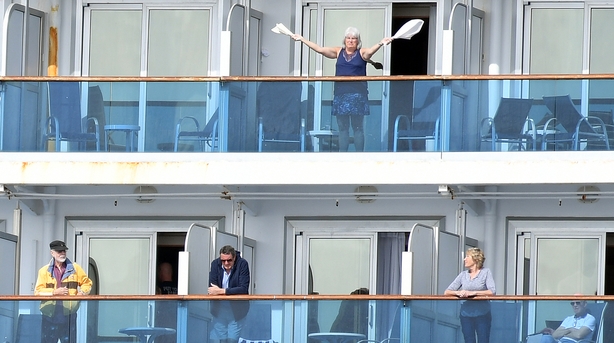 A spokesperson for the Irish Embassy in Washington said it is in contact with the US State Department and liaising with the cruise company, and with consulates of other affected citizens about options for repatriation.
There are passengers and crew members from 54 different countries on board.
California residents who do not require medical care will go to an isolation facility within the state for testing.
Americans from other states will be transported to military bases in Texas and Georgia for isolation and testing.
The ship, which has 21 confirmed coronavirus infections among its 3,500 passengers and crew, had been idling off the San Francisco coast since Wednesday.
---
Read more:
Live: Latest updates on Covid-19
Harris warns virus outbreak may follow pattern of Italy, France
Limerick hospital appointments cancelled due to Covid-19
---