Two people have died in Iran after testing positive for the coronavirus, the country's health ministry said, in the Islamic republic's first cases of the disease.
State news agency IRNA quoted Kianoush Jahanpour, a ministry spokesman, as saying the virus was detected in two elderly people with immunity problems in the holy city of Qom, south of the Iranian capital.
It comes after an additional 79 cases of coronavirus were discovered aboard the Diamond Princess cruise ship in Japan, bringing the total to 621.
The new figures come as an initial batch of passengers began disembarking after a 14-day quarantine period and testing negative for the virus.
Those who have tested positive have been taken to nearby hospitals, including two Irish citizens, who were among six Irish citizens on board.
Disembarkation is expected to take around three days.
Anyone who has had contact with an infected passenger will have to undergo 14 more days in quarantine.
The latest figures bring the total number of cases in China to over 74,000 and the total death toll to 2,004, three quarters of which have occurred in the Hubei provincial capital of Wuhan.
Eight people have died outside mainland China, including the two deaths in Iran and a new fatality announced today in Hong Kong.
---
Read More:
Your coronavirus questions answered
Chinese study says most coronavirus cases 'mild'
Two Irish citizens on Diamond Princess test positive for coronavirus
---
The crew of the Diamond Princess will begin a new quarantine when the last passenger has disembarked.
Some of the passengers waved as they left to those still on board the ship, some of whom could be seen waving back from balconies.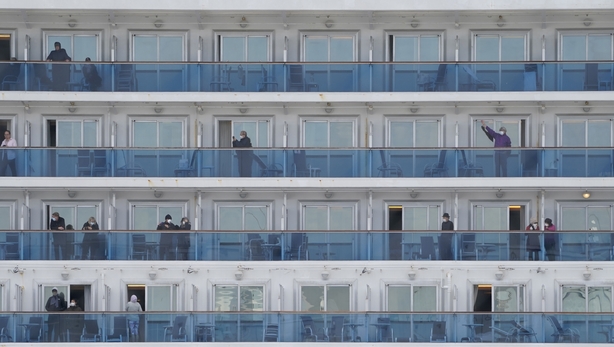 The United States has already flown back over 300 American evacuees from the ship and other countries are queuing up to collect their citizens, including an Australian flight due to arrive in Japan later today.
"We were lucky. We booked a room with a balcony and a lounge area, but after being confined to this cabin - I am very keen to get off this ship," Australian passenger Vicki Presland said.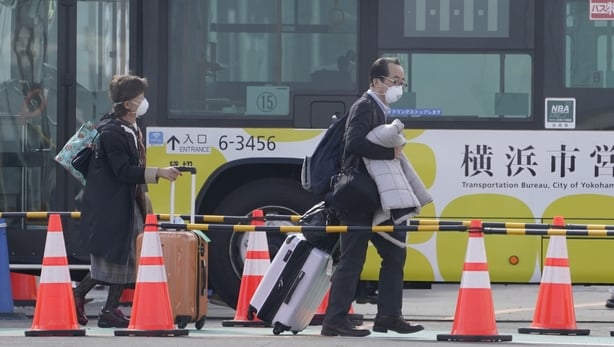 Those with no symptoms and a negative test received an official certificate saying they posed "no risk of infection of nCoV, as the said person has also presented no symptoms including fever at the time of infection".
The ship is the biggest coronavirus cluster outside China, where the death toll has risen to over 2,000, with more than 74,000 infected.
The Diamond Princess arrived off Japan on 3 February, after it emerged a former passenger had tested positive for the virus.
Hundreds more cases have been reported in two dozen countries - with five deaths in France, Japan, the Philippines, Taiwan and Hong Kong.
Japanese officials defended the decision to quarantine the ship and test people on board.
"Unfortunately, cases of infection have emerged, but we have to the extent possible taken appropriate steps to prevent serious cases, including sending infected people to hospital," NHK quoted Health Minister Katsunobu Kato as saying.
Westerdam gets all clear for coronavirus
Meanwhile, dozens of passengers stuck for nearly a week on a US cruise ship in Cambodia disembarked, after being given the all-clear.
The Westerdam made shore in Sihanoukville on 13 February after being rejected by five countries over fears its passengers could be carrying the coronavirus.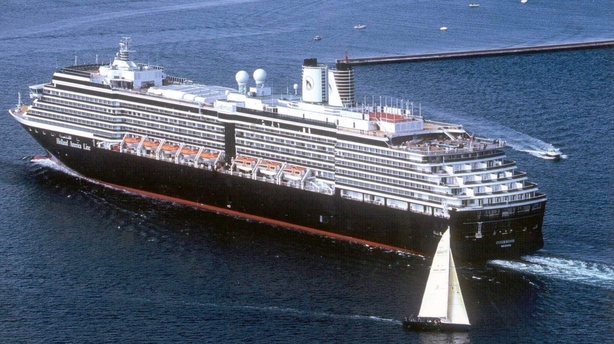 Hundreds were allowed off after basic health checks - among them an 83-year-old American woman who was later diagnosed with the virus while in transit in Malaysia.
That raised fears many other Westerdam passengers could be spreading the virus as they scattered, although no other cases have been recorded.
Once the American woman's case was discovered, the remaining passengers on the Westerdam were ordered to stay on board, but they have now all been given a clean bill of health.
The majority of the 1,455 guests were American, with Canadians, Brits, Dutch and Germans among the remaining passengers to take the re-routed cruise.