The World Health Organization has said a sharp rise in reported COVID-19 cases in China, due to a change in counting methods, did not represent a big shift in the epidemic.
China's official death toll from the new coronavirus and the number of reported cases soared dramatically today, after authorities altered the way they tally infections.
"This does not represent a significant change in the trajectory of the outbreak," Dr Mike Ryan, head of WHO's health emergencies programme, said at a press conference.
"We're not dealing, from what we understand, with a spike in cases of 14,000 in one day," he said.
"This increase that you've all seen in the last 24 hours is largely, in part, down to a change in how the cases are being reported."
Dr Ryan also said he expected members of a WHO-led international mission to China to arrive over the weekend.
In Hubei and its capital Wuhan, where tens of millions of people are trapped as part of an unprecedented quarantine effort, 242 new deaths were reported today.
Another 14,840 people were confirmed to be infected in Hubei alone, with the new cases and deaths by far the biggest one-day increases since the crisis began.
Outside Hubei, there were 12 more deaths but the number of new cases fell for a ninth day in a row, with 312 extra patients.
Hubei authorities said the increases were because they had broadened their definition for infection to include people "clinically diagnosed" via lung imaging.
Up until now, they had solely confirmed cases with a more sophisticated laboratory test.
The European Centre for Disease Prevention and Control said there have been 66,330 reported cases, with 1,369 deaths.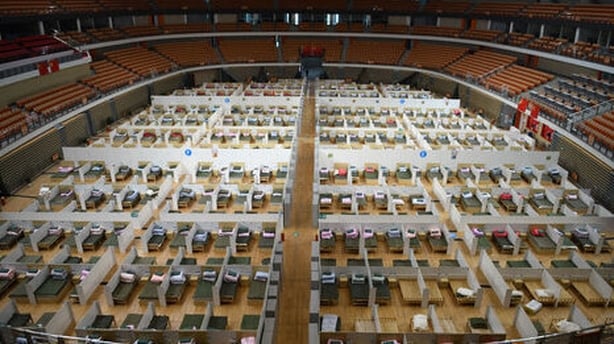 There have been 44 cases in Europe, but no deaths.
Dr Ryan said a vaccine "against misinformation" was needed as he gave an update on the organisation's responses to the virus.
He said: "We also need to have a better understanding on how communities are responding to this virus - what's working in terms of risk communication, what's scaring people in terms of misinformation.
"We need a vaccine against misinformation as well. And in that sense we need a communication vaccine, we need to communicate in a much more effective way."
China has been praised by the World Health Organization for its transparent handling of the outbreak, in contrast to the way it concealed the extent of the SARS virus.
But it has faced continued scepticism among the global public, with suggestions that there may be similarities with the way it dealt with the 2002-2003 outbreak.
---
Read More:
Fears grow for Chinese economy as virus spreads
Coronavirus emergency 'holds a very grave threat' for world - WHO
'Way too early to say' if coronavirus has peaked - WHO
---
Authorities in Hubei have been accused of concealing the gravity of the outbreak in early January because they were holding key political meetings at the time.
Several countries have banned arrivals from China, while major airlines have halted flights to and from the country, as hundreds of people have now been infected in some two dozen countries.
Japan reported the first death of a person infected with novel coronavirus, as the number of cases on a quarantined cruise ship offshore soared over 200.
The woman in her 80s was tested for the virus after being hospitalised, and was confirmed positive after her death, Health Minister Katsunobu Kato told a news briefing.
However, it was not clear if the virus or other complications had caused her death, Kato warned.
"The relationship between the new coronavirus and the death of the person is still unclear."
In addition to the cases on the ship and a quarantine officer, Japan has confirmed 28 other infections - mostly among evacuees from the Chinese province of Hubei, where the virus emerged.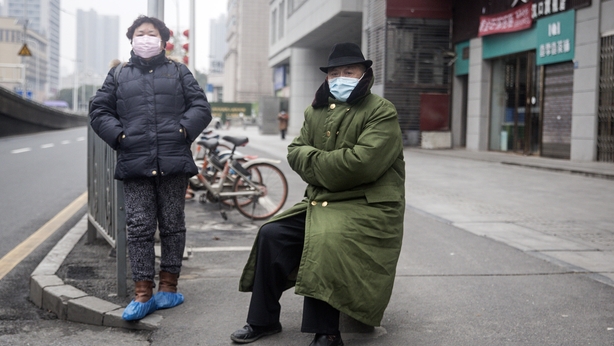 Four flights have brought back hundreds of people, most of whom are undergoing "self-quarantine" in government-designated hotels.
The Diamond Princess cruise ship off Yokohama has become the single largest cluster of cases outside China, with 218 testing positive for the COVID-19 virus and taken to medical facilities.
Another person has tested positive for coronavirus in the UK, bringing the total number of cases there to nine, and the number of confirmed cases in the United States has risen to 14.
The US Centers for Disease Control has said it is preparing for the coronavirus to possibly "take a foothold in the US".
Vietnam, meanwhile, has announced that a commune of 10,000 people will be placed under quarantine due to fears over the spread of the virus.
The HSE has said there have been no confirmed cases of the new coronavirus here in Ireland.
In an update, it said that all hospitals have plans in place to deal with any increased demand due to the threat posed by the virus.

Dr Sarah Doyle, specialist in public health said that the risk for the EU population is currently low.
Health experts here have said there is no definitive evidence, at this time, that the virus can be spread by people who are not displaying symptoms.
However, the HSE has said it is looking to make a provision for coronavirus to be added to the list of notifiable diseases so that doctors can routinely notify the HSE when a case is diagnosed.
It said this would also allow a doctor to detain a probable case of infection, in the highly unlikely event that a person refused to comply with infection prevention and control protocols.
The same provision was used during the SARS outbreak in 2002.
However, the HSE said it did not envisage that such powers would be used.
Additional reporting: PA