Tributes have been paid to the former Northern Ireland deputy first minister and civil rights campaigner Seamus Mallon who has died aged 83.
President Michael D Higgins led tributes this evening, saying: "I am deeply saddened by the passing of Seamus Mallon, former Deputy First Minister of Northern Ireland, former member of Seanad Éireann, and lifelong civil rights campaigner.
"His reputation as a politician and community activist of unsurpassed courage, civility and fairness is held by all those who had the privilege of knowing him.
"He was instrumental in bringing into being a meaningful discourse that heralded a new possibility of civil rights within a shared island."
Taoiseach Leo Varadkar said: "History will remember Seamus as an architect of the Good Friday Agreement, a committed peace builder and a tireless champion of an inclusive Ireland."
Tánaiste and Minister for Foreign Affairs Simon Coveney said that Mr Mallon "has made an extraordinary contribution to politics and people on this island".
Very sad to learn of passing of the great Seamus Mallon. He has made an extraordinary contribution to politics & people on this island. He was tough, intelligent and passionate, always working for peace and reconciliation.
My sincere condolences to his family and friends. RIP pic.twitter.com/q9waXGamwE

— Simon Coveney (@simoncoveney) January 24, 2020
SDLP leader Colum Eastwood paid tribute to Mr Mallon, saying "Ireland has lost one of its most fierce champions for justice, equality and peace".
In a statement on behalf of John and Pat Hume, Pat Hume said: "History will remember Seamus as one of the great Irish patriots and peacemakers.
"He was a man of huge strength and courage, who stood with John for many years in the fight for justice, peace and reconciliation on this island.
"Seamus was fearless in his condemnation of violence regardless of its source and was a rock of integrity throughout his career which spanned some of our most difficult days.
"Men like Seamus Mallon don't come along too often, we should for grateful for his work in our time and cherish his legacy and preserve his values by never giving up on standing up for what is right, standing tall against prejudice and injustice and standing for making Ireland a country of peace and partnership."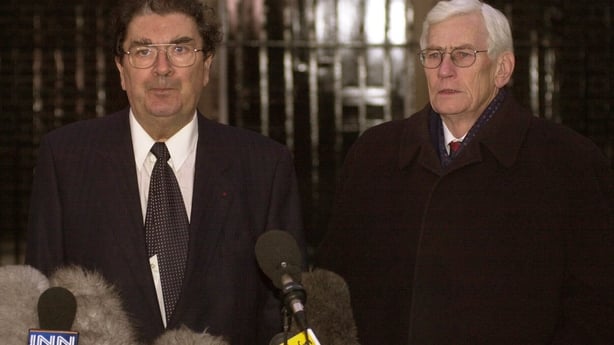 Former taoiseach Bertie Ahern said Mr Mallon was a tremendous politician, an outstanding worker whose commitment to trying to end the violence in Northern Ireland stood in the face of those who were engaged in it.
Mr Ahern told RTÉ's Six One News that Mr Mallon lived in Markethill in south Armagh in the middle of paramilitary groups on both sides of the divide and he had stood fearlessly against them through the decades of the Troubles.
Fianna Fáil leader Micheál Martin said he was "deeply saddened" to learn of the death of "my friend and long-time political hero Seamus Mallon".
"Seamus was, by any credible measure, a truly great Irishman. In the difficult and complex history of Northern Ireland, there are very few political leaders who emerge with an unblemished record of service that stands up to detailed scrutiny. Seamus Mallon is one of them.
"He was Republican in the truest sense of the word and his contribution to political life in this country is immeasurable. His death is the end of an era and I will miss his friendship and advice," added Mr Martin.
Seamus Mallon was an Irish Patriot. He lived for our country and has left an indelible mark on the lives of everyone who enjoys the peace he helped forge.

I'm proud to have called him a friend. My prayers are with Orla, Mark and Lara. https://t.co/aU9mJRJwB6 pic.twitter.com/QO7Dy3Fi9S

— Colum Eastwood (@columeastwood) January 24, 2020
---
Read more
---
British Prime Minister Boris Johnson also paid tribute to Mr Mallon and praised his efforts to bring peace to Northern Ireland.
He wrote on Twitter: "Seamus Mallon made an extraordinary contribution to democracy and peace in Northern Ireland.
"I want to express my sincere condolences to his daughter Orla, to his family and friends and to the SDLP."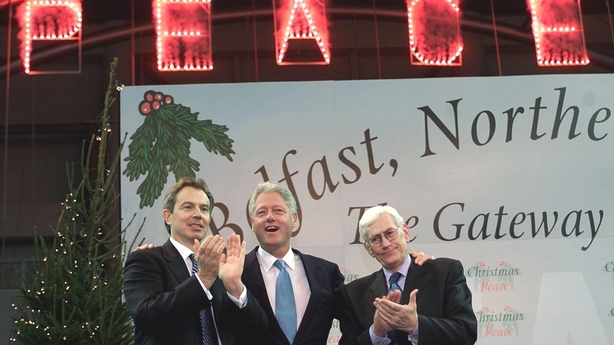 Former British prime minister Tony Blair said: "Seamus Mallon was one of the most important architects of peace in Northern Ireland.
"Brave, blunt, often prepared to swim against the tide if he felt it right, he was someone deeply respected and admired across the troubled landscape of Irish politics.
"I spent many hours listening to him and learning from him. He had a brilliant turn of phrase and sharp wit which he would use to great effect. He could be difficult but never ill intentioned.
"Tough to negotiate with but always for a purpose. Even occasionally fierce but always wise. My deepest condolences to all his family. He will be much missed and mourned."
Northern Ireland Secretary Julian Smith said: "Seamus Mallon dedicated his political career to making Northern Ireland a better place. His leadership with David Trimble of the first Executive in 1999 set Northern Ireland on a new democratic course."
Democratic Unionist Party leader Arlene Foster said she was sad to learn of the passing of Mr Mallon, adding that "whilst I never worked alongside him, he was a straight talker who had no truck with violence".
Former leader of the Ulster Unionist Party Mike Nesbitt said on Twitter: "Very sad to hear of the death of Seamus Mallon. He was a tough character but with a big heart and a deep thinker about our future."
Catholic Archbishop of Armagh Eamon Martin said: "People sometimes speak of the 'noble vocation of politics'. Seamus was a shining example of someone who gave his life to that vocation and in the service of others.
"He will be remembered as a man of integrity and great courage who was not afraid to speak up or call it as it was - even at great personal risk."
US Congressman Richard Neal has said he was deeply saddened to learn of the death of Mr Mallon.
Congressman Neal, who is the chairman of the Friends of Ireland Caucus in the US Congress, said Mr Mallon was a good friend and a courageous leader who helped bring peace, justice and reconciliation to the island of Ireland.
"He was one of the architects of the Good Friday Agreement whose tireless work as a member of the SDLP helped change the course of modern Irish history," Congressman Neal said.
He extended his sympathies to Mr Mallon's family and friends.
"A legend in Irish politics, Seamus will be missed for his candor, strength and integrity," he said.
Just last May Seamus Mallon spoke about his life and new book with Marian Finucane on @RTERadio1. #RIP https://t.co/xHd52duslq

— Caitriona Perry (@CaitrionaPerry) January 24, 2020