The garda officer leading the investigation into the murder of Keane Mulready-Woods has said a video circulated on social media purporting to be footage of the crime is not footage of the killing of the 17-year-old boy.
Chief Superintendent Christy Mangan said Keane's family are very distressed by the video and images and he asked people not to circulate the material.
He said it is not helping the investigation, is disrespectful to the victim and his family, and is frightening other people including potential witnesses.
False reports on social media, he said, are hindering the investigation.
Keane was murdered and his remains dismembered before being left at a number of locations in Dublin.
A house in the Rathmullen Park area of Drogheda remains sealed off as forensic specialists continue a detailed examination of the property.
Chief Supt Mangan said gardaí are gathering information and intelligence on what happened to Keane since he was last seen at Dominic's Bridge in Drogheda at 6pm last Sunday. He did not answer his phone or reply to messages after that.
Gardaí have appealed for information on the movements of a blue Volvo S40 in which remains were found in Ballybough in Dublin yesterday morning.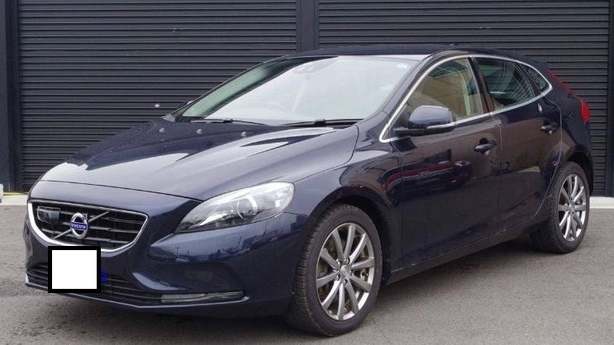 The car was stolen in Sandymount in Dublin last month and fitted with false number plates. Gardaí want to establish its movements since then and where it was parked.
They believe Keane was murdered as part of the ongoing feud between two criminal gangs in Drogheda.
Chief Supt Mangan said that anyone taking cocaine contributes to Keane's death, the drug economy and the criminal networks.
"Just look at the fallout from you buying drugs, it's damaging our children and society," he said.
He said gardaí are managing the risks to the public from the feuding criminal gangs on a daily basis.
A considerable number of people are before the courts with strict bail conditions, Chief Supt Mangan said, but there are a lot of people in Drogheda who are prepared to stand up to criminals and gardaí are taking them on and bringing them through a judicial process.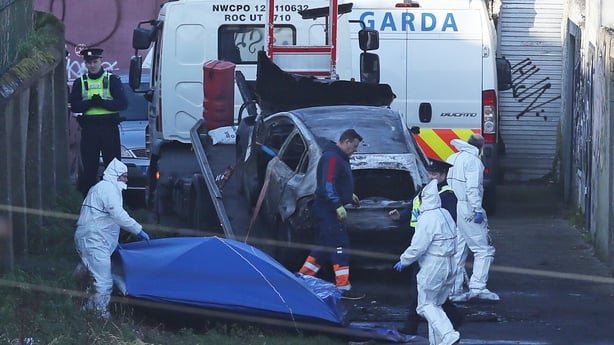 The images on social media purport to show human limbs in relation to the murder of the teenager.
A number of videos have also been circulated of threats being made by individuals known to gardaí and Keane. One video purports to be footage of the child's murder.
Gardaí are awaiting the results of DNA tests on human remains found in Ballybough yesterday which are expected to be confirmed as those of Keane Mulready-Woods.
They have renewed their appeal for information.
Meanwhile, a senior Catholic Church leader has offered to mediate between the two feuding criminal gangs to stop the violence.
Bishop Michael Router, the Auxilliary Bishop of Armagh, who lives in Co Louth, said the reprehensible sub-culture which views human life as expendable must be defeated.
Earlier, Garda Commissioner Drew Harris said the full resources of An Garda Síochána are available to the team investigating Keane's murder.
Commissioner Harris visited Drogheda and Coolock Garda Stations and assured the investigation teams of the full support of the organisation.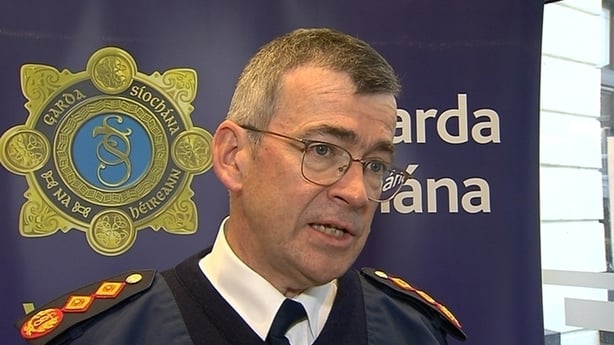 The results of DNA tests released by gardaí last night confirmed that human limbs found in Coolock in Dublin on Monday night are those of the 17-year-old.
Similar tests are also expected to confirm today or tomorrow that human remains found in a burning car in Ballybough yesterday morning are also those of Keane's.
Minister for Justice Charlie Flanagan has said he spoke to Commissioner Harris again today to discuss the progress being made in the investigation and said he is satisfied that those responsible for the murder of the teenager will be brought to justice.
Speaking on RTÉ's Today with Sean O'Rourke, Mr Flanagan said: "I'm again appealing to local communities to assist the gardaí in order to ensure that the evidence can be assembled to put these people out of business and behind bars."
Mr Flanagan said there are around 370 gardaí assigned to Louth, with 145 of them stationed in Drogheda.
Labour Senator Ged Nash described Keane's murder as gruesome, barbaric and medieval, adding that people in Drogheda are "rightly sickened" by what has happened.