Edmund Rice Schools across Ireland have started an online campaign and petition to stop what they say is the shock deportation of four brothers.
Three of the boys are attending the same school - Coláiste Éamann Rís, formerly Deerpark secondary school in Cork.
Hamsa, Zubair, Umair and Mutjuba Khan, along with their parents and sister, have been living in Direct Provision since they arrived in Ireland in 2017.
They have been refused asylum.
Hamza, the oldest brother, completed his leaving certificate at the school in 2019 and was awarded the UCC Sanctuary Scholarship, where he is studying computer science.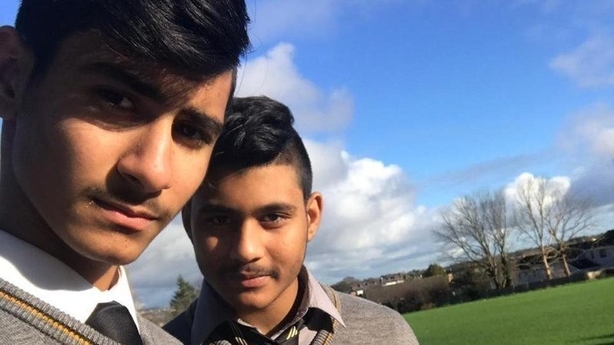 Zubair is in fifth year, Umair is in transition year and Mutjuba is in second year.
Ireland's 96 Edmund Rice Schools are also calling for a review of the direct provision system.
In an agreed policy position the schools are calling for a system that is "compassionate, respectful, caring, fair and, critically, short-term".
In a statement, CEO of the Edmund Rice School's Trust Gerry Bennett said all four boys are "hard-working, promising academics and valued members of the Edmund Rice Schools community".
Mr Bennett said the schools are really saddened by the decision to deport the family, and said the students are "fully immersed in school life at Coláiste Éamann Rís and the school is fully committed to them".
The trust says the family's father, Mubeen, fled to Saudi Arabia from Pakistan to escape persecution in 1982.
His wife is also from Pakistan but the children were all born in Saudi Arabia.
They lived in Saudi Arabia until 2015 when punitive tax laws were introduced that favoured Saudi citizens, and led to the family facing deportation back to Pakistan.
The family fled Saudi Arabia as a result and is now facing deportation to the United Kingdom which was their first landing point in Europe.