Tánaiste Simon Coveney and Northern Secretary Julian Smith published their proposals on restoring power-sharing at Stormont ahead of the Assembly reconvening.
Here are some of the key points of the 'New decade, New approach' document:
Transforming Public Services and Investing in the Economy
The deal "focuses on delivering what matters to citizens in Northern Ireland" - including better public services, a stronger economy and a fairer society.
It says a new executive will address problems in the health service, reform the education and justice systems, grow the economy, promote opportunity and tackle deprivation.
Better Politics and Sustainable Institutions
The agreement aims to make sure Northern Ireland never goes three years without an executive again. It is three years to the day today since the last Assembly collapsed.
The Department of Foreign Affairs says the deal is also about "giving the public and the parties confidence in politics and in the sustainability of the institutions".
It says the deal "is not just an executive for its own sake - it offers real reform".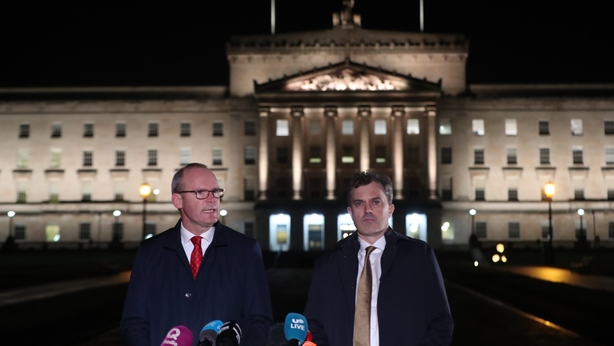 The department says there are important improvements in how civil servants, special advisers and ministers should conduct themselves to provide more transparent and accountable government in the wake of the controversy surrounding the Renewable Heat Initiative.
It outlines that there will be more time to appoint a replacement should a First or Deputy First Minister resign, before an election is required, and outlines that there would be significantly more time after an election to form an executive.
---
Read more:
NI proposals 'provide basis' for agreement - Coveney
---
Language and Identity
The deal offers a "new cultural framework" that will include a new Office for Identity and Cultural Expression.
This office will aim to promote cultural diversity and inclusion across all identities and cultures, alongside a commissioner to protect and enhance the Irish language and a further commissioner to develop the language, arts and literature associated with the Ulster Scots/Ulster British tradition in Northern Ireland.
This will be made law through an integrated package of legislation that will establish new parts of the Northern Ireland Act.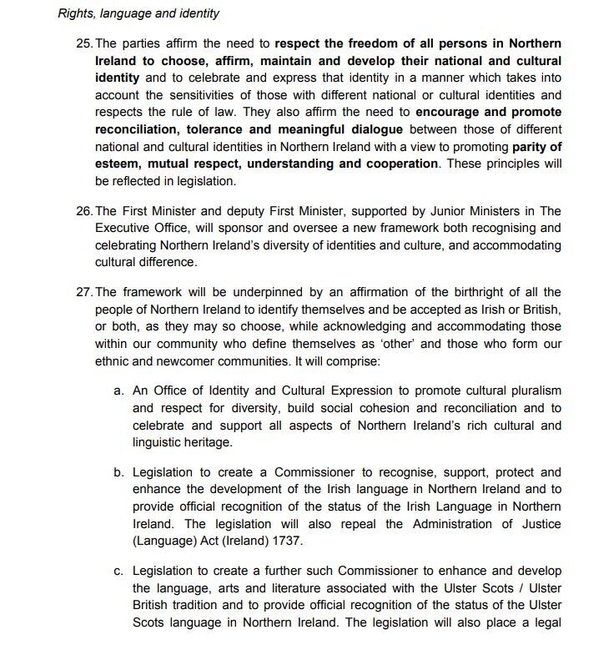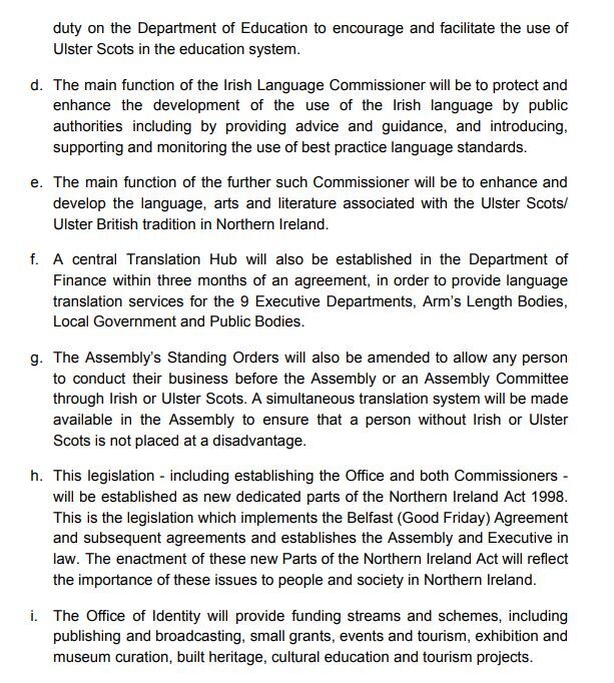 Petition of Concern
It states there will be meaningful reform of the petition of concern, bringing it closer to its original role, as conceived of the Good Friday Agreement and as a means of building consensus.
It will not be a veto for any one party.