US President Donald Trump has said there were no American casualties in the Iranian strikes on military bases housing US troops in Iraq and that Tehran appeared to be standing down.
"No Americans were harmed in last night's attack by the Iranian regime. We suffered no casualties," Mr Trump said in a White House address.
"Our great American forces are prepared for anything. Iran appears to be standing down."
Last night, Iran launched missiles at US-led forces in Iraq in retaliation for the killing of a senior military commander in a US drone strike in Baghdad last week.
Iranian state television said Iran had fired 15 missiles at US targets in Iraq.
The US military said at least two Iraqi facilities hosting US-led coalition personnel were targeted at about 1.30am Iraq time (10.30pm Irish time Tuesday). Iraq said 22 missiles were fired.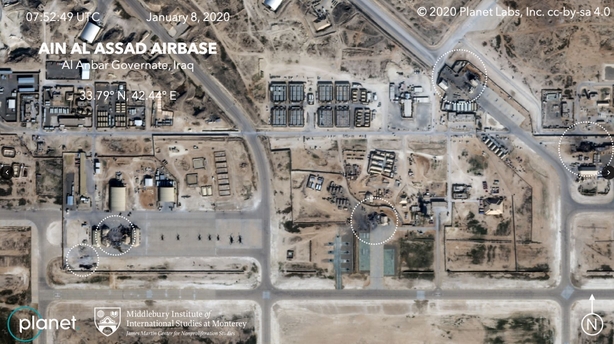 In his address, Mr Trump said that Iran would never have a nuclear weapon as long as he remained US President.
As he called on Iran to end its "support for terrorism", President Trump said the US would continue to look at all options and would impose "powerful economic sanctions".
He said that for too long nations have tolerated Iran's behaviour and that those days were over.
Mr Trump called for Iran to abandon its nuclear ambitions and said the other world powers must also break away from the 2015 nuclear deal.
"We must all work together toward making a deal with Iran that makes the world a safer and more peaceful place," he said.
Mr Trump said he was ready to embrace peace with all who seek it and called for Iran to work with the US on shared priorities, including the fight against the Islamic State group.
WATCH: US President Donald Trump makes a statement from the White House as tensions with Iran increase | Read more: https://t.co/0ZdiIIPl84 https://t.co/340SCbUa2x

— RTÉ News (@rtenews) January 8, 2020
Earlier, Iranian officials said Tehran did not want a war and its strikes "concluded" its response to Friday's killing of General Soleimani.
Iranian state television showed mourners at his funeral celebrating the attack. Iran's supreme leader said a "slap in the face" was delivered to the US.
"Last night, a slap in the face was delivered," Ayatollah Ali Khamenei said in a speech broadcast live on state television.
His remarks came after he had vowed "severe revenge" for the US drone strike.
---
Read More:
---
Iranian state television had said 80 "American terrorists" had been killed and US helicopters and military equipment damaged.
It did not provide evidence of how it obtained that information.
Germany, Denmark and Norway said none of their troops in Iraq were killed or injured. Iraq also said there were no casualties among its forces.
Iran's foreign minister Mohammad Javad Zarif tweeted that "Iran took and concluded proportionate measures in self-defence".
Iran took & concluded proportionate measures in self-defense under Article 51 of UN Charter targeting base from which cowardly armed attack against our citizens & senior officials were launched.

We do not seek escalation or war, but will defend ourselves against any aggression.

— Javad Zarif (@JZarif) January 8, 2020
Iran, which has long said US forces should leave the Middle East, told Washington after the attacks to withdraw its troops to prevent more deaths and warned US allies, including Israel, not to allow attacks from their territories.
Iranian television reported an official in Supreme Leader Ali Khameni's office as saying the missile attacks were the "weakest" of several retaliation scenarios.
It quoted another source saying Iran had 100 other potential targets in its sights.
The following statement is attributed to @ChiefPentSpox: At approximately 1730 EST on Jan. 7, Iran launched at least a dozen ballistic missiles against U.S. military & coalition forces in Iraq.

— Department of Defense 🇺🇸 (@DeptofDefense) January 8, 2020
Pentagon spokesman Jonathan Hoffman said the bases targeted were al-Asad air base and another facility in Erbil, Iraq.
"As we evaluate the situation and our response, we will take all necessary measures to protect and defend US personnel, partners, and allies in the region," Mr Hoffman said.
Nancy Pelosi, the Democratic speaker of the House of Representatives, said the US "must ensure the safety of our service members, including ending needless provocations from the Administration and demanding that Iran cease its violence."
"America and the world cannot afford war," she added.
Closely monitoring the situation following bombings targeting U.S. troops in Iraq. We must ensure the safety of our servicemembers, including ending needless provocations from the Administration and demanding that Iran cease its violence. America & world cannot afford war.

— Nancy Pelosi (@SpeakerPelosi) January 8, 2020
US Defense Secretary Mark Esper said yesterday that the United States should anticipate a response from Iran for the killing of Gen Soleimani.
"I think we should expect that they will retaliate in some way, shape or form," he told a news briefing at the Pentagon.
British Foreign Secretary Dominic Raab said: "We condemn this attack on Iraqi military bases hosting Coalition - including British - forces.
"We urge Iran not to repeat these reckless and dangerous attacks, and instead to pursue urgent de-escalation."
Blasts in Baghdad's Green Zone
Tonight, explosions have been heard in Baghdad, according to news agencies.
Two rockets hit the high security Green Zone where the US embassy is located, according to AFP who quoted security sources.
Three Katushya rockets landed in the area, according to police sources cited by Reuters.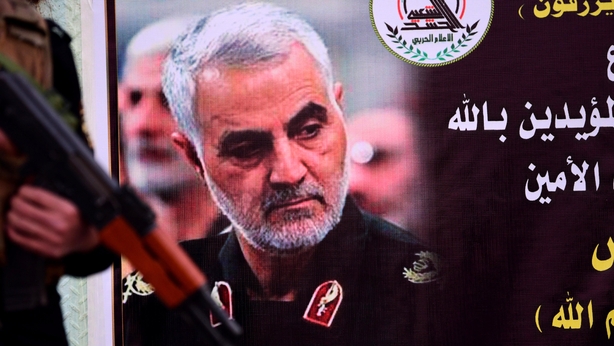 Gen Soleimani, a pivotal figure in orchestrating Iran's campaign to drive US forces out of Iraq, was responsible for building up its network of proxy armies across the Middle East.
He was a national hero to many Iranians but viewed as dangerous by Western governments opposed to Iran's arc of influence running across the Levant and into the Gulf region.
US officials have said Gen Soleimani was killed because of intelligence indicating forces under his command planned attacks on US targets in the region. But they have not provided evidence.
Before Gen Soleimani was buried his body was taken on a tour of cities in Iraq and Iran, drawing huge crowds, often chanting "Death to America".
His burial yesterday was delayed after a stampede that killed at least 56 people, Fars news agency reported.