Dublin City Councillors have voted to boycott the ceremony to commemorate the Royal Irish Constabulary and Dublin Metropolitan Police.
The motion described the event planned to be held in Dublin Castle on 17 January as "obscene".
It pointed out that this force identified those to be executed after the 1916 Rising. 
It stated "only a subservient government suffering from a post-colonial state of mind and ashamed of our revolutionary history would encourage this disgraceful event".
The motion was passed by 38 votes to 10 - those voting against included Fine Gael councillors. 
The announcement comes after Taoiseach Leo Varadkar said earlier that he is disappointed that some people are choosing to boycott the commemoration to remember officers who served in the RIC and the DMP prior to independence.
The event is due to take place in Dublin Castle on 17 January, with Minister for Justice Charlie Flanagan and Garda Commissioner Drew Harris scheduled to address the event.
Several opposition politicians have already said they will boycott the event.
Taoiseach @LeoVaradkar has said he is disappointed by the decision of two lord mayors and Sinn Féin to boycott a forthcoming State event to commemorate members of the RIC and the Dublin Metropolitan Police, who died during the War of Independence. | https://t.co/ZfzelLcfq4 pic.twitter.com/dFVrSyNPcj

— RTÉ News (@rtenews) January 6, 2020
In a statement released after an emergency motion was held at DCC, the council said: "The RIC and the DMP had an intolerable record of barbarism in this country while carrying out British rule in Ireland.
"That this obscene event is taking place is not only an affront to generations of patriots who struggled to end centuries of imperial tyranny but it seeks to question the very legitimacy of our battle for independence and sovereignty."
Mr Varadkar had said: "It's a shame that people are boycotting it. The Government stands over the decision to hold the event."
Minister for Justice Charlie Flanagan added to Mr Varadkar's comments this afternoon, saying: "The approach to the Decade of Centenaries has made clear that there is no hierarchy of Irishness and that our goal of reconciliation on the island of Ireland can only be achieved through mutual understanding and mutual respect of the different traditions on the island."
Mr Flanagan said: "It is not a celebration. It is an acknowledgement [of] the historical importance of both the DMP and the RIC, and is in no sense a commemoration of the 'Black & Tans' or the 'Auxiliaries'."
The Black and Tans were recruited from March 1920 to supplement the RIC. They were mainly former British army soldiers.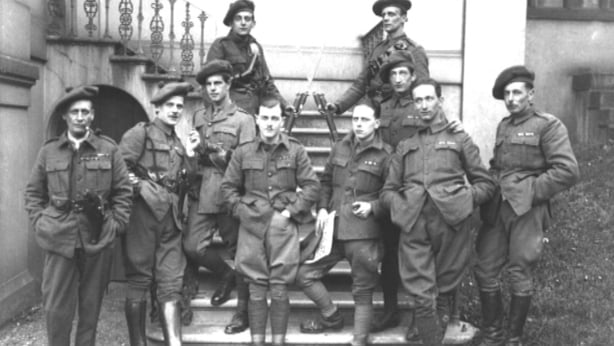 They got their name from the mixture of dark green RIC tunics and khaki British army trousers they wore.
The 'Auxiliaries' were an auxiliary division of the RIC, made up of ex-British army officers, created from July 1920. 
Mr Flanagan said: "It is disappointing to see some public representatives abandon the principles of mutual understanding and reconciliation in an effort to gain headlines."
On Saturday, the Fianna Fáil Mayor of Clare said he would boycott the commemoration, calling it "historical revisionism gone too far".
Cathal Crowe, who is also a Fianna Fáil general election candidate, said it was "wrong to celebrate and eulogise" the RIC, "an organisation that was the strong-arm of the British state in Ireland".
Sinn Féin President Mary Lou McDonald said: "Those who resisted British rule in Ireland during the Tan War, and citizens who suffered at the hands of those that enforced British rule in Ireland are those who we should be commemorating, not the RIC or the Black and Tans."
Independent TD Seamus Healy also announced he would not be accepting Mr Flanagan's invitation to the event, saying: "This commemoration must be seen for what it is: A deliberate attempt to redraw and rewrite the history of the Irish people and the birth of the Irish State and it must be resisted.
"To participate in this sham commemoration is to support the blatant political revisionism behind it."
Galway Mayor Mike Cubbard has also said he will be boycotting the event.
He said: "I believe a commemoration should be a celebration of a person or event in history and as history tells us, the Royal Irish Constabulary were at the time the strong hand of the British state who directly opposed Irish Independence.
"As someone very proud of those who fought for that very freedom over 100 years ago, I think it would be disingenuous of me to attend this event that commemorates those who raided and torched homes, killed and tortured Irish people and throughout the 1800s used battering rams to evict Irish people from their homes."
This afternoon, Mr Varadkar said: "I am disappointed to hear that some people are going to boycott the event. I think that is regrettable.
"I remember, you know, ten, 15 years ago, it was very controversial to commemorate the deaths of soldiers in WWI because some people felt that they shouldn't be remembered, because they fought for the United Kingdom, because they fought for the British - that has changed.
"We now all accept, or almost everyone accepts, that it is right and proper to remember Irish people, soldiers, who died in the First World War, and I think the same thing really applies to police officers; police officers who were killed, Catholic and Protestant alike, who were members of the RIC and the DMP, many of whose families are still alive and remember them.
"The Government stands over the decision to hold the event."
Mr Varadkar said that if council leaders make personal decisions not to attend, that he hoped they would allow someone else to attend in their place.
He added: "There may be other people in their city or in their county who feel differently and would like to have the deaths of these men recognised and perhaps those mayors and those cathaoirleach who are not attending could ask someone to deputise for them and I'm sure there'll be people willing to do that."