After decades of campaigning by the people of Slane, a preferred route for a long-awaited bypass was revealed in recent weeks.
The preferred route, which is 3.4km long, will run to the east of the village.
It was put out for public consultation in November.
According to planners, it is the option that will have the least impact on the nearby World Heritage site at Brú na Bóinne.
Every day 11,000 vehicles pass through Slane and 2,000 of them are heavy goods vehicles.
The village is located on the N2, which links Dublin and Derry.
For decades people living there have been campaigning for a bypass.
Michelle Power from the Bypass Slane Campaign Group said a bypass was first proposed 50 years ago following an accident on Mill Hill.
Ms Power said: "Since that time 23 people have lost their lives on the road in Slane and Slane is a very dangerous place. We have a national primary route going through the village.
"Slane National School is just up the road, they want to encourage the children to walk and cycle to school but as you can see, parents are very reluctant to let this happen because it's so dangerous," she added.
Acting Principal at St Patrick's National School, Lorna Gerrard, said the heavy traffic is a constant worry for parents and teachers.
"It's a very busy and dangerous road, a lot of HGVs are passing by the school every day, which does pose a huge threat to the children's safety when they travel to and from the school," she said.
In 2012 An Bord Pleanála rejected plans for a bypass of the village.
Meath County Council had sought approval for a 3.5km route crossing the River Boyne on a new bridge, east of the existing Slane Bridge.
In its refusal, the board said the proposed bypass was within the viewshed of the World Heritage site at Brú na Bóinne.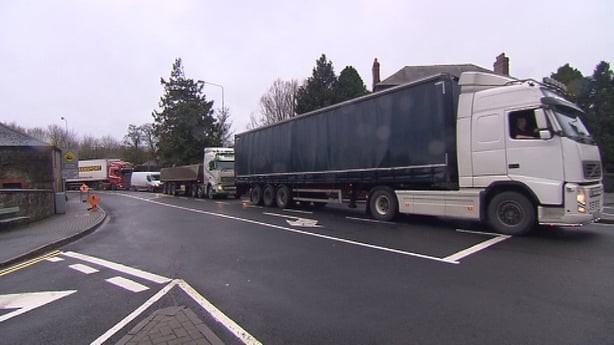 Local Fianna Fáil Councillor Wayne Harding believes that with this new route that issue has been addressed.
Mr Harding said: "It's complex, but it addresses the issues that led to the refusal in 2012 and its moved further away from the world heritage site. It's in a position now that it hasn't been before.
"I think it will be delivered, it's the right thing to do.
"You can't have a situation where you have a national primary route going across a 400-year-old bridge with one way traffic systems. You can see the amount of elaborate traffic calming there is, anti-skid surfacing, all of the gantries on the Mill Hill but we need a bypass"
However, some people still have concerns and believe a bypass is not the answer.
Helen Tully from Slane Craft Collective said the main issue with the traffic in the village is the trucks.
She said: "If they could go on to the M1, maybe have free tolls. If they could keep them out of the village, then we wouldn't need a bypass.
"We've motorways either side of us, why can't we use those and leave the landscape alone."
A public consultation process is under way and planners are expected to finalise the route in 2020.
It will then go to An Bord Pleanála.