British Prime Minister Boris Johnson has called for unity to heal the Brexit divisions that have riven the United Kingdom.
He was speaking in Downing Street hours after winning a commanding victory from voters who backed his bid to deliver on the EU divorce by the end of January.
The Tories won 365 of the 650 seats in the lower House of Commons, up 47 since the last election in 2017.
Jeremy Corbyn's Labour Party won 203 seats, which was down 59 since the last election, and the party's worst performance since the 1930s.
Mr Johnson visited Queen Elizabeth II at Buckingham Palace this morning where, following convention, the head of state asked Mr Johnson whether he will form a government.
"I frankly urge everyone on either side of what are, after three-and-a-half years, an increasingly arid argument, I urge everyone to find closure and to let the healing begin," Mr Johnson said outside Number 10.
"I know that after five weeks, frankly, of electioneering, this country deserves a break from wrangling, a break from politics and a permanent break from talking about Brexit."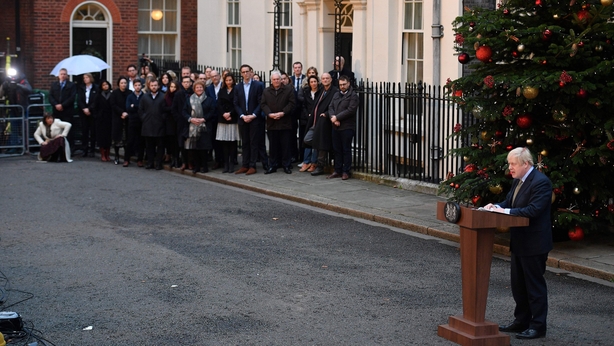 Emboldened by victory, Johnson addressed opponents of Brexit directly.
"I want to speak also to those who did not vote for us, or for me, and who wanted and perhaps still want to remain in the EU," he said.
"I want to you know that we in this One Nation Conservative government will never ignore your good and positive feelings of warmth and sympathy towards the nations of Europe."
"Because now is the moment, precisely as we leave the EU, to let those natural feelings find renewed expression in building a new partnership which is one of the great projects for next year," he said, adding that the he wanted to work with the EU as "friends and sovereign equals".
In a victory speech this morning, Mr Johnson said: "We did it - we pulled it off, didn't we?
"We broke the gridlock, we ended the deadlock, we smashed the road block.
"I want to congratulate absolutely everybody involved in securing the biggest Conservative majority since the 1980s.
"Literally - as I look around - literally before many of you were born."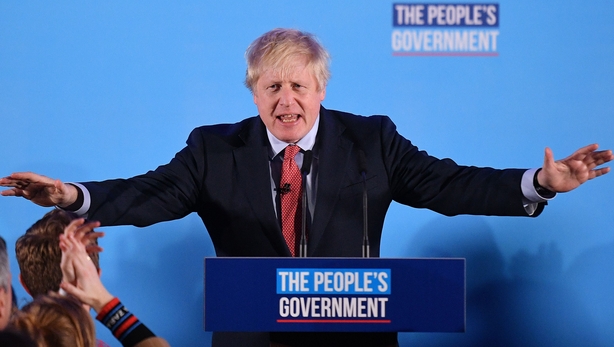 Mr Johnson said Brexit will get done by 31 January "no ifs, no buts".
He said: "And I will make it my mission to work night and day, flat out to prove that you were right in voting for me this time, and to earn your support in the future.
"And I say to you that in this election your voice has been heard, and about time too.
"Because we politicians have squandered the last three years, three and a half years in squabbles - we've even been arguing about arguing, and arguing about the tone of our arguments.
"I will put an end to all that nonsense and we will get Brexit done on time by January 31 - no ifs, no buts, no maybes.
"Leaving the European Union as one United Kingdom, taking back control of our laws, borders, money, our trade, immigration system, delivering on the democratic mandate of the people."
The Tory landslide prompted Mr Corbyn to announce he will not lead Labour into another election after his party suffered humiliation.
Mr Corbyn admitted it had been a "very disappointing" night.
The anti-war campaigner, who has represented Islington North since 1983, ran as an outside candidate for the party leadership in 2015 and managed to outlast two Tory prime ministers.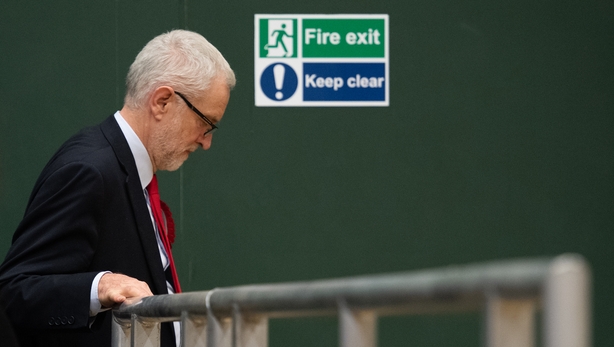 But facing his second general election defeat, Mr Corbyn said that he would call it a day as leader as he was re-elected in his London seat.
He said he would discuss with the party how to ensure there was a "process of reflection".
"I will lead the party during this period to ensure this discussion takes place."
---
Read More:
---
Five voices from five party leaders on a historical night in UK politics #GE2019 pic.twitter.com/fl8zjW4S0y

— RTÉ News (@rtenews) December 13, 2019
Liberal Democrat leader Jo Swinson also lost her seat to the Scottish National Party.
Two of the party's leading lights, Chuka Umunna and Sam Gyimah, both of whom joined from other parties, also failed in their bids to win seats.
In a statement released after her defeat, Ms Swinson said: "I am proud that in this campaign, the Liberal Democrats have stood up for openness, generosity and hope. We were honest about what we believe in and what we were trying to achieve.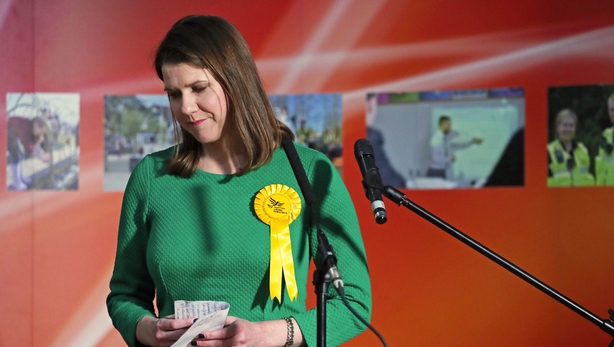 "This is clearly a setback for liberal values. But there are millions of people across the country who believe in them. By coming together to fight for them, we can create a positive future."
The party's deputy leader Ed Davey and president Sal Brinton have been appointed as joint leaders and a leadership election will take place in the new year.
In Northern Ireland, it was a disappointing night for the DUP as its deputy leader was ousted by Sinn Féin and the party lost out to the Alliance Party in North Down.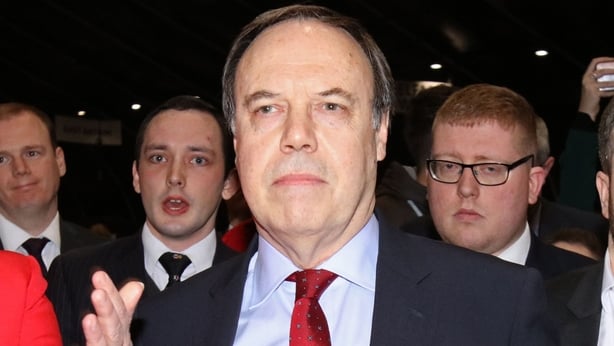 Unionists will not have a majority of the 18 seats in Westminster for the first time.
SDLP leader Colum Eastwood won in Foyle and Alliance Party deputy leader Stephen Farry took the North Down seat vacated by Sylvia Hermon.
The results are symbolically significant, as there are now more nationalist and republican MPs from Northern Ireland (9) than unionists (8), reversing the 11/7split from the 2017 election.
However, it was not a positive poll for Sinn Féin overall.
Its vote fell everywhere else and it suffered an embarrassing reversal in Foyle, where outgoing MP Elishia McCallion was decisively beaten by Mr Eastwood with a 17,000-vote majority.
In Scotland, Nicola Sturgeon said the election result shows that the "kind of future desired by the majority in Scotland is different to that chosen by the rest of the UK".
The First Minister was speaking in Edinburgh after the SNP won 47 of Scotland's 59 seats.
"Scotland has rejected Boris Johnson and the Tories and, yet again, we have said no to Brexit," she said.
Additional reporting PA