The Board of the FAI has decided to postpone the announcement of details of its annual accounts until tomorrow, ahead of a resumed AGM at the end of the month.
A number of investigations are ongoing into the financial affairs of the association and Government funding has been suspended.
It is expected that details of former CEO John Delaney's severance package from the association will be revealed in the accounts.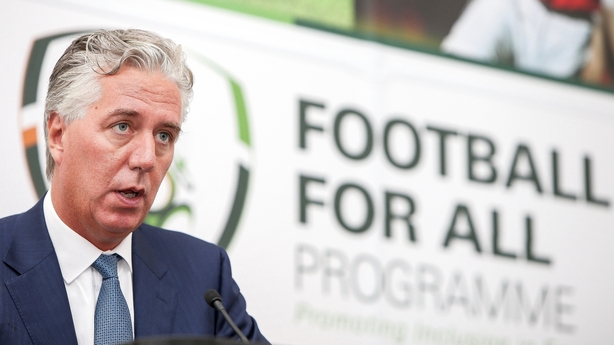 Yesterday, telecoms company Three Ireland announced that it would not be renewing its sponsorship of Irish football when the current contract ends in July.
The news that today's scheduled announcement of what was expected to be bad news regarding the FAI accounts had been deferred until tomorrow only prolongs the agony for many FAI staff and coaches around the country.
With the recent controversies swirling around Irish football, many staff were already fearing the worst.
The deepening financial crisis at the football body is likely to have consequences as the association attempts to get a debt estimated to be in excess of €50 million under control.
A meeting of the board last night decided to reschedule the announcement of the 2018 annual accounts and the revised 2017 and restated 2016 accounts to tomorrow morning to facilitate the signing off of the accounts today.
It was also decided that the entire board should be in attendance for Friday's press conference.
On Monday, John Foley turned down a role as Interim Chief Executive citing a lack of support from key stakeholders.