Ursula von der Leyen is the first woman to hold the EU's top job as President of the European Commission, which has officially begun its new five-year term.
Already, the 61-year-old former German defence minister, who succeeds Jean-Claude Juncker has a full intray.
She has made the issue of climate change one of her top priorities - describing it as an existential crisis.
On the day she was elected this week, she told MEPs: "This is an existential issue for Europe and for the world.
"How can it not be existential when 85% of people in extreme poverty live in the 20 countries most vulnerable to climate change?"
Ms von der Leyen also reportedly plans to speak to Beijing on her first official day in the office about the Uighur internment camps, revealed in the China Cables, where at least one million ethnic Muslims are reportedly being held.
Brexit is also on the agenda.
During her speech to MEPs, Ms von der Leyen who, was brought up in Brussels, said she herself would always be "a Remainer".
However, she said the commission would respect the decision taken by the British people - whilst continuing to protect EU members.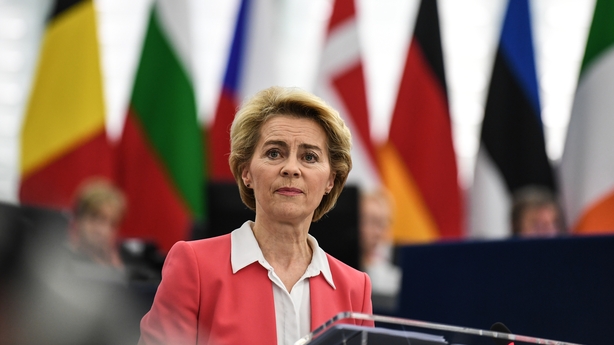 She told RTÉ News: "I think Europe did a great job to protect our member state Ireland and it's very dear to our heart that keeps on going."
She was reluctant to speculate too much on this month's general election in the UK, adding: "Where the UK election is concerned, it's a good rule never to comment on elections, so we'll wait for the British people to show their will and then I'll sit down with the new prime minister to discuss the next steps."
Ireland's Commissioner is Phil Hogan who moves from the Agriculture portfolio to the key position of Trade, an important role, particularly in post-Brexit trade talks.
Ms von der Leyen said: "Phil Hogan did a great job as Commissioner on Agriculture. He is known as a very tough negotiator, but a fair one. So I expect him, of course, to bring this competence into Trade."
Full details of the commission's new European Green Deal are due to be unveiled on 11 December, but Ms von der Leyen has already made it clear that future trade deals must now contain a chapter on "sustainable development."
Some MEPs, including the European People's Party's Seán Kelly, have warned that this could lead to an end to fuel payments in Ireland, including the winter fuel payments.
He said: "To call for an end to all direct and indirect fossil fuel subsidies as early as next year simply highlights the need for responsible and fair policies for the transition to a low carbon economy ... What would a full phase-out of fossil fuel subsidies by 2020 mean? It would get rid of the fuel allowance, which is a vital support for those that cannot afford to heat their homes.
"We are now coming into the cold winter months; there are families all over the country for whom getting rid of these payments is simply unfathomable."
But Ms von der Leyen said it was important to put people at the heart of any new green policies.
She said: "This is the reason we have the Just Transition Fund and the idea of just and inclusive transition because we will not be successful if we do not take people along and the social component to subsidise those who have a hard time to change anything because of the circumstances.
"We have to invest...a lot in a change of technologies, we have to invest a lot in green financing but the social part is the most important one - the transition will only be successful if we take people along."
Britain failed to nominate a commissioner even though it has not yet left the union, leading the EU to begin legal proceedings.
Of the 27 new Commissioners, 12 of them are women, making this the most gender-balanced European Commission to date.